May 31, 2023
Pedalling forward – UOW and partners ride towards sustainability
Ride2UOW event promotes active transport, environmentally friendly commuting and healthy exercise habits
Still hot on the tail of the 2022 UCI Road World Championships, today (Wednesday 31 May), the University of Wollongong's (UOW) staff and students hopped on their bikes to participate in a free cycling event, Ride2UOW.
This non-competitive, all-abilities community ride was designed to promote cycling as a healthy – and safe – way to commute from and to Wollongong campus. The event was organised by Healthy Cities Illawarra with UOW, Wollongong City Council, Illawarra Shoalhaven Local Health District, and Transport for NSW as partners.
Almost 100 people took part in Ride2UOW, which consisted of two guided rides, starting at either Towradgi Beach Park or Wollongong Town Hall and both leading to UOW's Wollongong campus. Participants explored the safest and most efficient bike commute to the University with the help of experienced local cyclists as guides, and then were treated to a complimentary breakfast and coffee upon arrival at UOW.
"We're excited to host Ride2UOW at Wollongong Campus and encourage more people to consider cycling as a viable commuting option," said Dr George Takacs, event coordinator at Healthy Cities Illawarra and UOW honorary senior fellow and climate change researcher.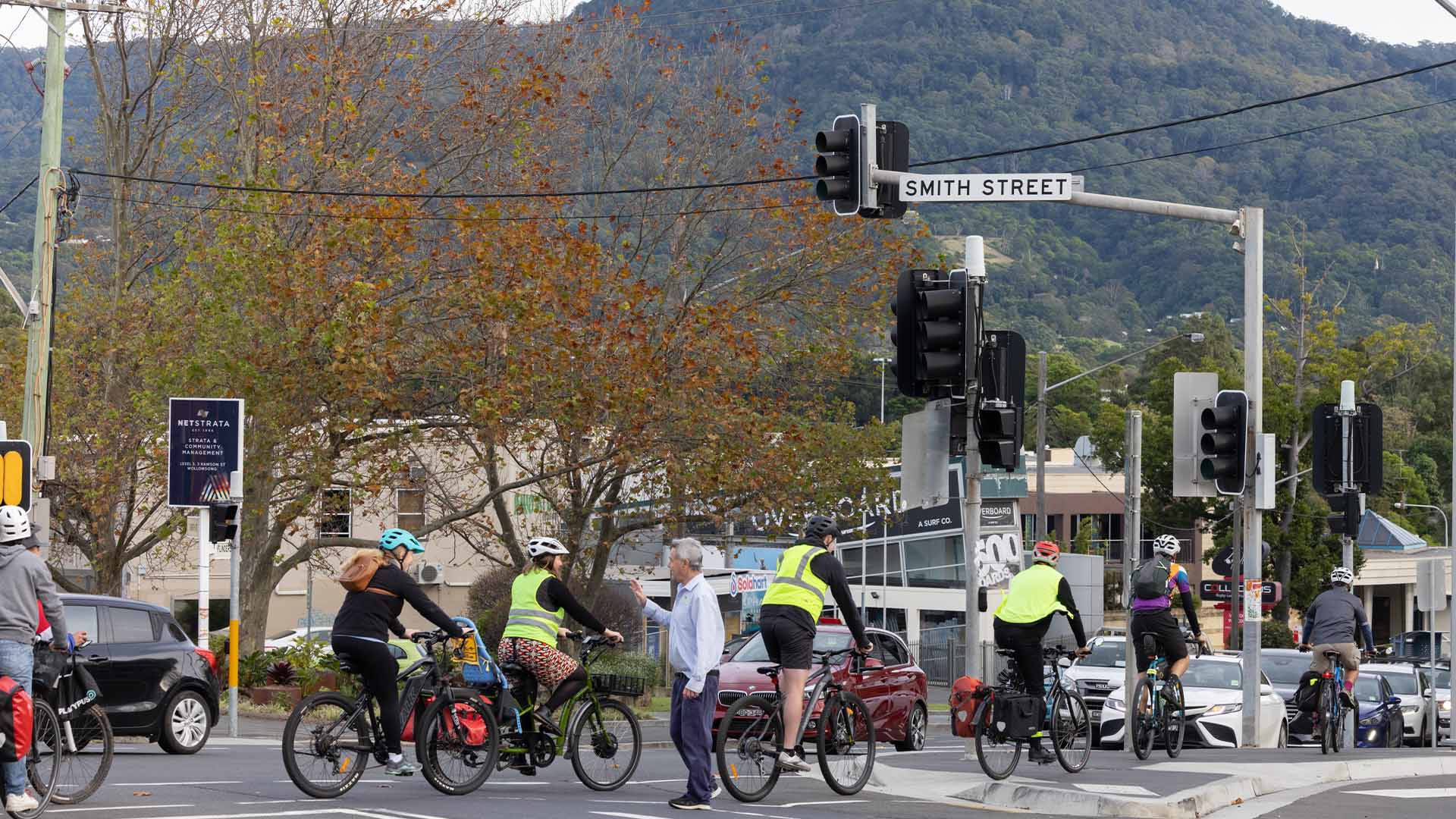 One of the Ride2UOW event's routes led from the Wollongong CBD to UOW campus.
The event aligns with the University's commitment to sustainability and creating a healthy local community. Professor Sean Brawley, UOW's Deputy Vice-Chancellor and Vice President (Strategy and Assurance), said the Ride2UOW initiative continues UOW's support for cycling following the University's engagement as a UCI Bike City community partner in 2022.
"With a vibrant academic community and great cycling facilities, UOW continues to pedal forward, cultivating a thriving bike culture that is transforming the way students and staff commute, exercise and connect," Professor Brawley said.
The Ride2UOW initiative not only speaks to active transport and environmentally friendly commuting but also healthy exercise habits, as formulated in the new UOW's Sports Strategy, which aims to improve the health and wellbeing of UOW staff, students, and the local community through greater sport and wellness participation.
"I try to ride my bike to the University or take the bus and walk to work at least a few days a week. I find it's a great way to improve my physical and mental health – it helps me decompress after work while also benefitting the environment and reducing traffic congestion around campus," said Richard Cook, UOW Chief Strategy Officer, who participated in Ride2UOW.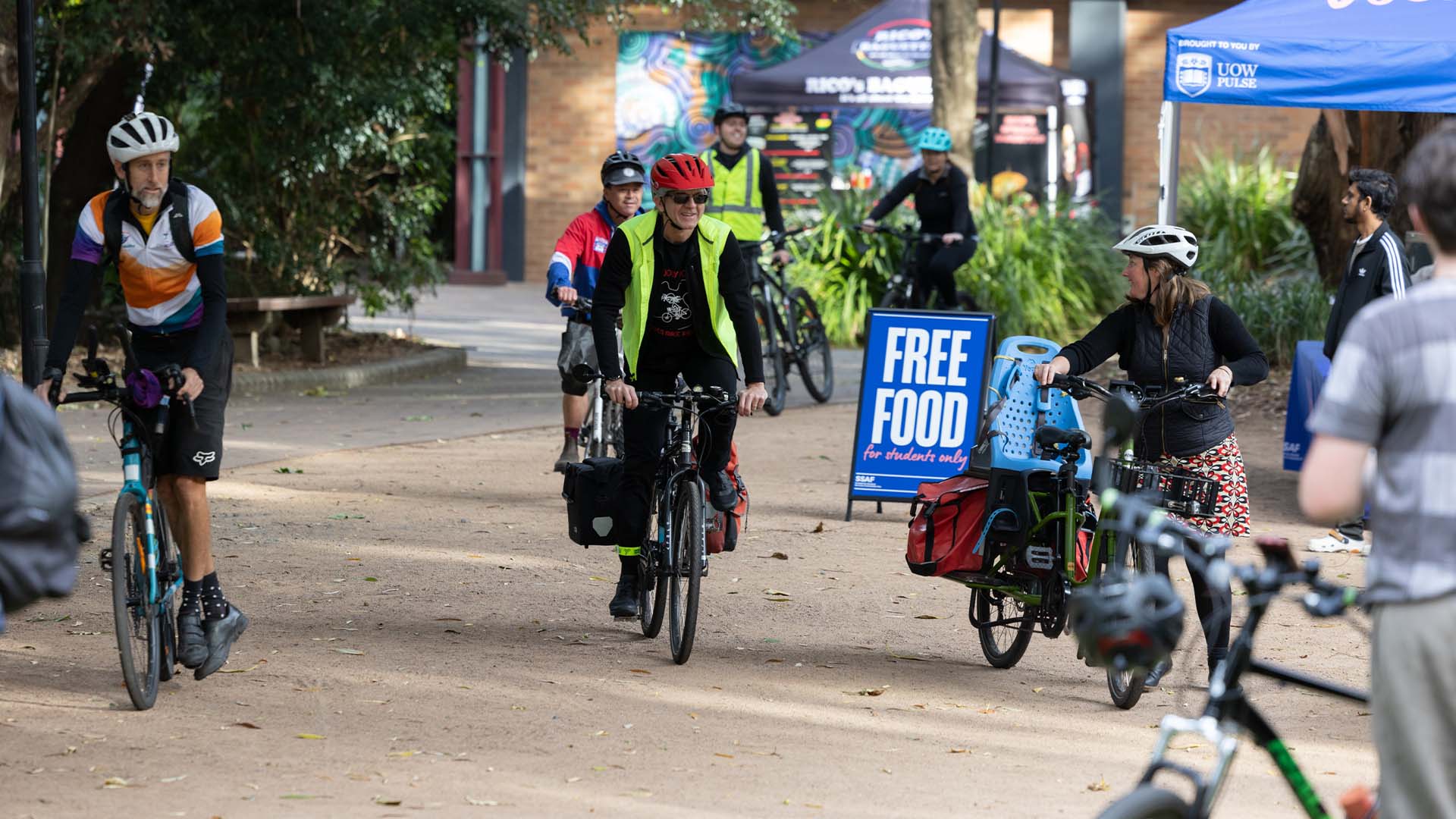 Upon arrival at campus, the Ride2UOW participants were welcomed with a free breakfast and coffee.
Transport emissions in Australia are currently on track to overtake electricity generation as our primary source of emissions by 2030. As just over half of all commuting trips to UOW are under 5 km, most of these can be replaced by cycling or walking, which are very effective ways for staff and students to reduce greenhouse gas emissions.
Cycling as a form of active transport is one of the most cost-efficient strategies for reducing urban carbon footprint and traffic congestion. In addition, cycling offers numerous health and environmental benefits, including improved physical and mental wellbeing, better cognitive function and productivity, a stronger immune system, as well as reductions in the cost of living, as well as air, noise and microplastic pollution. Some studies have also shown that people who cycle to work have lower all-cause mortality rates.
"As a Belgian and 'Flandrienne', cycling is part of my life. When you cycle to work, exercise becomes your transport mode, giving you also freedom and independence. No traffic jam, no wasting time looking for a parking spot, it's a free and green activity. My morning ride to UOW always gives me brain power to start the day while the evening ride lets me switch off. I encourage my colleagues and students to join us on Ride2UOW, not only to discover new and safe cycling paths to campus, but also to realise how much energy cycling provides," said Dr Eline Schotsmans, archaeologist and research fellow at UOW's School of Earth, Atmospheric and Life Sciences.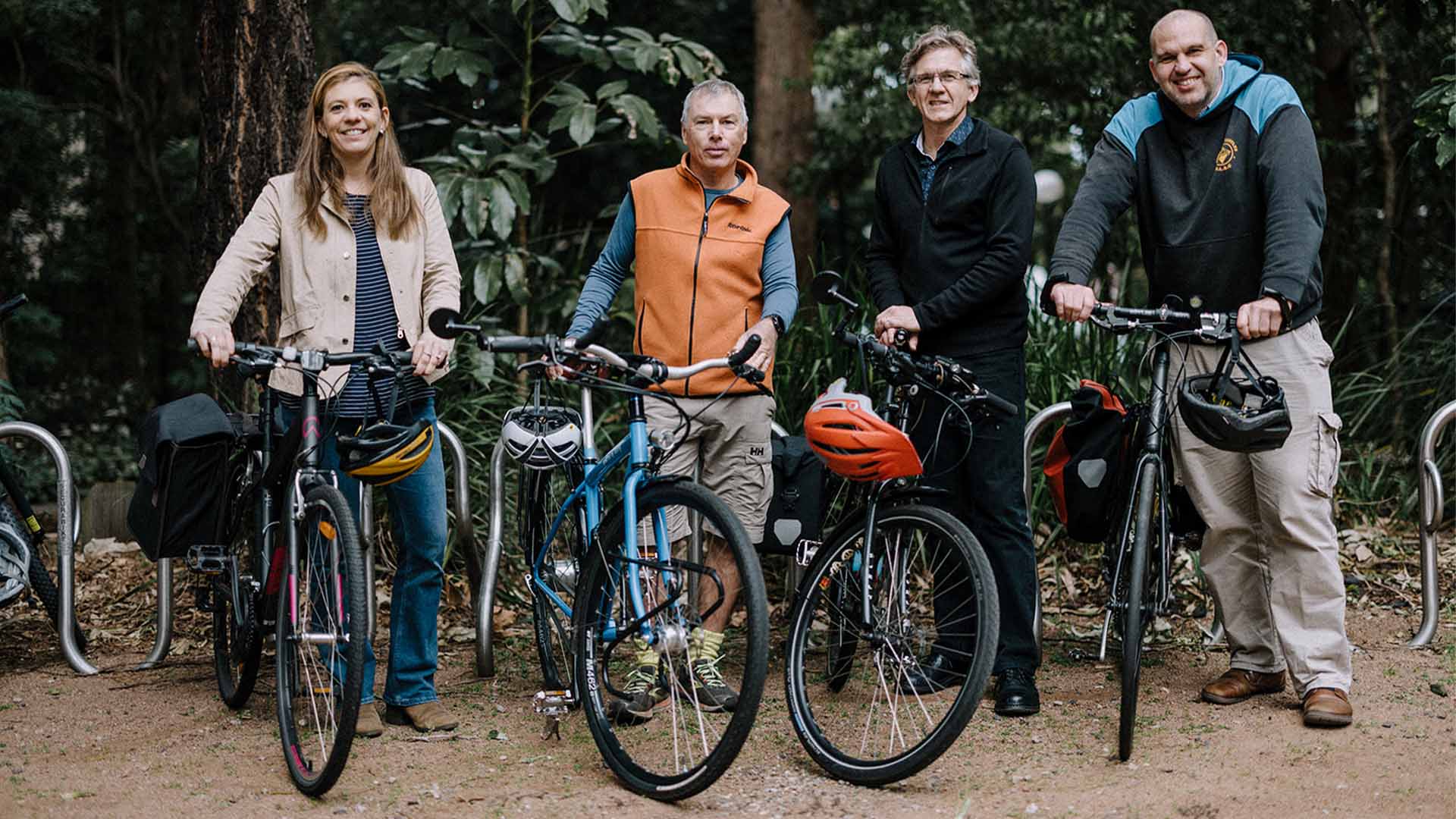 UOW cycling champions: (from left) Dr Eline Schotsmans, Dr George Takacs, Associate Professor Nicholas Gill and Professor Aidan Simms.
UOW PhD student Juliana Peloche is an enthusiast cyclist and the former President of the UOW Cycling Club who rides her bike to the University every day.
"When I ask fellow students about their biggest challenges at UOW, they often mention parking being critical. My answer is for them to get a bike. Unless they live far away, why should they stress about parking and getting late for classes if they can safely cycle to the university? We have to promote our good infrastructure and encourage more bike commuters," Juliana said.
UOW is committed to addressing the United Nations Sustainable Development Goals (UN SDGs), which provide a shared blueprint to achieve a better and more sustainable future for everyone. The Ride2UOW project addresses UN SDGs 3 (Good Health and Wellbeing), 7 (Affordable and Clean Energy), 11 (Sustainable Cities and Communities), and 13 (Climate Action).