September 12, 2023
UOW Sustainability Report 2022: a journey towards change
UOW's new sustainability report maps out actions, research and collaborations driving change for a better future
In support of its commitment to sustainability and working towards the United Nations' Sustainable Development Goals (SDGs), the University of Wollongong (UOW) has today (12 September 2023) published its Sustainability Report 2022.
The report reflects UOW's journey towards sustainable transformation through research, academic programs, industry partnerships and successful innovations, delivering wider impacts on society and the environment.
UOW Vice-Chancellor and President Professor Patricia M. Davidson said she was proud to be part of a University that puts sustainability at the heart of so much of what it does.
"We're an anchor institution born out of the Illawarra's steel industry and immense community support, and that's why we're motivated to be a model of how universities give back to society – be it through research, education or industry and community engagement.
"One of the great advantages of UOW being a relatively young university is that we're able to pivot into the future with an ease that constantly amazes me. Our journey towards sustainability is a collaborative one and I am very proud of our efforts, making lives better today and paving the way for a brighter tomorrow," Professor Davidson said.
Professor Tim McCarthy, Director of the Sustainable Buildings Research Centre (SBRC) and Chair of the Sustainable Futures Committee (SFC), said UOW had embraced the United Nations' Sustainable Development Goals as the framework for guiding its journey to the future.
"We are harnessing our agility to tackle the emerging issues and work towards solution in partnership with community, businesses, governments and colleagues nationally and internationally," he said.
UOW's pledge to sustainability begins on its campuses, and with a pledge to become carbon neutral by 2030. Some UOW buildings are already net-zero when it comes to energy and water consumption. The SBRC building – with its 468 solar panels and green walls – produces more power than it consumes while harvesting 100 per cent rainwater to cover its everyday needs. UOW Shoalhaven already runs on 100 per cent renewable energy.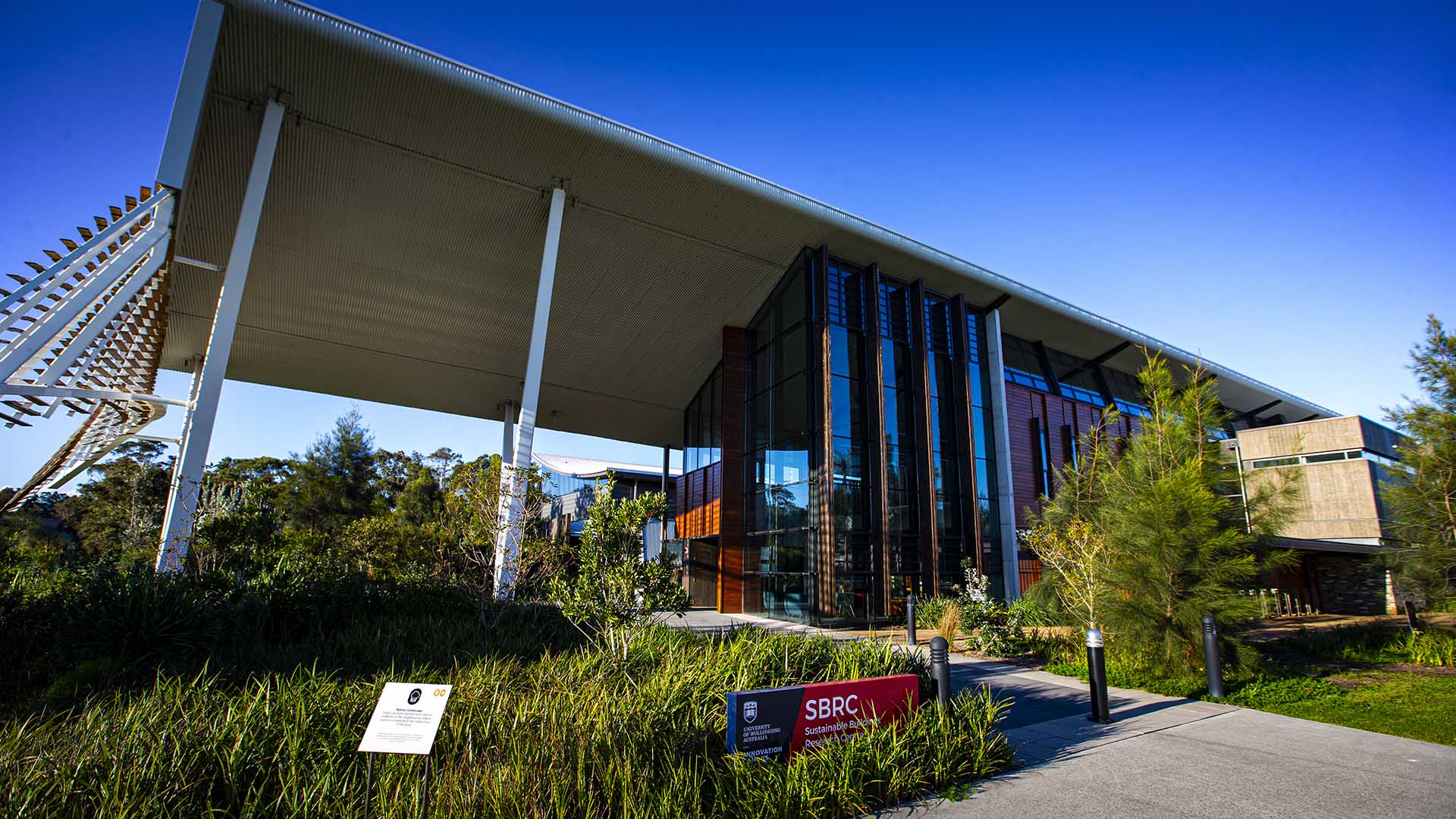 UOW's Sustainable Buildings Research Centre produces more power than it consumes.
In 2022, UOW harvested 3.2 megalitres of onsite rainwater while reducing its mains water consumption by 35 per cent and greenhouse gas emissions by 10 per cent since 2019. The University has also increased onsite solar generation on its campuses by 29 per cent since 2019, generating 5,387GJ of solar energy in 2022.
The Report also highlights some of the many ways in which UOW researchers are delivering on the UN Sustainable Development Goals in the broad areas of climate and environmental sustainability, health and wellbeing, reducing inequalities, industry and energy transformation.
UOW's dedication to reducing inequalities through quality education is also showcased. The University sets a standard for inclusiveness, diversity and equity, championing Aboriginal and Torres Strait Islander reconciliation, and promoting respect, consent and inclusion.
The University is also driving change through community engagement and partnerships, building on its history as an institution embedded in its community and committed to creating innovative partnerships. These days, those collaborations span from a single entrepreneur with a dream to change the world through to global institutions such as the United Nations.
For further details, read the UOW Sustainability Report 2022.