August 24, 2022
Riding high: UOW becomes an official UCI Bike City community partner
The event will bring UOW cycling community together, with Vice-Chancellor Patricia M. Davidson named a Wollongong 2022 Ambassador for the UCI Road World Championships
The upcoming Wollongong 2022 UCI Road World Championships (18-25 September) will be the largest international sporting event ever to come to the Illawarra. Globally, it's part of the 'Triple Crown' of international road cycling, alongside Tour De France and Giro De Italia. It's just the second time the event will be held in the Southern Hemisphere and the 10th time outside Europe in 101 years.
In under a month, the streets and hills between Helensburgh and Wollongong will get filled with thousands of cyclists and cycling fans, all connected by the excitement of this world-class combative feat. There'll be tens of thousands of visitors and over 300,000 spectators in Wollongong, and the global broadcast of the event is estimated to reach 300 million people in 110 countries all over the world.
As anticipation rises ahead of the event, the University of Wollongong (UOW) has just signed a Memorandum of Understanding with Destination Wollongong to become an official UCI Bike City community partner, with UOW's Vice-Chancellor Professor Patricia M. Davidson announced today as a Wollongong 2022 Ambassador for the UCI Road World Championships.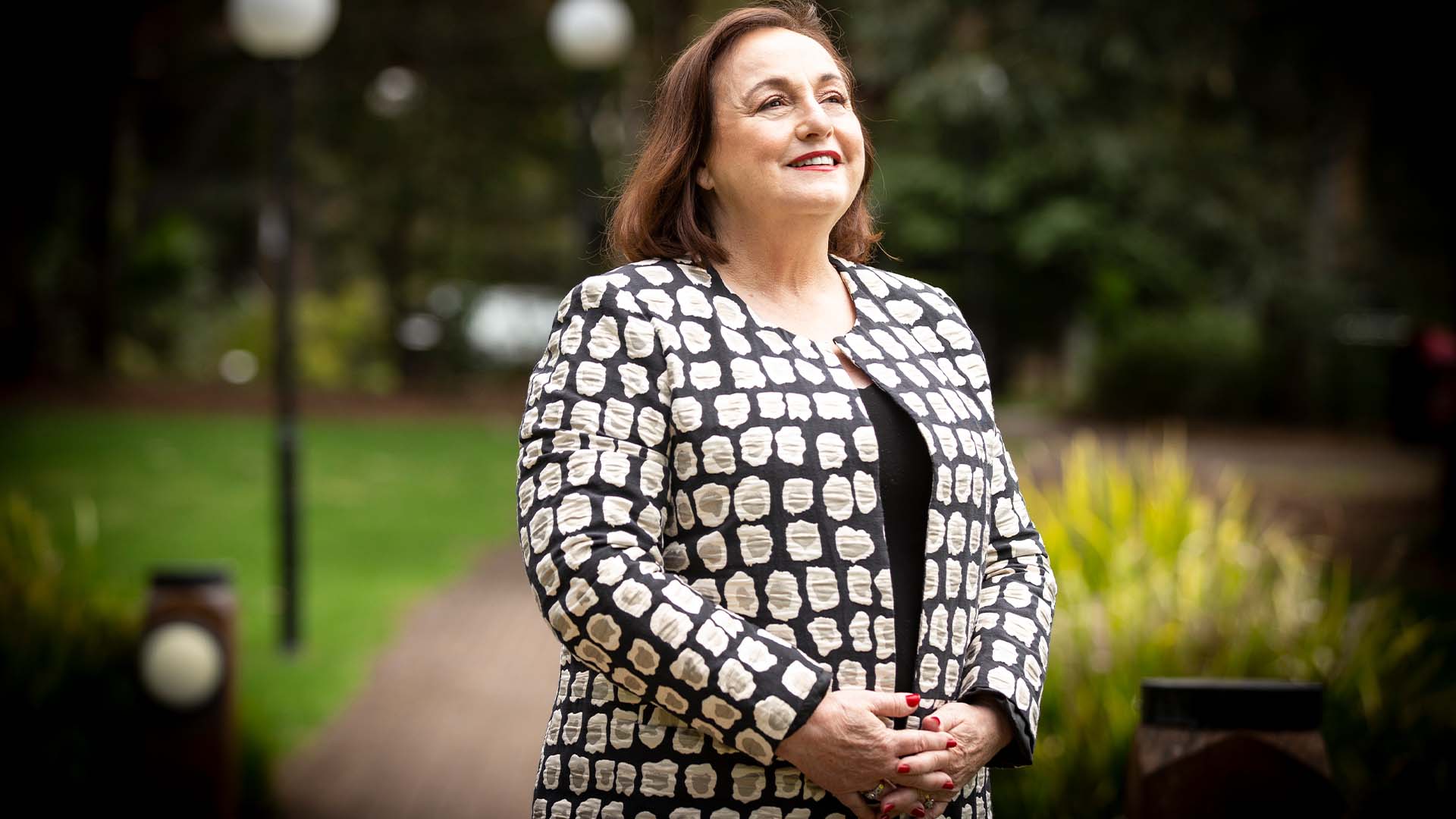 UOW VC Professor Patricia M. Davidson named as a Wollongong 2022 Ambassador for the UCI Road World Championships.
As a strong advocate for sustainability and gender equality, especially in areas of health outcomes, Professor Davidson has welcomed her new role with much pride.
"This will be an impactful event for the region and our community. It's the first time in the history of the UCI Championships that the women and men will start the Elite time trial race on the same day and ride over the same distance, with female athletes opening the program. I am delighted to support this unprecedented gender equality in competitive sports while also championing the health benefits of cycling," Professor Davidson said.
UOW's connection to cycling is firmly rooted in its young community of students who often choose bikes as a sustainable mode of transport. In 2021, a team of UOW students and staff issued a Youth Climate Change Statement, which confirmed the University's commitment to supporting sustainable transport strategies.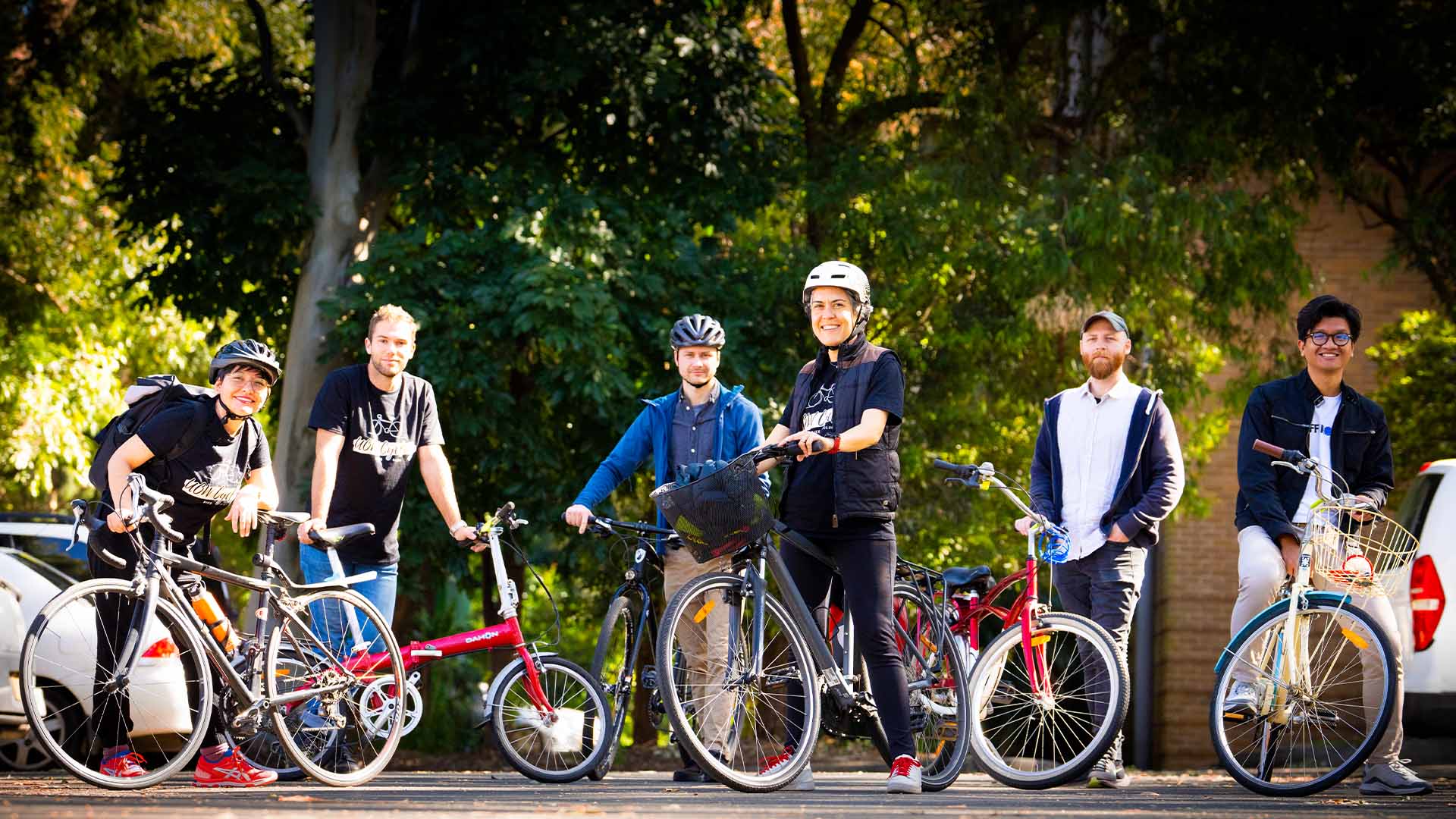 UOW Cycling Club support the UCI Championships and UOW VC as Wollongong 2022 Ambassador for UCI.
There are two bike maintenance stations on the Wollongong campus (on Jugglers Lawn and near Building 20S), seven bike bases that allow for bikes to be locked and protected from the weather, and 52 regular bike racks – alongside a range of cycling-related research, workshops and staff and student-led cycling initiatives happening regularly across UOW's campuses.
Juliana Peloche, an enthusiast cyclist and the President of UOW Cycling Club (2022 winner of Pulse prize for the best University club) moved to Wollongong from Brazil in 2019. While doing her PhD in the School of Education, she met fellow cyclist, UOW history teacher and PhD candidate Carolina Badillo. Early in 2021, Carolina had a bike accident and was badly hurt on the road in Wollongong while on her way to UOW. That's when Juliana and Carolina realised there was a need for an advocacy group catering to the growing UOW cycling student community.
"We decided to open a club for cyclists like us, where we'd help students access bikes and knowledge about the traffic rules and learn about their rights and obligations. We were lucky that around that time, Wollongong was chosen as the host of the UCI Championships, and we were able to secure a grant to build the foundation for our operations," Juliana said.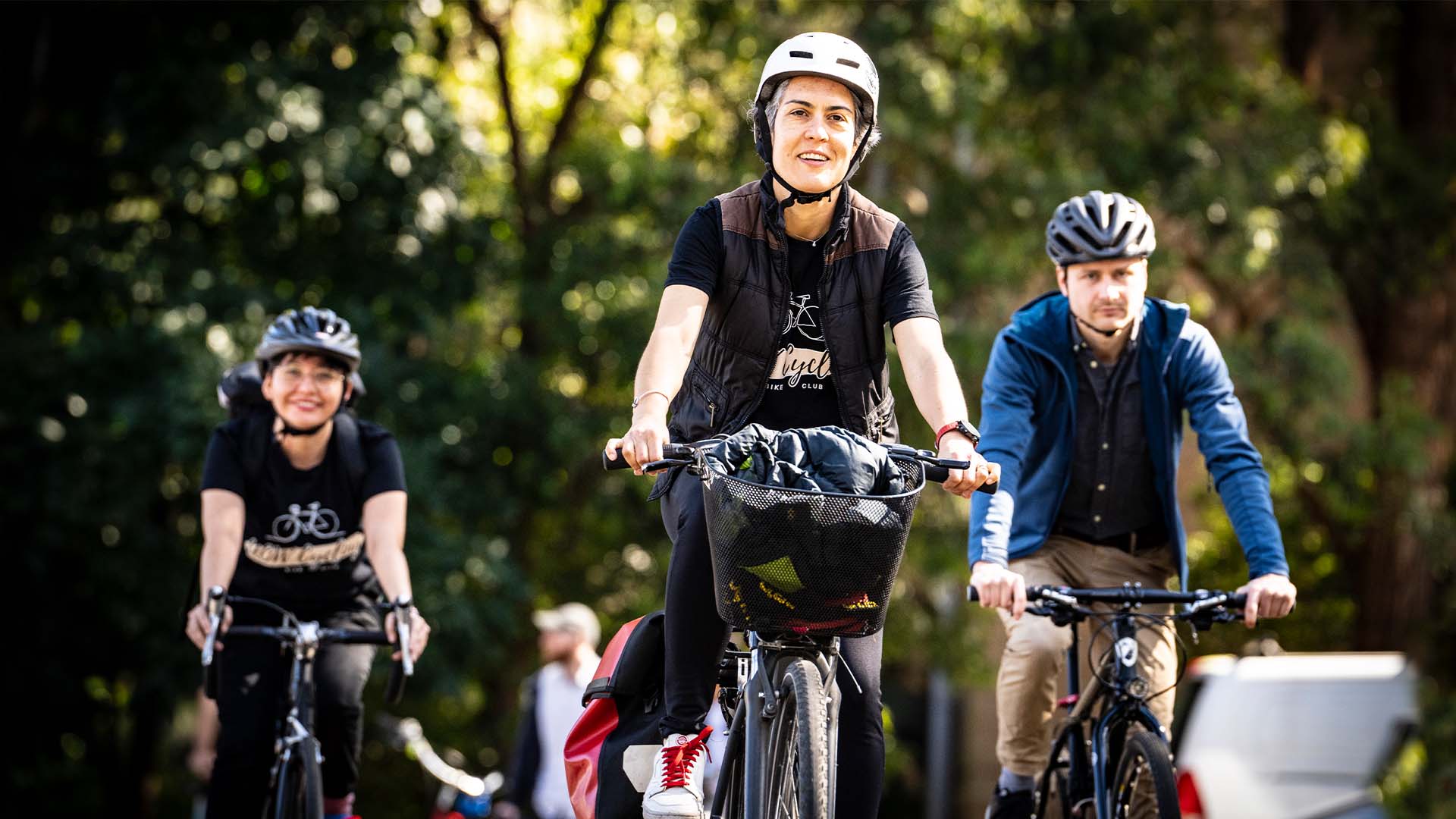 Juliana (front), Carolina and other members of UOW Cycling Club use their bikes for daily commute.
Since 2021, UOW Cycling Club has grown to 100 members and managed to secure another operational grant from UCI, which allowed them to start a bike loan system for all UOW students. So far, they have refurbished and donated over 55 bikes. Each donated bike is freshly serviced and equipped with a helmet and a lock. The Club also partnered with Ride Nation to deliver educational workshops to every participant in the program.
UOW Cycling Club members said they were excited about the UCI Championships coming to Wollongong.
"We are thrilled that our VC will be an official UCI Ambassador. She's been very supportive of all our activities," Juliana said.
Carolina Badillo hopes that the UCI event brings forward some change around cycling.
"In Australia, we need much more education around using a bike as an everyday transportation choice, not just for leisure," Carolina said.
Wollongong was awarded the prestigious UCI Bike City label in early 2021, joining 20 other cities and regions worldwide, including Vancouver, Paris, Copenhagen and Glasgow. As the Chair of the Board for the Wollongong 2022 UCI Road World Championships, Dean Dalla Valle has had a guiding hand in bringing the premier cycling event to life, and he's proud of his connection to Wollongong, the University and cycling.
"Growing up in the suburbs of Wollongong, nearly everyone cycled: to school, for transport and fun. When we were living in Port Hedland, my daughter started doing junior triathlons, so I joined her. I've continued with recreational road cycling ever since. I love the camaraderie and the company that cycling brings," Mr Dalla Valle said.
"The annual UCI Road World Championships is one of the top cycling events in the world. Hundreds of millions of eyes will be watching Wollongong from around the world. We will see our beautiful city through a global lens and commentary, making us all feel proud of where we live."