Our most recent artist in residence: Satomi KASHIO
Due to COVID-19 restrictions, our artist in residence program has been suspended until regular international travel recommences
---
Confined by Australia's Covid-19 shutdown, Japanese textile artist Satomi KASHIO responded to the world around her through natural dyeing and printing with Australian local plants in a transcultural project with Dr Agnieszka Golda and Dr Boni Cairncross.
Satomi KASHIO
March to June 2020
Japanese artist Satomi KASHIO's large scale textile-based installations combine traditional Japanese dyeing techniques with contemporary scree-printing processes. Through complex patterns reminiscent of microscopic organisms or macroscopic maps, Satomi forges connections between humans and nonhuman beings. Satomi holds a Masters of Art in Textile Design from Tama Art University, Tokyo, and Bachelor of Art from Kanazawa College of Art, Ishikawa, Japan. She has taught textile design at Okayama Prefectural University, and Kyoto City University of Art. Her recent solo exhibitions have been staged at Kurashiki City Art Museum, Okayama (2017); Museum of Art, Okayama (2016), and 21st Century Museum of Contemporary Art, Ishikawa (2015-16). Satomi has exhibited her works in Japan, China, and Mexico.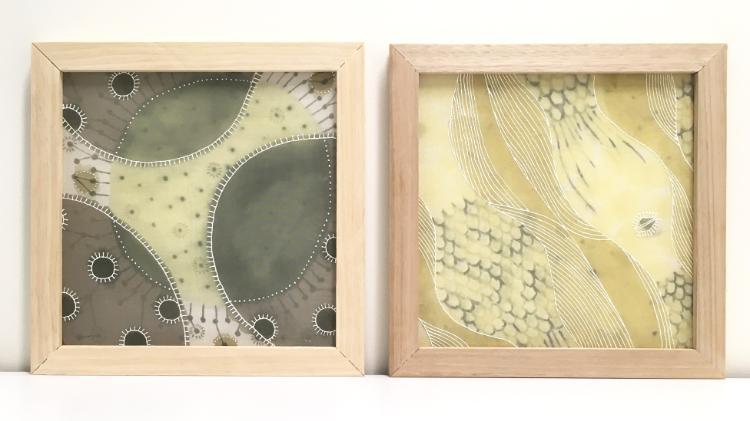 Satomi KASHIO, Small Windows / 小さな窓たち, 2020, Australian plant dyes on wool, 34.5cm × 34.5cm (each)
About the AIR project
A transcultural textile-based project between Japanese artist Satomi KASHIO, Dr Agnieszka Golda and Dr Boni Cairncross. Material transformations including natural dye processes and knowledges drawn from field-studies in Australia, Japan, Mexico and Poland are brought together in Beginning again and again and again/繰りかえし、繰りかえし、そしてまた始める exhibition. Underpinned by conversations, exchanges and a range of responses to the place, the works explore connections between the material and the immaterial, the visible and the invisible, and between the animate and inanimate worlds.