There are often a lot of questions which bin to put items in. This information is to support you to put the right thing in the right bin at UOW and at home.
There are a few types of bins at UOW where you can recycle. The yellow top wheelie bins like you have at home are for co-mingled recycling. At UOW the outdoor and indoor recycling bins that are have yellow labels and lids are also for co-mingled recycling.
In some places at UOW (such as the Wollongong Campus Library and in office spaces) there are also bins for paper and cardboard only. Paper and cardboard wheelie bins have blue bases and blue lids.
You will also find general waste bins at UOW and the contents of these bins are send to landfill. General waste bins have red labels and lids. The red lid and green based wheelie bins (like you have at home) are for general waste. Wheelie bins used by UOW Pulse food outlets that have blue lids and grey or green bases are also for general waste.
We now also have food waste bins on campus and these have green lids or signage. These bins are for food items and paper as well as items certified compostable under the Australian Standard - AS4736.
Visit the following webpages for information on what should be placed in each of these bins:
What else can be recycled but not via the co-mingled recycle bins?
There are also a number of items that can be recycled just not via the co-mingled recycling bins.
Soft plastic recycling
Soft plastic items cannot be recycled via the co-mingled recycling bins. Soft Plastics can be recycled but require a separate collection service.
For soft plastics collected at home a number of supermarket chains have soft plastic collection bins. Visit https://recyclingnearyou.com.au/bags to find a soft plastic collection service near you.
At UOW there are a number soft plastic recycling bins at Wollongong Campus. Soft plastics able to be recycled at UOW must be:
clear (not coloured)
able to push your thumb through
If your work area generates large quantities of soft plastic contact the Environment Unit to arrange for it to be recycled.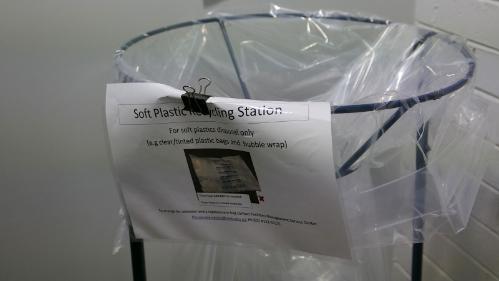 Battery disposal
Batteries are considered hazardous waste and should be disposed of responsibly. Non-rechargable batteries are unable to be recycled and are disposed to licensed landfill but rechargable batteries are able to be recycled. If you are purchasing batteries choose rechargable batteries instead to reduce waste to landfill.
Please follow the Hazardous waste process to dispose of batteries from UOW activities (visit Safe at Work for details). To dispose of batteries from home, visit https://recyclingnearyou.com.au/batteries/ for information.
CD/DVD's
DVD and CD's and cases are able to be recycled at UOW. There is a confidential DVD and CD recycling service available which is located in IMTS in Bld 39. For small quantities, drop off your CD's or DVD's to IMTS for disposal in the DVD/CD recycling bin. For large quantities contact the Facilities Management Service Centre to request the use of the CD/DVD recycling bin for a short period. You will need to raise another request via the Facilities Management Service Centre for the full bin to be collected.
Electronic item (ewaste) recycling
Electronic items that are no longer needed at UOW can be disposed via the electronic waste collections. Contact your local council for details on how to dispose of your personal electronic waste from home.
Mobile phone recycling
Mobile phones can be recycled at UOW via mobile phone recycling collection points. The Uni post office also has mobile muster reply paid envelopes to dispose of your mobile phones for recycling. Ensure your data and privacy is protected by:
erasing your data, and
removing and destroy your sim card.
Print cartridge recycling
Print cartridges can be dropped off for recycling in print cartridge collection boxes at various locations at UOW. For staff collection points are located in most buildings. At Wollongong Campus students can access the collection point at the Unishop or the print copy area in the library.
Polystyrene recycling
Expanded Polystyrene packaging (not including takeaway food packaging) can be recycled but requires a special collection service. If your UOW work area has polystyrene for disposal please contact the Environment Unit to arrange collection.
For polystyrene generated at home visit https://recyclingnearyou.com.au/ for information on the nearest recycling facility.
Do you have an out of the ordinary item to dispose that you don't know what to do with?
Landfill is not the only option for disposal of waste items but it is the most expensive.
The Environmental Unit can support you to find the most appropriate disposal option for your items at UOW. In the past we have helped to find disposal options for items such as graduation gowns, office folders, pool lane ropes and sacks of wheat. Disposal of waste to landfill is expensive and many items that need to be disposed can either be reused, composted or recycled. Do not dispose of these items to landfill without first contacting the Environment Unit. It is important to think ahead as organising disposal may take some time to coordinate.
For information on how to dispose of many different items from home refer to https://recyclingnearyou.com.au/ .