UOW changing the game with appointment of new Dean of Sport
Professor Marc in het Panhuis to oversee sport-related education, research and partnerships with five-year strategy
---
The University of Wollongong's (UOW) commitment to being among the best sporting universities in the world has been strengthened by the appointment of Professor Marc in het Panhuis as the inaugural Dean of Sport.
Professor in het Panhuis, an expert in materials science and surf engineering in the School of Chemistry and Molecular Bioscience, will oversee the implementation of the UOW Sports Strategy 2023-2028, it was announced this week (Wednesday 1 March).
During his 16-year career at the University, Professor in het Panhuis has been the driving force behind UOW's Surf Flex Lab, which progresses surf and waters sports technology to maximise performance, sustainability, and enjoyment of water sports. Run by surfers, for surfers, the Surf Flex Lab captures the intersection between sport and science, focusing on performance, materials, and sustainability.
What began as a project examining how 3D-printing fins could improve a surfer's performance and experience in the water has grown into a comprehensive research laboratory that is foremost in the world in the field of surf engineering.
Under the implementation plan of the Sports Strategy, Professor in het Panhuis will oversee UOW's sport and exercise-related activities and be the ambassador for UOW's sporting partnerships and alliances.
He will also be responsible for leading coordination between faculties and key stakeholders to optimise UOW's teaching and research in sports-related disciplines, with the primary objective of improving the health and wellbeing of UOW's diverse communities.
Professor in het Panhuis said he was delighted to be appointed the new Dean of Sport. Sport plays a fundamental role in his own life and research, and he is passionate about bringing UOW's transdisciplinary stands together under the one umbrella.
"I am absolutely pumped about this new opportunity to take a whole of UOW approach towards our sport activities. Sport is something that is very important to me. I am involved in surfing, tennis, surf life saving, AFL, Oztag, and I am even the director of a lawn bowls club," Professor in het Panhuis said.
"I play sport myself, I conduct research into sport, and I am excited about the many different opportunities that sport and exercise present for our mental health, our physical wellbeing, our research output, our community partnerships, and our student experience.
"As a University, we are moving forward with one strategy, one institutional approach, that will benefit all our communities."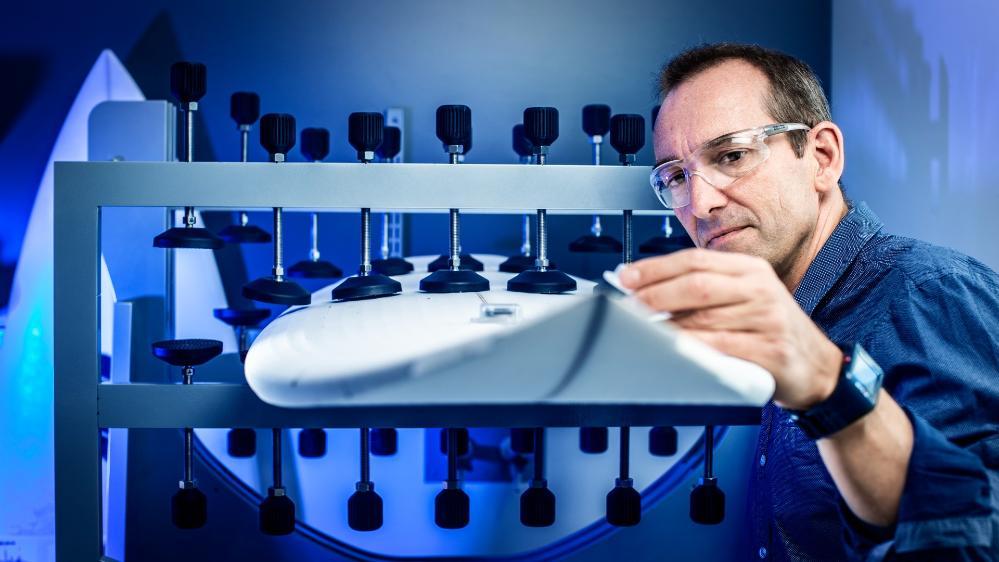 Professor in het Panhuis in his Surf Flex Lab.
The development and implementation of the UOW Sports Strategy 2023-2028 aims to improve the health and wellbeing of the University's diverse communities through the delivery of globally recognised sport education and research, innovative facilities, and mutually beneficial partnerships and alliances.
UOW has developed sporting education and research partnerships with a number of international and national organisations through its global sports programs, including Tottenham Hotspur, the Crusaders, St George Illawarra Dragons, and the Illawarra Hawks, and supported community initiatives such as last year's UCI Road World Championships.
Sport Studies at UOW is ranked in the top 100 in the world in the QS World University Rankings by Subject 2022. The University offers undergraduate and postgraduate degrees in the sporting space, including the Bachelor of Sport, Bachelor of Exercise Science, Bachelor of Business (Sports Marketing and Management) and the Master of Clinical Exercise Physiology.
This is the first time that UOW's sporting education, research and community endeavours will be formalised and brought together under one overarching strategy.
Professor Sean Brawley, UOW's Deputy Vice-Chancellor and Vice President (Strategy and Assurance), said sport was the great unifier, bringing people together from all walks of life for a common goal or passion. He was thrilled to announce the UOW Sport Strategy 2023-2028 and congratulated Professor in het Panhuis on his appointment as Dean of Sport.
"Sport has long been a part of UOW's foundation and spirit. It unites, it inspires, it encourages us to be the healthiest version of ourselves. UOW has many students who have gone on to achieve incredible heights in sporting endeavours, and our research in this field is among the best in the world," Professor Brawley said.
"We have made huge gains in this space but now it is time to bring all these different, transdisciplinary strands together into one strategy, led by our new Dean of Sport, to help us truly change the game in sporting research, education and community partnerships.
"Congratulations to Professor in het Panhuis on becoming UOW's first Dean of Sport. As a leader in the field of surf engineering, he has the commitment, vision and creativity to bring this strategy to life, and improve the health and wellbeing of all our communities."