University is a ticket to the game
The Vice-Chancellor's Leadership Scholars met with legendary cricketer Adam Gilchrist to learn about leadership and international career
---
One of the most popular leadership questions is whether leaders are born or made. But just like with any other trait of character, the answer may lie at the intersection of nature and nurture. A naturally born leader must possess key psychological qualities – intelligence, drive, empathy, curiosity and more. But they also have to be nurtured to use their natural talents for the greater good of the community.
That's why a vital part of the University of Wollongong's (UOW) Vice-Chancellor's Leadership Scholarship program, launched last year to inspire new generations of passionate leaders from the Illawarra, is creating opportunities for the students to meet with real-life champions and groundbreakers from diverse backgrounds.
On Wednesday 12 October, the VC's Leadership Scholars met with Adam Gilchrist, former captain of the Australian national team and one of the best wicketkeeper-batsmen in the history of the game.
As charismatic as Gilchrist is, he's also famously down-to-earth and modest, qualities that make him a fantastic motivational speaker and an inspiring teacher.
Since 2008, Adam Gilchrist has been a UOW Global Brand Ambassador, meeting with students and the local community to inspire everyone to aim high. And if there is a secret of getting to young people's minds, it's authenticity. A great leader doesn't only talk about leadership, but he shows how it's done.
"I'm a big advocate for university and tertiary education because it broadens your horizons. In a sporting analogy: it's a ticket to the game. But as with everything in life, we shouldn't ever take anything for granted. Because even being a scholar doesn't guarantee anything. You still have to put up all the work," Gilchrist said.
During his hour-long workshop, he told the students many stories from his international career, explaining how various experiences offered powerful life lessons.
For example, he reminisced on the Australian team's tour of India in 2001 when Steve Waugh was captain and Gilchrist was vice-captain. At that time, despite great successes at home and abroad over many years, Australia had not won a test series in India in 31 years (the last time being in 1969). The tension ran high, and all the team members, Gilchrist included, did was complain. They whined about the weather, food, hotel conditions and unfair treatment. But then Steve Waugh got them all together, and instead of plotting technical details for the game, he wrote a quote on a blackboard: "Attitudes are infectious. Is yours worth catching?"
As it happened, Australia didn't win the 2001 test series in India. But Adam Gilchrist pointed out that after embracing that slogan, everyone stopped blaming others and did their best. And three years later, under Gilchrist's captaincy, the Australian team managed to win in India.
"You must remember, each of you is on your own unique journey. Don't be scared of mistakes and detours. Learn to pause and breathe. Trust and embody your values. Communicate with respect for cultural differences and diverse opinions. The middle ground is the key to successful relationships with others, and as leaders, we all can learn a lot from one another," Gilchrist said.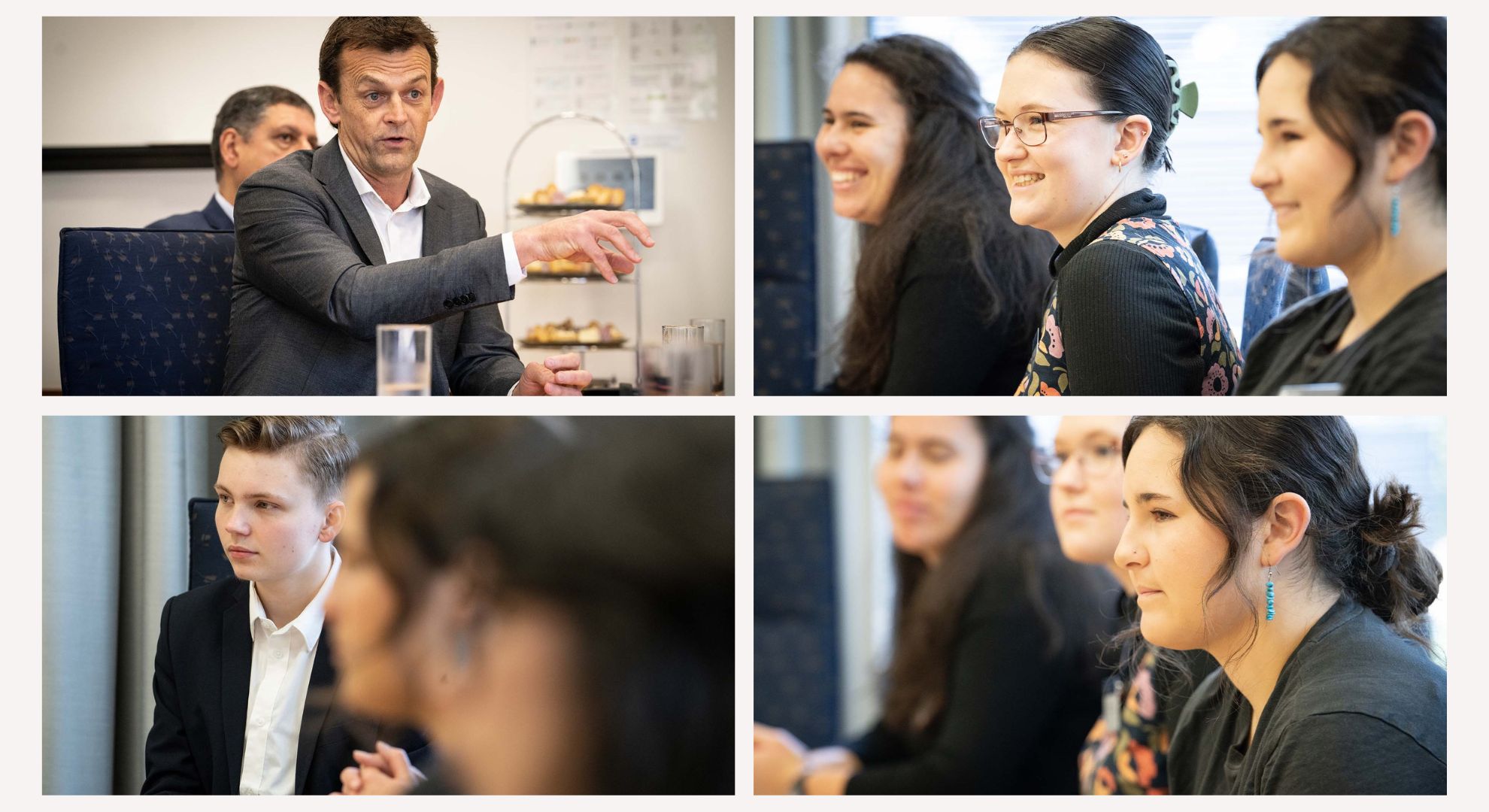 After the workshop, the students had a chance to chat to the sporting legend over tea and coffee. Many questions were asked and many ideas exchanged.
18-year-old Felicity Dowd, a Bachelor of Creative Arts and a Bachelor of Communication student who's also a professional folk musician, said she was excited to learn from someone who's had so much life experience not just within Australia but also internationally.
"It was incredible, all the stories about how he navigated and learnt from everything that happened to him".
"For me, it was amazing to hear how Adam discussed taking opportunities and running with them, pushing through and persevering," said another of the VC Leadership scholars, Alex Stevenson, a Bachelor of Science candidate and an aspiring pro-surfer.
The meeting left everyone bright-eyed and excited for the journey ahead. Because, as Napoleon said, a leader is a dealer in hope.