September 29, 2022
Consulate General of China in Sydney visit strengthens relationship with UOW
Roundtable discussion focuses on links in teaching, learning, research and industry between University and China
The University of Wollongong (UOW) on Wednesday (28 September) welcomed the Consulate General of the People's Republic of China in Sydney to the Wollongong Campus, for a meeting aimed at further strengthening ties between the nation and the University.
Professor Patricia M. Davidson, Vice-Chancellor of UOW, and Professor Alex Frino, UOW's Senior Deputy Vice-Chancellor (Innovation, Enterprise and External Relations), met with His Excellency Consul General ZHOU Limin and Consul (Education) Ms LI Xiaojun for a roundtable discussion. They were then joined for lunch by Consul Mr AN Jiaqi, UOW's Associate Deans (International), Executive Director (Global) Ashley Tanks, staff from Graduate Research, and the Executive Deans from the University's four faculties.
Professor Davidson said it was fantastic to be able to welcome the Chinese Consulate General delegation to UOW and show them around the Wollongong Campus.
"The relationship between China and UOW is incredibly important, in research, teaching and learning, and we value that deeply. Being able to strengthen those links with China, and continue to build to forge partnerships that benefit our staff, students, and research capabilities, was very rewarding," Professor Davidson said.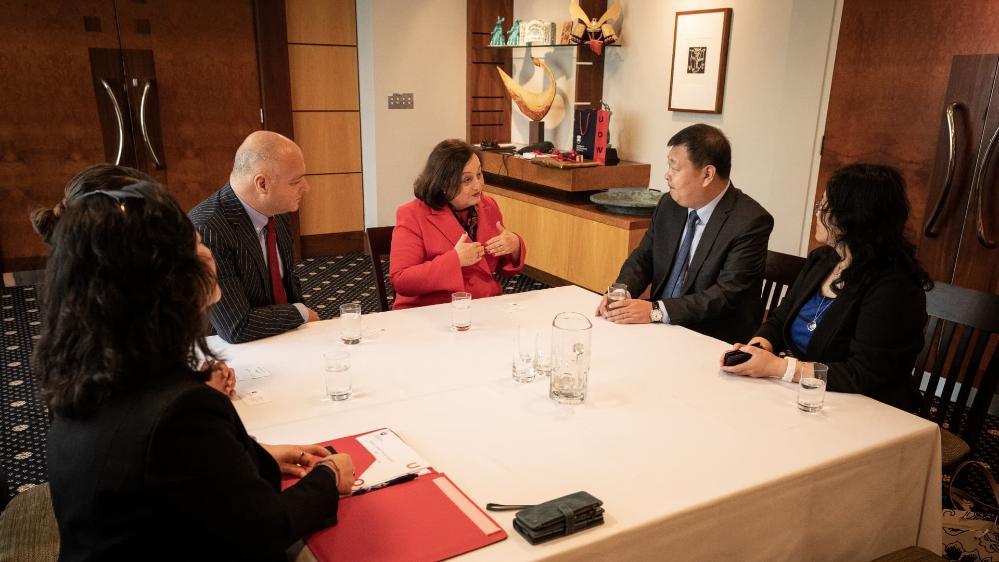 His Excellency had a further discussion with UOW Senior Executives on several topics during lunch and highly praised the ongoing support provided by the University to its Chinese students, particularly during the COVID pandemic. The roundtable discussion include Chinese staff who work at the Wollongong Campus.
Since the 1980s, the University has engaged with China and its institutions, and currently partners with more than 70 Chinese universities and institutes for research, articulation, student exchange and twinning programs. More than 15,000 UOW students and alumni work and reside in China.
UOW also has developed joint PhD programs with several partner universities, including Zhengzhou University, University of Science and Technology China, and Shenzhen University, and also a Joint Institute with Central China Normal University.
UOW is among the top 10 Australian universities that have the most joint scientific and research papers with China, particularly in the fields of Materials Science, Chemistry, Energy, Engineering, Physics and Astronomy.