October 27, 2022
Australia's most innovative computing solutions on display at UOW
Final year students showcase IT and tech inventions to solve our modern-life problems
Necessity is the mother of all inventions. And there are still many needs in our modern, fast-paced society, whether in healthcare, work, transportation or our daily lives.
That's why the School of Computing and Information Technology (SCIT) Trade Show, taking place at the University of Wollongong (UOW) today (Thursday, 27 October), has offered promising technology and software solutions, many of which aim to revolutionise how Australian industries work over the coming years.
The annual event allows the final-year students of computer science, information technology and business information systems to showcase their projects to the community and industry partners.
Around 500 people visited the SCIT Trade Show to admire and test 32 cutting-edge products, ranging from mobile apps and games to innovative software.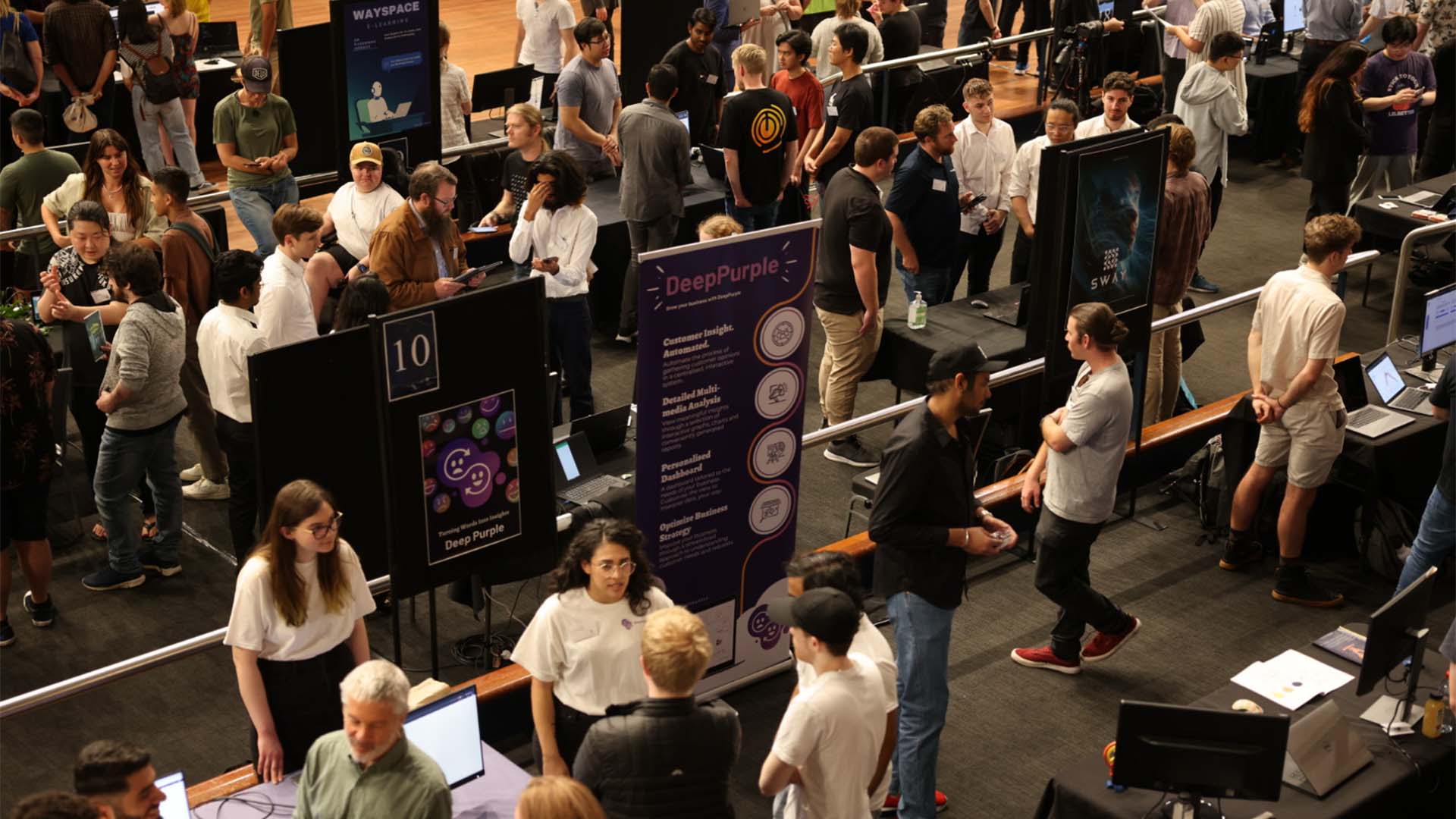 Around 500 people: students, industry representatives and academics, visited the 2022 SCIT Trade Show.
SCIT senior lecturer, Dr Mark Freeman, said the projects have encouraged students to step into a bright career future as Australia's next generation of innovators.
"The projects allowed our students to work with industry professionals in real employer workplaces, and use their computer science, business and information technology skills – acquired at UOW – to demonstrate strong technical acumen and career potential," said Dr Freeman.
The technology solutions on display at UOW address real-life problems facing Australian society, charities or businesses operating in the IT, medical, welfare and computer gaming industries.
They also highlight how information technology and computer systems can transform our lives – from improving home renovations to assisting the visually impaired in experiencing movies.
"They demonstrate the incredible talents of UOW students and show how innovation and 'out of the box thinking' really can change our world," said Dr Freeman.
One of the projects is a pragmatic take on bathroom renovations called Supersize, created as a collaboration between students Kyle Brookes and Dayna Briffa and their industry partner, Architectural Designer Products.
Kyle and Dayna are third-year students studying a Bachelor of Computer Science, with Kyle majoring in Software Engineering and Dayna in Game and Mobile Development.
"We know how difficult it is to visualise your dream bathroom just by looking at a catalogue. So we've developed a scalable and data-driven 3D product configurator, allowing customers to interact with and visualise their product before buying.
"What makes Project Supersize unique is its complete data-driven nature. We built the configurator with complete robustness, allowing it to be lightweight and efficient. And both of us used our strongest skills. For me, it was 3D graphics, and Kyle's influence was the automation and streamlining process," Dayna said.
Another innovative solution from the SCIT Trade Show aims to equip modern communication tools with a deeper understanding of emotions and intentions behind words. Called DeepPurple, the project is a text analysis software that scans the messages people write to decipher what they're truly saying and how they feel. It was created by a team of UOW students working with their industry partner, Morpheus Wealth.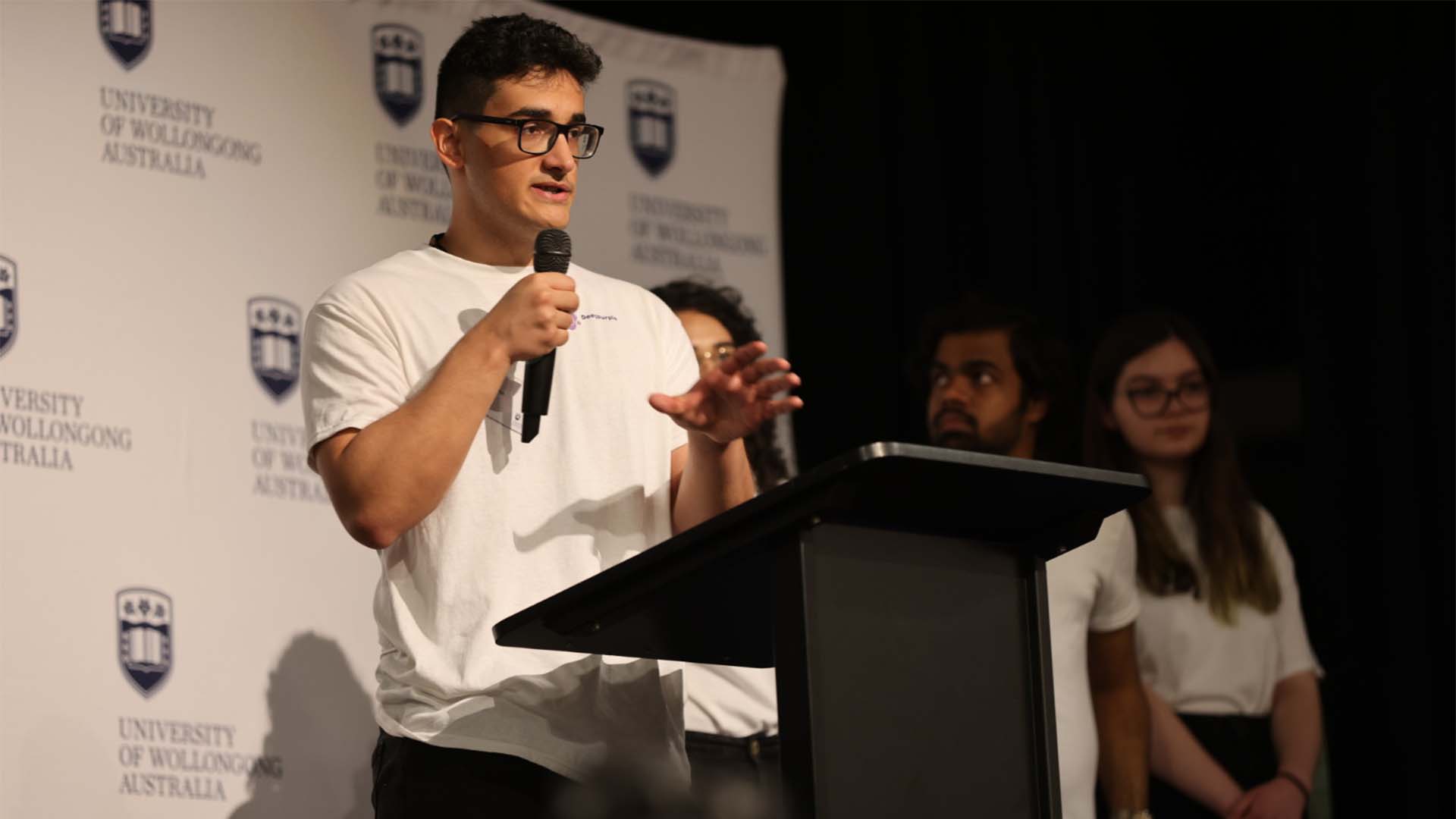 SCIT students present their team project, DeepPurple.
"A concept for this product was brought to us by the project sponsor, Ray Tubman. During the COVID-19 pandemic, most businesses had to interact with their customers virtually. There was a big need for AI software to help companies understand the emotional component of online conversations. So, we created one," said Veronica Nashed, a Bachelor of Computer Science student who participated in the DeepPurple project.
The core of the text analysis software allows users to see trends of sentiments (happy, sad, disgusted, angry, content, excited, anxious or surprised) in addition to topics (such as a service or a product) and general satisfaction outcomes (positive, neutral or negative). These trends are displayed in graphs and allow businesses to share and analyse all insights.