April 12, 2021
UOW inaugurates permanent rainbow staircase to celebrate diversity
Rainbow stairs a symbol of commitment to an inclusive and diverse community at the University
The University of Wollongong (UOW) has officially opened a permanent rainbow-coloured staircase today (Monday 12 April 2021) to celebrate diversity and inclusion at the University.
The permanent rainbow stairs, located outside the Arts building (Building 19) were opened by UOW Vice-Chancellor Professor Paul Wellings CBE. In attendance were special guest former High Court judge the Honourable Michael Kirby AC CMG, along with the members of the UOW Ally Network, a network of people who are allies of students and staff identifying as lesbian, gay, bisexual, transgender/gender diverse, intersex and queer (LGBTIQ+).
The opening of the stairs coincided with the annual Chalk Rainbow event, an Australian initiated world-wide movement, which began in 2013 as an expression of community support for diversity and inclusion, specifically gender, sex and sexuality, and celebrates diversity and inclusion around the world.
Each year, UOW staff members and community representatives celebrate the event on campus by drawing chalk rainbows to show support for the LGBTIQ+ community. Ally members will continue this tradition, by chalking a rainbow before the unveiling of the stairs.
Professor Wellings said the rainbow staircase was a symbol of pride and showed UOW's strength in diversity.
"I am excited to inaugurate the rainbow stairs, which are a statement of support for our LGBTIQ+ community at UOW," Professor Wellings said.
"The University has always envisioned a diverse, safe and collaborative community environment, and I am proud of the results UOW has achieved in reaching this goal, and still determined to improve each day."
"Diversity is the strength of UOW, and that's what makes us unique and a highly respected university around the globe."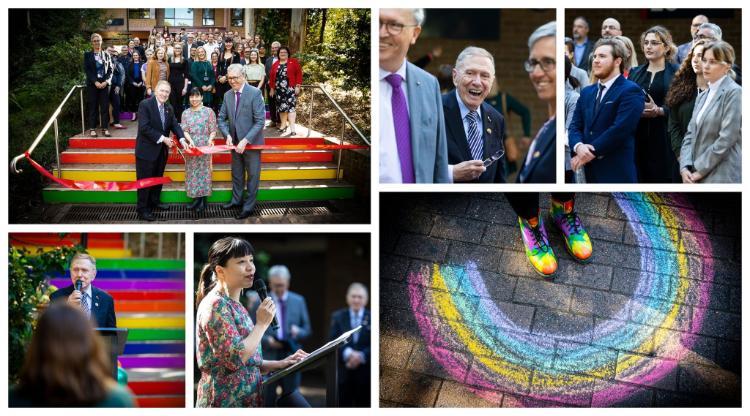 Pic (Top left): The Honourable Michael Kirby, former High Court judge, Dr Quah Ee Ling Sharon, Chair UOW Ally Network and Professor Paul Wellings CBE, UOW Vice-Chancellor cutting the ribbon.
UOW Workforce Diversity Officer Kate Lindenau said the permanent rainbow stairs expressed community support and signified that UOW was a place where everyone belonged and was included.
"The rainbow stairs are a symbol of diversity and of the inclusive environment that the University offers, where everyone is welcome and has a place to work and study," Ms Lindenau said.
"We have already received positive feedback from the UOW community, and it shows the impact the stairs create among community members."
UOW is committed to providing an equitable and inclusive workplace for all and proudly supports and welcomes staff and students who identify as LGBTIQ+.
The University's Gender Identity and Affirmation Guideline provides a framework for supporting UOW community members irrespective of their gender identity and backgrounds.