September 7, 2021
Break-through green hydrogen research takes out top spot at Three Minute Thesis Final
PhD candidate presents innovative solution ready to commercialise
A researcher developing more efficient and cost-effective hydrogen production has taken out top spot at this year's UOW Three Minute Thesis (3MT) Final, hosted by UOW's Graduate Research School.
In just under three minutes, PhD Candidate, Aaron Hodges, from UOW's Intelligent Polymer Research Institute (IPRI) at the Australian Institute for Innovative Materials (AIIM), presented his thesis "Green Hydrogen vs Bubbles". He was awarded the overall winner during the virtual UOW 3MT Final, held on Wednesday, 25 August.
Aaron's passion for creating a more sustainable future has driven his research to find a more innovative solution to unlock renewable energy and drive greenhouse gases down.
Electrolysers use electricity to split water into hydrogen and oxygen and are the key technology for producing green hydrogen.
"I'm working on an electrolyser that is simple and highly efficient, bringing large scale adoption a step closer," Aaron said.
"I am particularly interested in practical innovation that will bring forward hydrogen deployment and integration."
This purpose led Aaron to quit his career to pursue further study, leading to the creation of UOW spin-out company Hysata. Launched in June, Hysata is commercialising the break-through Australian electrolyser technology. Aaron is part of the team from UOW's ARC Centre of Excellence for Electromaterials Science that developed the technology, led by chemical catalysis and characterisation expert Professor Gerry Swiegers.
Aaron believes Australia is the perfect place to launch the company, as efficiency, capital expenditure and the price of electricity are driving the adoption of hydrogen.
"Hysata will produce green hydrogen that is environmentally desirable and commercially indispensable. If we succeed the implications are truly mind-boggling," Aaron said.
This year, the 3MT final featured two PhD researchers from each faculty, and two from the Australian Institute for Innovative Materials (AIIM), showcasing their innovative research solutions to solve some wicked problems.
Originally developed by the University of Queensland (UQ), 3MT cultivates candidates' academic, presentation, and research communication skills. The finalists shared their research through engaging three-minute presentations, in non-specialist language with the assistance of only one PowerPoint slide.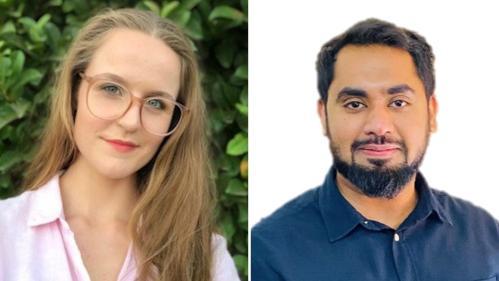 Picture: PhD candidate Alice O'Keefe, from the Faculty of Engineering and Information Sciences, and PhD candidate Usman Khalil, from the Faculty of Engineering and Information Sciences.
Alice O'Keefe, from the Faculty of Engineering and Information Sciences, was awarded the inaugural Community Award for her presentation, "How to cook cancer with magnets". She is making nanomaterials that can be used in a novel heat-based cancer therapy. Alice hopes that her research will improve the lives of patients with brain tumours that are hard to target.
The People's Choice Award went to Usman Khalil, from the Faculty of Engineering and Information Sciences, for his presentation, "Coastal storage to achieve sustainable development goal 6". He is investigating water resources engineering and flood water storage solutions to mitigate disasters.
The MC for the 3MT Final, the Dean of Graduate Research, Professor Clive Baldock from the Graduate Research School congratulated the finalists and believes the skills learnt during the competition will be a huge benefit into the future.
"Across the 10 finalists, it was fantastic to see how our exceptional PhD researchers have been able to create and inspire meaningful impact in our communities. I have no doubt that these researchers are the next generation of changemakers."
UOW Vice-Chancellor Professor Patricia M. Davidson participated as a judge at the final and said the competition offered the opportunity to celebrate UOW's incredible PhD candidates and their research endeavours.
"The Three Minute Thesis final is a celebration of the critical thinking and cutting-edge innovation of the researchers at UOW," Professor Davidson said.
"It is within universities that we have the power, passion and purpose to make a difference in the world. I congratulate the winners, each were inspirational and motivational."
As the winner Aaron Hodges will represent UOW at the 2021 Virtual Asia-Pacific 3MT competition, hosted by The University of Queensland on Wednesday, 20 October.
Main picture: PhD candidate Aaron Hodges, from UOW's Intelligent Polymer Research Institute (IPRI) at the Australian Institute for Innovative Materials (AIIM)