Campaign highlights importance of life-saving skills in memory of late student
Public Relations students work with St John Ambulance NSW on teaching every student First Aid
---
In emergency situations, every minute matters.
That was the message put forward on Wednesday (8 May) when Public Relations students from the University of Wollongong (UOW) came together with representatives from St John Ambulance NSW to highlight the importance of learning First Aid.
The event, the official launch of the #EveryMinuteMatters campaign, was in tribute to UOW student Naum Dislievski, who passed away in 2017 during an evening out in Wollongong.
Naum, a 20-year-old student who was studying in the Faculty of Business, was celebrating the end of his exams when he collapsed from a cardiac event at a local nightclub.
No bystanders responded; it is unclear whether they weren't aware it was an emergency or didn't have the skills to help.
The tragedy was a catalyst for students and staff in the Faculty of Business, who were determined to do what they could to ensure it never happened again.

The result was #EveryMinuteMatters, an initiative of students in the subject MARK321: Creative Public Relations Campaigns, which encourages every member of society to learn the basics of First Aid, and in particular, CPR.
During the launch on Wednesday, at UOW's Communications Centre, family and friends of Naum gathered with the students of MARK321 and representatives from St John Ambulance NSW, the Faculty of Business, and players from the St George Illawarra Dragons NRL team.
Representatives from St John Ambulance NSW spent hours teaching UOW students CPR.
Dragons players Tristan Sailor and Jeremy Lattimore learnt the basics of First Aid and encouraged onlookers to do the same.
As part of the class, the students had created a memorial video for Naum, which captured his family and friends' love for their "gentle giant".
"He encouraged me to be the best I could be," his sister Maree said in the video.
Professor Charles Areni, Executive Dean of the Faculty of Business, told the crowd gathered that tragedy was often the impetus for change.
"Tragic events bring people together," he said. "Why don't more people learn First Aid? It was a challenge we brought into the classroom, and it was designed to get everyone in our community trained up so this never happens again."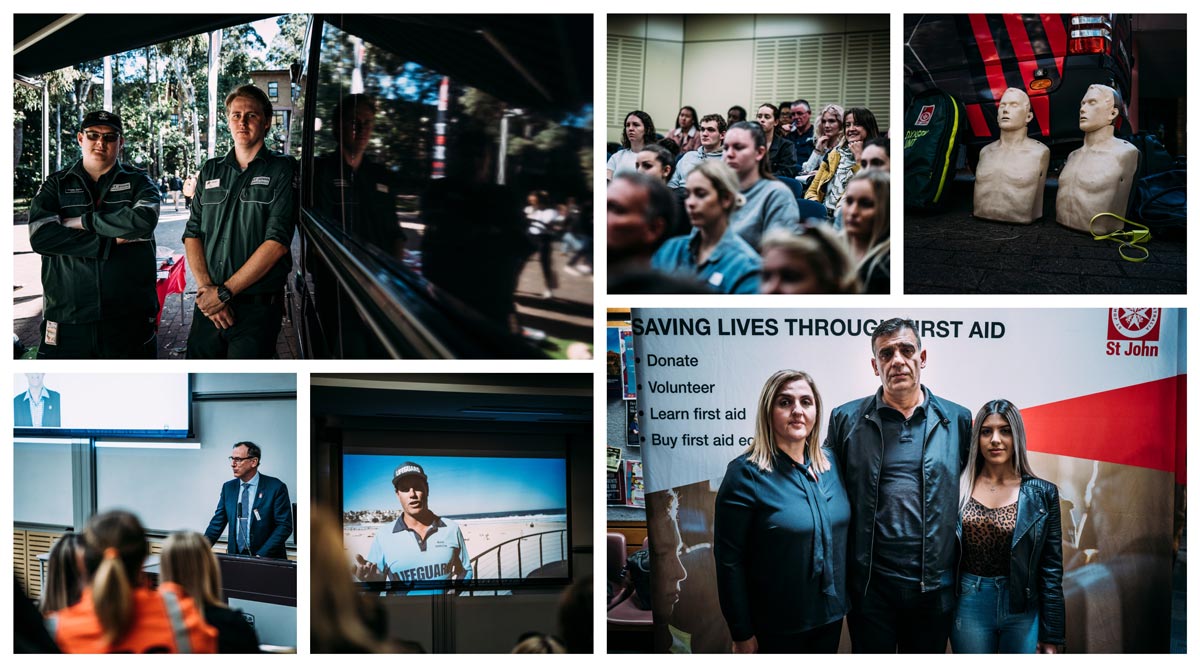 Students from MARK321 spoke during the launch. They shared four short videos they have created, which teach others what to do in a moment of crisis; there were tutorials on how to deal with choking, bleeding, anaphylaxis, and cardiac arrest.
They also showed a video from Bondi Rescue lifeguard Bruce 'Hoppo' Hopkins, who stressed how critical time can be when facing an emergency and how having basic skills can ensure those first on the scene are calm and confident in the moment.
The final speaker at the event was Martin Thomas, General Manager Training and Development from St John Ambulance NSW, who said he was incredibly proud to be part of the campaign and working alongside the university.
"First Aid is a skill that everyone should know," Mr Thomas said. "In emergency situations, minutes save lives so everyone should be competent and capable of delivering CPR."