May 15, 2023
Achieving excellence in studies and beyond
Louis Angeli is the finalist for a prestigious award, has been featured in the Australian Financial Review, has won a grant for a study tour to Japan, and he shows no signs of stopping.
UOW's Faculty of Business and Law student, Louis Angeli, was recently shortlisted as one of the top eight candidates for the prestigious Goodman Fielder FMCG Top100 Future Leader Award. The Top 100 Future Leaders Competition recognizes Australia's top future graduate talent and as part of the competition, Louis had to undergo a rigorous application process with multiple rounds of interviews and assessments. Talking about his experience, Louis says, "It was a great opportunity to showcase my achievements, and I found that it was beneficial in terms of putting my name out there to potential employers."
Being an award finalist, Louis was also featured in a write-up by the Australian Financial Review.
At UOW, Louis is studying a double degree of Law and Commerce, majoring in Supply Chain Management and is due to finish later in 2023. Studying two degrees concurrently has been challenging but Louis wouldn't have it any other way. He believes that the interconnectedness of his two degrees means he can gain a well-rounded insight to both practical and theoretical ideas and problems - with the law subjects providing the background, and backing, to business practise.
Growing up working within his family-owned and operated business, Louis already had extensive exposure to the business environment and had developed a particular passion for supply chain management. His degree formalised the experiential learning he had already gained from working in his family business and has provided him with immersive learning and access to industry best practices. So far, his favourite subject has been 'Principles of Supply Chain Management' and he credits the practical examples provided by Associate Professor Matt Pepper for reinforcing his understanding of the critical aspects of managing supply chains.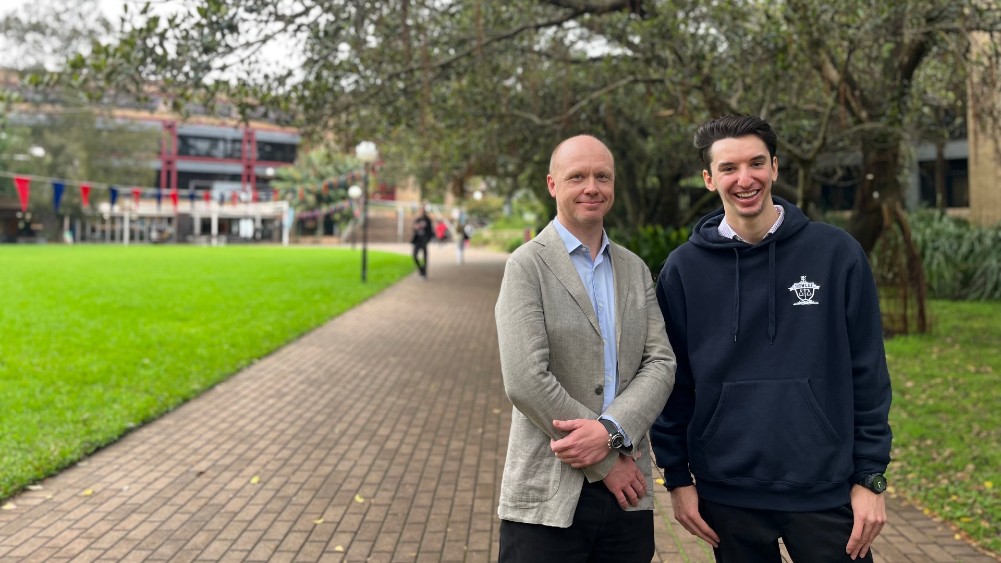 Associate Professor Matt Pepper with current UOW student, Louis Angeli.
Associate Professor Matt Pepper has been a significant inspiration to Louis during his time at UOW. His excellent contacts with industry, guest speakers, and alumni journeys have been aspirational and inspirational for Louis. "Seeing people that have taken a similar path 'making it' has been invaluable," says Louis.
"It has been a pleasure to have Louis in our Supply Chain Management major. His genuine enthusiasm for the subject really contributed to a reciprocal learning environment and it is no surprise that he has been recognised in this way for his achievements," Associate Professor Pepper said.
The latest addition to Louis's list of achievements: he's been awarded a grant to undertake a prestigious two-week study tour in Japan. The New Columbo Plan study tour organised by the will see Louis and 17 other students experience both local culture and industry in Japan.
The study tour will focus on two business disciplines – Supply Chain Management and Accounting – to provide a broad range of insights into business operations. This will be Louis's first time overseas, and he's looking forward to immersing himself into a new culture, while being supported by UOW's Faculty of Business and Law staff.