Outstanding UOW Indigenous students and graduates celebrated
Woolyungah hosts Indigenous students success awards night recognising academic excellence
---
Despite two years of constant disruptions with the move to online learning, the dedication, perseverance and success of UOW's best and brightest Aboriginal and Torres Strait Islander students was celebrated during the third UOW Indigenous Students Success Awards Night 2021, held late last year.
The annual awards night hosted by Woolyungah Indigenous Centre (WIC) offered a much-welcomed opportunity for the community to be able to connect face-to-face again, as the ongoing pandemic has kept many WIC students and staff apart for a long time.
Across the evening 22 Indigenous student awards were presented and several graduates from the class of 2021 were celebrated.
UOW Vice-Chancellor Professor Patricia M. Davidson attended the awards evening, while invited guests were entertained by comedian Andy Saunders, musician Dane Kennedy and DJ Melly Mel.
UOW's Executive Director (Indigenous Strategy) Jaymee Beveridge said "the awards celebrated the outstanding achievements and efforts of students in extremely difficult circumstances and recognised the important sense of belonging that WIC provides".
"It is an honour to be able to celebrate such a momentous occasion in the personal and professional journeys of students," Ms Beveridge said.
"WIC plays a vital role in guiding students through their university life, supporting their professional development and empowering them with opportunities. The overall academic success of our Indigenous students illuminates the commitment of our team and our cultural responsibility to walk beside our students as they navigate the higher education space.
"WIC has worked tirelessly to create a safe space both physically and culturally for our mob. When you create a positive community - success and fun is inevitable."
The awards celebrated a diverse array of achievements by Indigenous students, from first-year academic excellence, to dedicated commitment to their higher education journey, to demonstrating courage to reach their future employment goals, and dedication to community spirit.
WIC Ambassador Ethan Graham, who is studying a Bachelor of Politics, Philosophy and Economics, received a 'Motivated for Success Award' for displaying a deep and ongoing commitment to his higher education journey. Ethan said the award helped to reinforce his ambition of success in study.
"WIC has provided me with incredible support throughout my study and life as a university student. The staff at WIC have made me feel at home at UOW, and the facilities at the Centre have been very useful. Indigenous Tailored Academic Program assisted me in pursuing my academic goals in 2021."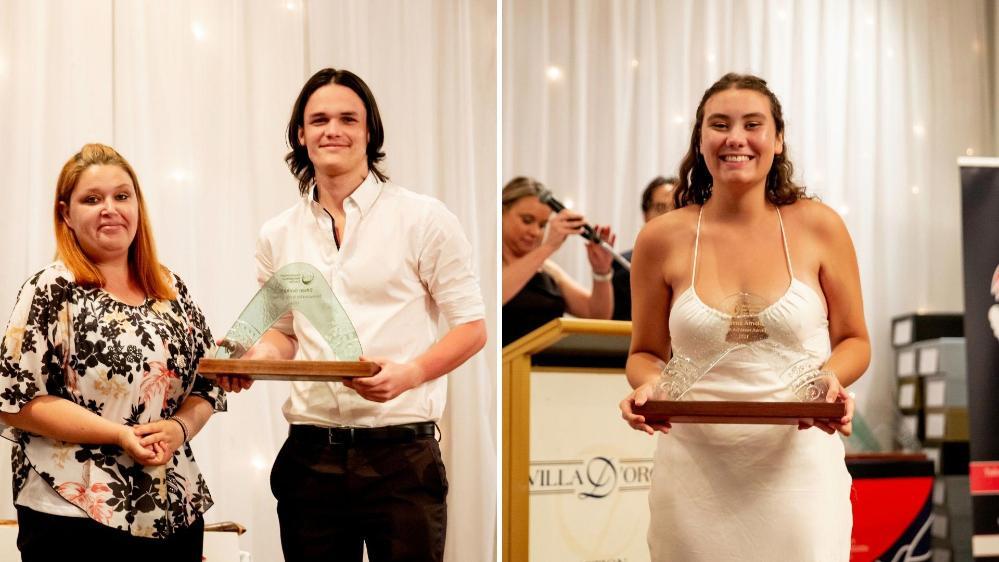 2021 UOW Indigenous Students Success Award recipients Ethan Graham and Emma Arnold both from the Faculty of the Arts, Social Sciences and Humanities.
It was an experience echoed by Emma Arnold, who is studying a Bachelor of Social Work. Emma received a 'High Achiever Award' for achieving high results across all subjects, and displaying an apparent commitment to study at times when it would have been easy to walk away.
"For me, WIC provides the type of support which makes you feel like you are a part of a little family – a community. The team welcomes and embraces you while on your learning journey," Emma said.
"Receiving this award essentially reflects and acknowledges all the time and energy I dedicated to my studies. This recognition makes me, as an individual, feel valued and my efforts appreciated."
Fellow Higher Achiever Award recipient Hayley Marshall, who is undertaking the Bachelor of Social Work, said the programs WIC offer empower the community of students to be proud of their achievements.
"WIC sets students up for success to achieve and be proud in all aspects during their learning journey at UOW. The award I received was an honour and I am proud to be the recipient. I would not have received this award without WIC's learning facilities and support networks," Hayley said.
Many of the award recipients are welcoming the return to campus in 2022 and looking forward to the opportunity to establish new connections with peers and strengthen old ones as they head into the new academic year.
"I'm excited to have the opportunity to experience the university campus and make use of the facilities at UOW. Meeting more people, especially mob, and continuing to grow the WIC family," Ethan said.
UOW Indigenous Students Success 2021 Award Winners:
Academic Excellence Award
Zara O'Connor - Faculty of the Arts, Social Sciences and Humanities
Zara Button - Faculty of Science, Medicine and Health
Finn Spaleta - Faculty of Science, Medicine and Health
Kaylan Weller - Faculty of Science, Medicine and Health
Academic Success Award
Tiarna Williams - Faculty of Business and Law
Jessie Sharp - Faculty of the Arts, Social Sciences and Humanities
Motivated for Success Award
Timothy Parks - Faculty of Science, Medicine and Health
Ethan Graham - Faculty of the Arts, Social Sciences and Humanities
Continually Striving for Success Award
Adam Wingate - Faculty of Science, Medicine and Health
Ben Oakley - Faculty of the Arts, Social Sciences and Humanities
Riley McElhone - Faculty of the Arts, Social Sciences and Humanities
Chanse McLean - Faculty of Business and Law
Future Warrior Award
Rory Woods - Faculty of Science, Medicine and Health
Kaylee Smith - Faculty of the Arts, Social Sciences and Humanities
Holly Jones - Faculty of the Arts, Social Sciences and Humanities
Brody Mitchell - Faculty of Engineering and Information Sciences
WIC Community Spirit Award
Beau Beveridge – Faculty of the Arts, Social Sciences and Humanities
Brittany Donnolley - Faculty of the Arts, Social Sciences and Humanities
Hayley Marshall - Faculty of the Arts, Social Sciences and Humanities
Dylan Hutchinson - Faculty of Business and Law
Emma Arnold – Faculty of the Arts, Social Sciences and Humanities
High Achiever Award
Brittany Donnolley - Faculty of the Arts, Social Sciences and Humanities
Hayley Marshall - Faculty of the Arts, Social Sciences and Humanities
Dylan Hutchinson - Faculty of Business and Law
Emma Arnold – Faculty of the Arts, Social Sciences and Humanities
Dedication to Research
Elizabeth Dale – Faculty of the Arts, Social Sciences and Humanities