June 30, 2022
Leading South Korean energy engineering experts visit ISEM
Co-operative relationship between Hanyang University and UOW will involve research collaborations, joint PhD students and regular visits
A delegation from Hanyang University in South Korea visited the University of Wollongong on Tuesday 28 June, taking the opportunity to meet with UOW academics and tour facilities at the Institute for Superconducting and Electronic Materials (ISEM) in the Australian Institute of Innovative Materials (AIIM).
It was the first official visit between UOW and Hanyang University following the signing of a memorandum of understanding in March 2021 to establish, develop and expand the co-operative relationship between the institutions.
The visiting delegates were Distinguished Professor Yang-Kook Sun and Professor Hansu Kim, both from the Department of Energy Engineering at Hanyang University.
Professor Sun was recently appointed as an Honorary Distinguished Professor at UOW.
Professor Sun and Professor Kim met with AIIM Interim Executive Director Associate Professor Germanas Peleckis, ISEM Director Distinguished Professor Xiaolin Wang, ISEM Interim Assistant Director Dr Jonathan Knott, Professor Jung Ho Kim, and UOW Visiting Professor Min-Sik Park from Kyung Hee University in South Korea.
It is anticipated there will be two joint PhD students under the MOU, and UOW will welcome between five and seven visiting students from Hanyang University over the next five years.
After receiving a PhD degree in chemical engineering at Seoul National University in 1992, Professor Sun became team leader for developing molten carbonate fuel cell systems at Samsung Heavy Industries. He moved to Samsung Advanced Institute of Technology in 1996, where he contributed was team leader of the lithium polymer battery group whose work led to the commercialisation of Samsung SDI Lithium Polymer Battery, for which he received the Grand Prize Award from the Korea Patent Association in 1999.
At Hanyang University, Professor Sun established one of the largest and the most internationally active research centres for battery materials. Professor Sun became an active member of The Korean Academy of Science and Technology in 2007 and a Distinguished Professor at Hanyang University in 2008
Professor Sun has several international collaborations around the world, and more than 623 publications in peer-reviewed scientific journals, and 506 registered and applied patents. He is currently a Senior Editor of ACS Energy Letters, one of the world's most prestigious journals for energy-related research. Professor Sun has also been recognised as a Clarivate Analytics Highly-Cited Researcher from 2016-2021, underscoring the impact and reach of his research.
As an Honorary Distinguished Professor he will engage with ISEM and other UOW researchers with the intent he will participate in ARC proposals as a Partner Investigator.
Particular research collaborations will be undertaken on the development and characterisation of advanced functional materials and devices for energy storage application (Li-metal battery), the outcomes of such activities are anticipated to include high impact publications.
Professor Sun will make regular visits to Australia to engage with UOW researchers in formal seminars and informal mentoring and collegial activities. His visits to UOW will provide an opportunity for higher degree research students and early- and mid-career researchers to interact with an internationally renowned researcher and gain insights into the methods, processes and networks needed to become high-profile researchers.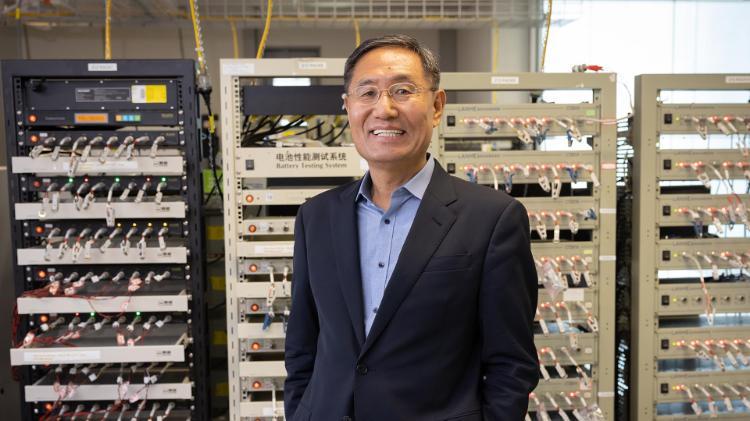 Distinguished Professor Yang-Kook Sun, a world leader on energy storgae development, has been appointed as an Honorary Distinguished Professor at UOW
ABOUT HANYANG UNIVERSITY
Hanyang University is a private research university in South Korea. The main campus is in Seoul, and a second one, the Education Research Industry Cluster at Ansan, is located in Ansan. Hanyang derives from the former name of the Seoul, which was used during the Chosun Dynasty. Its motto and educational philosophy is "Love in Deed and Truth".
The university established South Korea's first engineering institute (DongA Engineering Institute) in 1939. It also established the first school of architecture and civil engineering in Korea.
Hanyang University has an alumni network of 330,000. In 2018, Hanyang was ranked 1st for the number of CEO alumni of venture companies. In 2019, QS World University Rankings ranked Hanyang University 150th.
ABOUT ISEM
The Institute for Superconducting and Electronic Materials is one of Australia's premier energy materials research institutes. As the world looks to consider the value of research not only in terms of numbers and citations, but also in impact on big challenges, we have undertaken a survey of ISEM publications through the lens of the United Nations Sustainable Development Goals (UN SDGs). For the period 2011-2020, ISEM produced more than 1,000 publications directly related to UN SDGs, and was the source of more than 45% of UOWs publications on Goal 7: Ensure access to affordable, reliable, sustainable and modern energy for all for that period. The city of Wollongong has recently been ranked 88th in the world in the nature index 'Leading 200 science cities in SDG research', underscoring the societal value of the research being undertaken at the ISEM.
ISEM researchers Dr Jonathan Knott, Professor Jung Ho Kim and Distinguished Professor Xiaolin Wang, with Distinguished Professor Yang-Kook Sun from Hanyang University, AIIM Director Associate Professor Germanas Peleckis, Hanyang University's Professor Hansu Kim, and ISEM Visiting Fellow Professor Min-Sik Park