August 23, 2022
How 3D printing has made chemistry more accessible for visually-impaired students
Associate Professor Aaron Oakley creating physical models of the body's molecules
Learning the complexities of the body's chemistry can be a difficult concept for many students to grasp. Much of their learning is based on being able to visualise the structure and composition of the molecules that comprise the body.
So, when Associate Professor Aaron Oakley discovered one of his students, Karlee Symonds, who has vision impairment, was taking his second-year food chemistry class, he did not want her to miss out.
Associate Professor Oakley, from the University of Wollongong's (UOW) Molecular Horizons, set about creating a collection of 3D-printed models of the molecules of the body, called ChemBraille, to enable Karlee to learn through touch. Karlee is one of two students with a vision impairment who is taking a class with Associate Professor Oakley.
"The body is made up of molecules, such as protein, amino acids, and vitamins. One of the best ways to understand the molecular biology of the body is to visualise it, which is why we use imagery in our teaching extensively. Having an idea of the shape and structure of the molecules tells you how it works," Associate Professor Oakley said.
"I've been using 3D printing for several years to create physical models of the Molecules that can be displayed on a computer screen, but a physical model is even better. So I came up with a simple way to convert the structural data we have into something that we can 3D print.
"When I found out there was going to be a vision-impaired student in my food chemistry class in the autumn session, it seemed an obvious application to assist her to learn about molecule structure."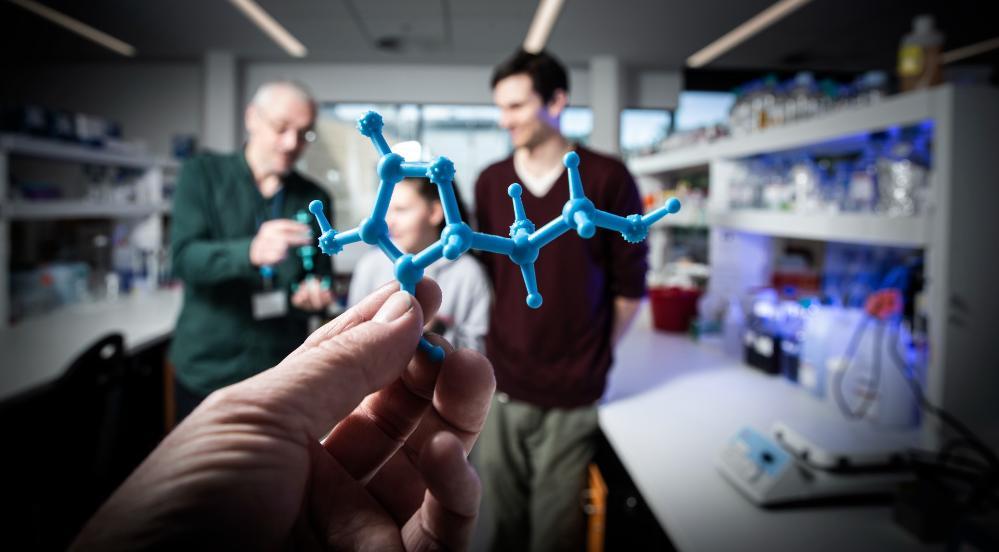 Associate Professor Oakley created ChemBraile, a set of 3D-printed molecules, which use tactile features to signify the different components of the molecules.
"In a nutshell," he explained, "molecules have atoms that are joined together with bonds. Atom types are coded by texture. Carbon is smooth, oxygen is spiky, nitrogen has ridges, and the smallest ones are hydrogen.
"All the information that would be present in an image, that would help the student to understand the structure of a molecule, is included in the 3D-printed models."
To assist the students within his classes who are vision-impaired, Associate Professor Oakley 3D printed a full set of molecules, including the 20 amino acids that comprise our proteins. While he said that the idea is not completely original, it is the first time that he has heard of a lecturer systematically creating physical models to help students.
"It makes education much more accessible," said Associate Professor Oakley, who has predominantly used the equipment available within Molecular Horizons, as well as the 3D printers in UOW's Makerspace to create his models.
"I have given the models to the two students in my classes who have vision impairment and both have found them very helpful. My favourite quote was from the student in my second-year class, who said 'I wish I had had these in my first year'."
Karlee, who is in the second year of a Bachelor of Medical and Health Sciences, is visually impaired and said the models have helped her to have a greater understanding of the subject.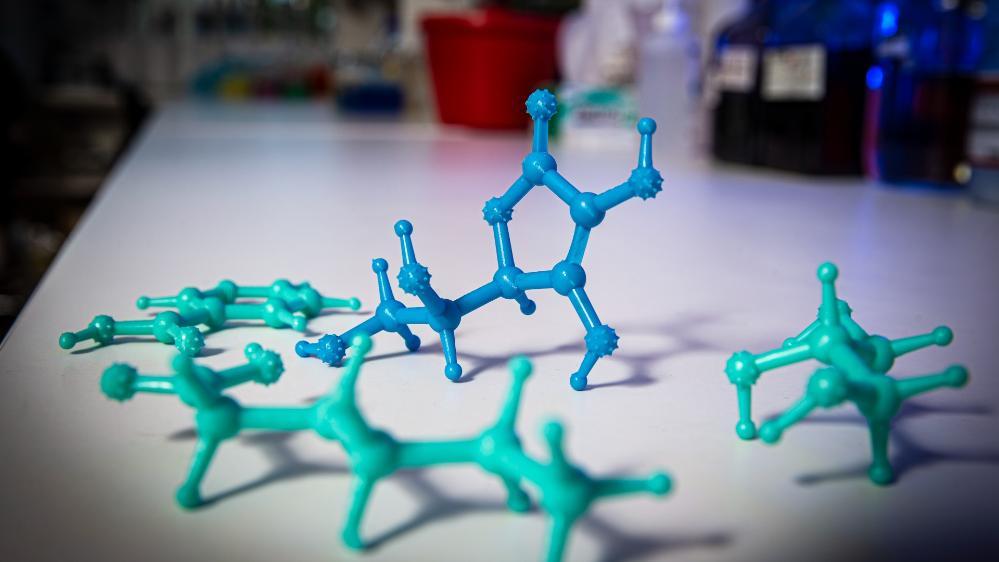 "As chemistry is such a visual subject, and I have no functional eyesight, it was definitely a challenge at times. Especially when we were in lockdown [in 2021] and studying online," Karlee said.
"I rely extensively on tactile and audible feedback, so the creation of the 3D models helped me immensely to create an image in my head and visualise the structures. I loved that I could distinguish between the different atoms based on textures and I am very grateful for Aaron's commitment to making the subject accessible."
UOW is committed to equity, diversity and inclusion in education for all students. This is reflected in UOW's focus on personalised accessibility in learning and teaching. For more information about the Student Accessibility and Inclusion Team, visit: https://www.uow.edu.au/student/support-services/sai/