September 14, 2022
Catching dreams and connecting with like-minded people
As the applications for the VC Leadership Scholarship 2023 open, 2022 scholars look back on their first year at UOW
The University of Wollongong (UOW) traces its origins to a local community fundraising campaign from more than half a century ago that provided the foundations for a technical-based institution to grow into the world-class University it is today.
That's why giving back to the community is one of the University's top priorities.
Through the Vice-Chancellor's Leadership Scholarship announced last year, UOW aims to inspire a new generation of young, local, passionate leaders and give them knowledge and skills to become the future change-makers from and for the Illawarra.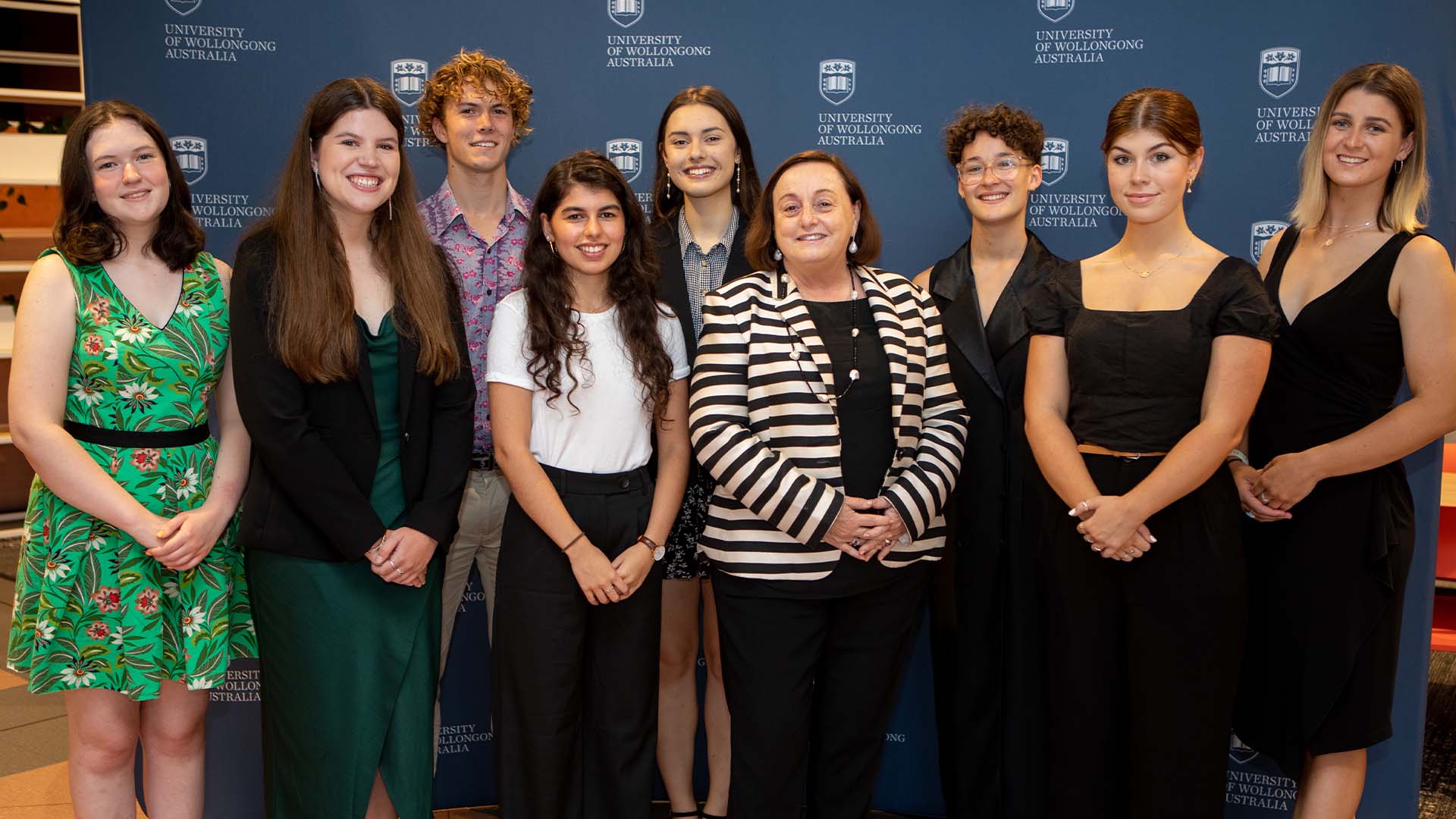 The VC Leadership Scholarship 2022 recipients at their first meeting with UOW Vice-Chancellor Professor Patricia M. Davidson.
Since last year, the VC leadership cohort has been deeply immersed in their student experiences, learning new skills, exploring the region and forging lasting friendships. The whole group has just finished a leadership training series and a specifically designed mentorship program to support them in planning the future stages of their careers.
Lauren Ashcroft came to UOW from Smith's Hill High School in Wollongong to study a Bachelor of Medical Biotechnology (Honours, Dean's Scholar). She admits she's been loving her experiences and enjoyed meeting inspiring people from all corners of the University while also expanding her industry knowledge.
"For me, one of the highlights was the chance to tour the Molecular Horizons building and see their amazing research. I've learned so much about myself and my different career options," Lauren said.
As part of her scholarship's leadership training, Lauren was matched with an industry mentor – Dr Cameron Ferris, a co-founder and COO of Inventia Life Sciences, a biotechnology company advancing 3D bioprinting technology to revolutionise biomedical research and drug discovery. Dr Ferris, an expert in biofabrication, completed his PhD at UOW in 2013.
"Before I met my mentor, I was excited but intimidated. Luckily, the sessions went well, and we realised we had much in common regarding our university experiences and life priorities. That helped us to have really deep, meaningful conversations," Lauren said.
Lauren Ashcroft with her mentor, Dr Cameron Ferris at Inventia Life Sciences' Sydney lab.
During her mentorship, Lauren had a chance to visit Dr Ferris in his hi-tech Sydney office, which has greatly impacted how she's started to approach her career and life objectives.
"I will always remember the piece of advice Dr Ferris gave me, which is to only concentrate on the next step ahead and focus on a few specific goals instead of having a whole future planned. I've already started applying it in my life," Lauren said.
Another UOW scholar, Felicity Dowd from Bega High School, has moved to Wollongong not only to study a double degree, a Bachelor of Creative Arts and a Bachelor of Communication and Media, but also to actively pursue a career in music.
Just like Lauren, Felicity has been enjoying her student life immensely.
"My experience has been better than I ever could have imagined. With the opportunities that UOW has provided, from mentorship, workshops and connections to interesting events, I have learned much from this program. These interactions have shown me just how diverse the paths I can take after the University can be, and how everyone has the potential to make a difference within their town, their country and the world, no matter what field they are in," Felicity said.
Through working with her assigned mentor, chief executive of WIN Corporation and UOW graduate, Andrew Lancaster, Felicity realised her true calling is making music and sharing it with people.
Communications and media student Felicity Dowd from Bega is rarely seen without her guitar.
"I always have my guitar with me. And since coming to study at UOW, I've been performing a lot. In about 10 years, I hope to perform full-time and use the skills I gain within my communications and media degree to share my songs with the world. To help move people, help them learn and help them change.
"My mentor said it's best to trust my gut and follow my heart, which I'm just doing," Felicity said.
ABOUT THE SCHOLARSHIP
The applications for the VC Leadership Scholarship 2023 are now open. All students who attend high school in the Wollongong, Shellharbour, Kiama, Shoalhaven, Eden-Monaro and Wingecarribee local government areas can apply.
The Vice-Chancellor's Leadership Scholarship is valued at $30,000 per year and awarded for the length of a student's undergraduate degree program (when studying full-time). Each scholar also gets the chance to undertake a series of inspiring leadership training seminars, academic and industry mentorship programs and will be invited to attend networking, leadership and global study opportunities to foster their skills as future leaders.
Further information on the application process is available via this application support guide. More details will be included in a special Zoom webinar held on 15 September at 6 pm. Registration is necessary under this link.