September 29, 2022
All hands on board to battle microplastics
UOW students conduct beach sampling to assess the extent of microplastic pollution in Wollongong
Hidden beneath the ocean's surface is a whole separate world of microplastics. Their presence is terrifying because they're so tiny it's impossible to contain them. According to the new research by a US-based non-profit Environmental Defense Fund, 136 thousand tons of microplastics are ejected from the ocean each year, ending up in the air we breathe, the water we drink and even in human placentas.
"Microplastics are small plastic pieces less than 5mm in length. They can be extremely harmful to marine and aquatic animals that ingest these particles, as microplastics are known to absorb chemical pollutants from the environment," said Dr Trudy Costa from the University of Wollongong's (UOW) School of Earth, Atmospheric and Life Sciences.
To combat the issue of microplastics, UOW students from across the University have been participating in a series of environmental events aimed at making them more aware of the dramatic situation on Australian beaches. This time, they met at Belmore Basin (Cove Beach) in Wollongong to collect samples and assess the extent of microplastic pollution there.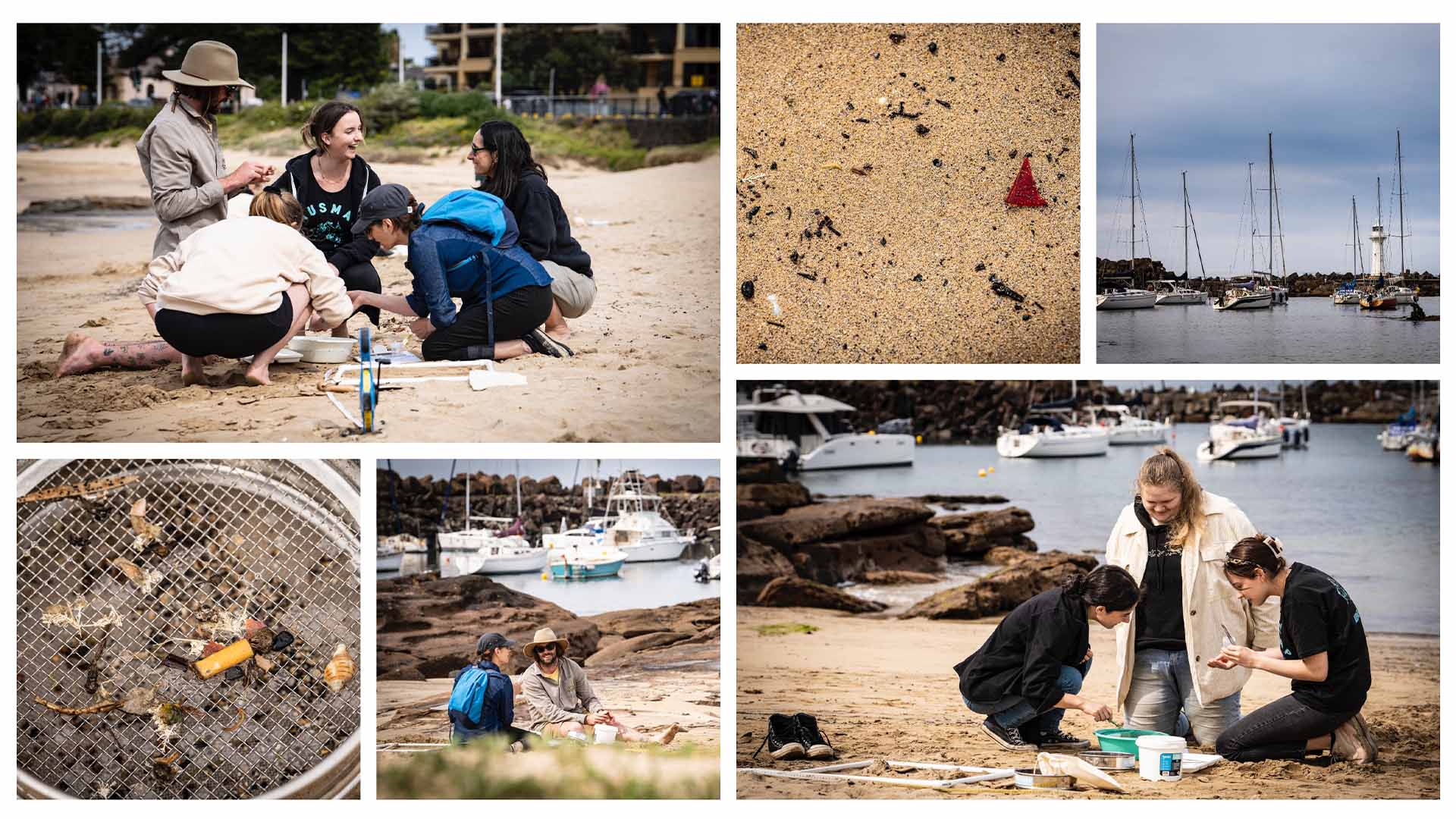 "Unfortunately, we found large quantities of styrofoam, rubber crumb (small particles of old recycled types used to create soft fall play surfaces in children's playgrounds) and plastic fragments, all washed up along the high tide line," Dr Costa said.
One of the larger items found during the sampling event were cigarette butts. The students retrieved around 172 just from a 50-metre stretch of the beach.
The sampling event was run in collaboration with the Australian Microplastics Assessment Project (AUSMAP), a nationwide citizen science initiative that surveys Australian beaches for microplastic pollution. All the collected samples were later verified by the AUSMAP team and added to their interactive online map, showing where microplastics have been found around Australia.
Overall, the AUSMAP results for Belmore Basin were considered moderate. In Belmore Basin, the sample contained 124.8 microplastics per m2 (38 macro debris), and in Belmore Basin North – 66.67 microplastics were found per m2 (678 macro debris).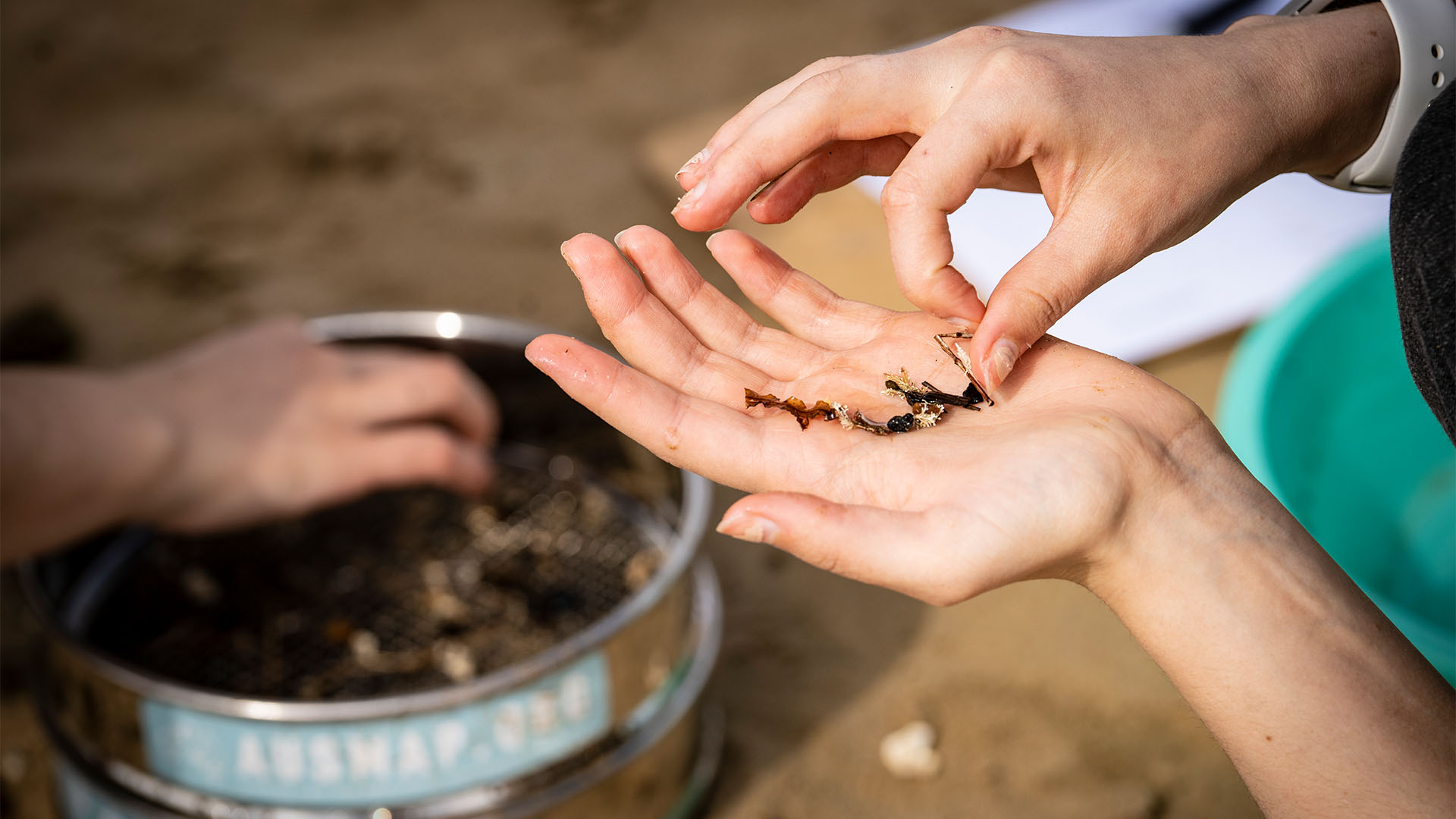 This July, the UOW Faculty of Science, Medicine and Health organised a similar event – as part of the Interprofessional Education Day – for the students across the University to meet and discuss the challenge of microplastics and possible solutions.
"These hands-on events make students acutely aware of the impacts of the global problem of microplastics. They also deepen their awareness of the UN Sustainable Development goals and help develop critical thinking, problem-solving and communication skills," Dr Costa said.
All students interested in helping to battle the problem of microplastics are invited to continue volunteering with this program by joining a local monitoring group or completing their AUSMAP accreditation training to become team leaders.
For more information, you can email Dr Trudy Costa at tcosta@uow.edu.au.