$7.4 million funding to expand sustainable community fisheries management in the Pacific
Funding awarded for collaborative research in Kiribati, Solomon Islands and Vanuatu
---
For people in the Pacific, availability of, and access to, safe and nutritious fish is critical; particularly in ensuring women and men can feed themselves and make decent incomes in the face of social, economic and environmental shifts ensuing from, for example, climate change.
A collaborative research and development project, coordinated by the Australian National Centre for Ocean Resources and Security (ANCORS) at the University of Wollongong (UOW), has been awarded $7.4 million across four years, through an Australian Government-funded project managed by the Australian Centre for International Agricultural Research (ACIAR), to co-develop self-sustaining national community-based fisheries management (CBFM) programs in Kiribati, Solomon Islands and Vanuatu.
While the pandemic has grounded many projects across the region, researchers from ANCORS are in a unique position to engage in long-term collaborative research to support national agencies in planning and implementing programs that seek to improve the wellbeing of coastal communities.
This new project, Coalitions for change in sustainable national CBFM programs in the Pacific, builds on existing networks of government agencies, civil society groups and local NGOs and regional project staff embedded in national agencies.
Institutional partners on the project include the Ministry of Fisheries and Marine Resources Development in Kiribati, the Ministry of Fisheries and Marine Resources in Solomon Islands, the Fisheries Department in Vanuatu, and international and regional research institutes such as WorldFish and The Pacific Community (SPC).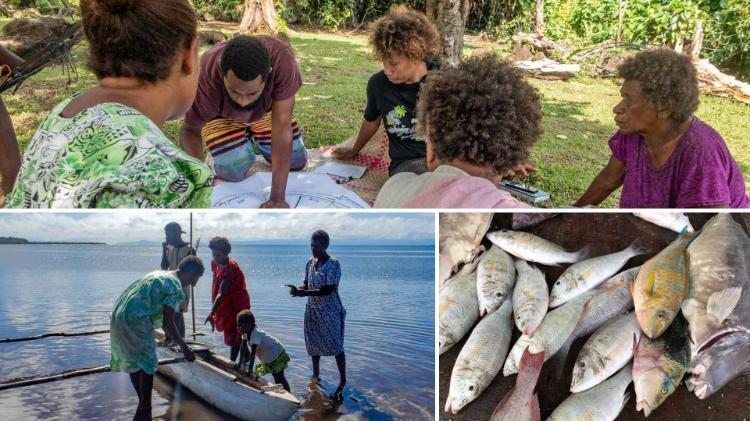 Community-based perspectives recognise that culture and practices of coastal people play a pivotal role in achieving sustainable management of coastal resources, contributing to the food and nutrition security of coastal communities.
Chief Investigator Professor Neil Andrew from ANCORS said: "This upcoming phase tackles the critical challenges of scaling local innovations to a national program with hundreds of communities. We will need supportive policy, partnerships, civil networks to make it happen. In this sense the ANCORS team is really just the tip of the iceberg – the project lives and breathes through our regional colleagues."
Fisheries Officer Pita Neihapi has been a key player in developing CBFM in Vanuatu and is excited to start the new phase, "CBFM is really gaining momentum in Vanuatu and this new round of funding will allow us to move to a national program – there is so much to do but we are ready for it."
Dr Aurélie Delisle, research fellow at ANCORS and Kiribati gender co-leader, believes the case of Kiribati best illustrates the rapid uptake of CBFM, and the importance of strengthening government agencies in their capability to deliver the support needed across their country.
"In 2014, community-based fisheries management was not a recognised program, but today it forms a central element in the Kiribati Ministry of Fisheries collaborative strategy towards ensuring sustainable fisheries management across its highly dispersed island communities," Dr Delisle said.
Professor Neil Andrew, Dr Dirk Steenbergen and Dr Aurélie Delisle from the Australian National Centre for Ocean Resources and Security at the University of Wollongong. Picture: PAUL JONES/UOW
The emergence and attention placed on the importance of the United Nations Sustainable Development Goals (SDGs) has only increased the response to integrating CBFM into national strategies so as to enable avenues for communities to be supported in their management. SDG-14 'life under water' refers to the need for sustainable use of marine resources for sustainable development.
Dr Dirk Steenbergen, a senior research fellow at ANCORS and Vanuatu co-leader, observes that "globally, there is mounting pressure to achieve ambitious targets set under the Sustainable Development Goals. Ensuring access to fish is imperative to Pacific Islanders, who are at the forefront of challenges to food security and livelihoods, including climate change."
Key initiatives to establish self-sustaining national CBFM programs include ensuring access to good information and regular communication that supports communities in their own decision making.
Furthermore, innovating fisheries management practices that promote broad participation of women, men and youth, such as gendered community-based catch monitoring programs, need to ensure benefits are spread across diverse sets of community groups.
Delvene Boso, WorldFish country manager in the Solomon Islands and partner to the project, looks forward to "working with government and communities to increase reach, inclusiveness and impacts of CBFM on a national scale."
Main image: Project partners from Kiribati, Solomon Islands and Vanuatu meet in Port Vila. Picture: DOUGLAS KORAN