December 1, 2019
UOW alumna Susan Zhang wins prestigious international award
Awards celebrate success of Australian alumni in China
University of Wollongong alumna Susan Zhang has won the 2019 Young Australia China Alumni of the Year Award.
Ms Zhang, who is based in Beijing, accepted her award at a ceremony held at the Australian Embassy in Beijing on Saturday, 30 November.
Her career has come a long way since she first landed in Wollongong to start her Bachelor of Computer Science (Software Engineering) in 2009.
As a serial entrepreneur, Ms Zhang has founded multiple start-up companies including Dragon Translating and Interpreting Service, which helps Australian businesses and government agencies to improve their cultural understanding of China.
She worked at Google London as a creative technologist, delivering global award-winning campaign launches with creative agencies.
Most recently she worked on Global Public Policy and Global Partnerships for TikTok, an internationally popular short-form mobile video app which frequently sitting at the top of the App Store and Google Play.
Ms Zhang mentors young entrepreneurs in Australia, UK, Canada and China. She speaks to inspire and influence others at business and education summits – a highlight was delivering a TEDx Talk in Sydney.
In 2019, Ms Zhang authored a book, Life Outside My Comfort Zone.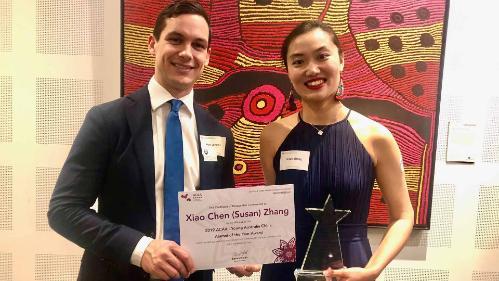 UOW alumni Huw Longman and Susan Zhang in Beijing at the award ceremony on Saturday night.
UOW alumnus Huw Longman was one of four finalists in the Australia China Alumni Award for Corporate Achievement.
Mr Longman was awarded the Australian Financial Review BOSS Young Executive of the Year in 2017 and works as the Store Development, Design and Merchandising Director of ALDI China.
The Young Australia China Alumni of the Year Award is open to all alumni who are not yet 35 years old and are involved in fields of employment, community service or voluntary work.
Recipients must demonstrate integrity, initiative and innovation and be on a fast trajectory to leadership in their field.
The award recognises the achievements of young alumni and celebrates their outstanding talent, accomplishments, and the contributions they have made to the wider Australian-Chinese community.
The Australia China Alumni Association was established in 2007 with the support of the Australian Ambassador to China. The organisation offers support and engagement for the network of more than 26,000 Australian alumni across greater China.