May 22, 2019
Top nod to UOW podcaster
Journalism academic awarded for 'wrong skin'
A podcast co-produced by UOW Journalism Associate Professor Siobhan McHugh has taken out top gong at the 2019 Australian Podcast Awards on Saturday night.
Wrong Skin was named Podcast of the Year at the nation's most prestigious podcasting awards night.
Professor McHugh collaborated with a team from The Age including Richard Baker, Greg Muller, Tom McKendrick, Rachael Dexter and Tim Young, as consulting producer in the 10-part series.
Almost one year since it was released, the podcast about forbidden love under Aboriginal law set in outback Western Australia, also won the Investigative Journalism & True Crime Award. This follows its win at the Melbourne Press Club Quills awards in March, where the judges called Wrong Skin "the best example of what podcasting can be for journalism".
"We're so thrilled it was recognised," Professor McHugh said.
"It's an unpalatable story in many ways. It's about blackfellas calling out other blackfellas for behaviour that is very unsavoury to say the very least."
Wrong Skin explores the unsolved, suspicious death of Julie Buck and the missing body of Richard Milgin.
"It's complex because you have people who are already oppressed, who are further-marginalised by their own people. It's a story that's nuanced, a sensitive one to tell. These communities are very close, these people are sometimes afraid to talk and there's a sense of people battening down the hatches and not wanting to talk to outsiders."
Professor McHugh, the "script doctor", worked to make the podcast's sound more aesthetically-pleasing, and the script and content more coherent.
She was conscious of bringing the setting to life.
"You had the beautiful environmental sound of the Kimberley in WA," Professor McHugh said.
"They would stop the car if a flock of birds went past and stand there in the middle of nowhere with a phone out, trying to get the ambient sound of the bush.
"There's a bit by the river, there's this splash where Wayne jumps in for a swim. That splash really takes you to the place, you create a mental picture of the importance of the river in such a dry, hot area."
She said podcasting is providing reporters with an outlet for long-form journalism, a way of humanising the news and giving audiences the deep, impactful stories they have been yearning for.
"It [Wrong Skin] could only have been told in the podcast medium," Professor McHugh said.
"I think podcasting is to audio storytelling what the slow food movement is to gastronomy, there was this reaction to the fast food craze and people wanted the joy of casseroles that simmered away. It's the same with narrative podcasts."
Her podcast recommendations include In the Dark, Silent Waves, UOW's own Social Worker Stories and Can You Tell Me Why? and anything by Michael Barbaro, host of The Daily.
Professor McHugh's keeping the details of her next project with Richard Baker under wraps.
"But let me tell you, there's geopolitics, crime and a lot of drugs involved," she said.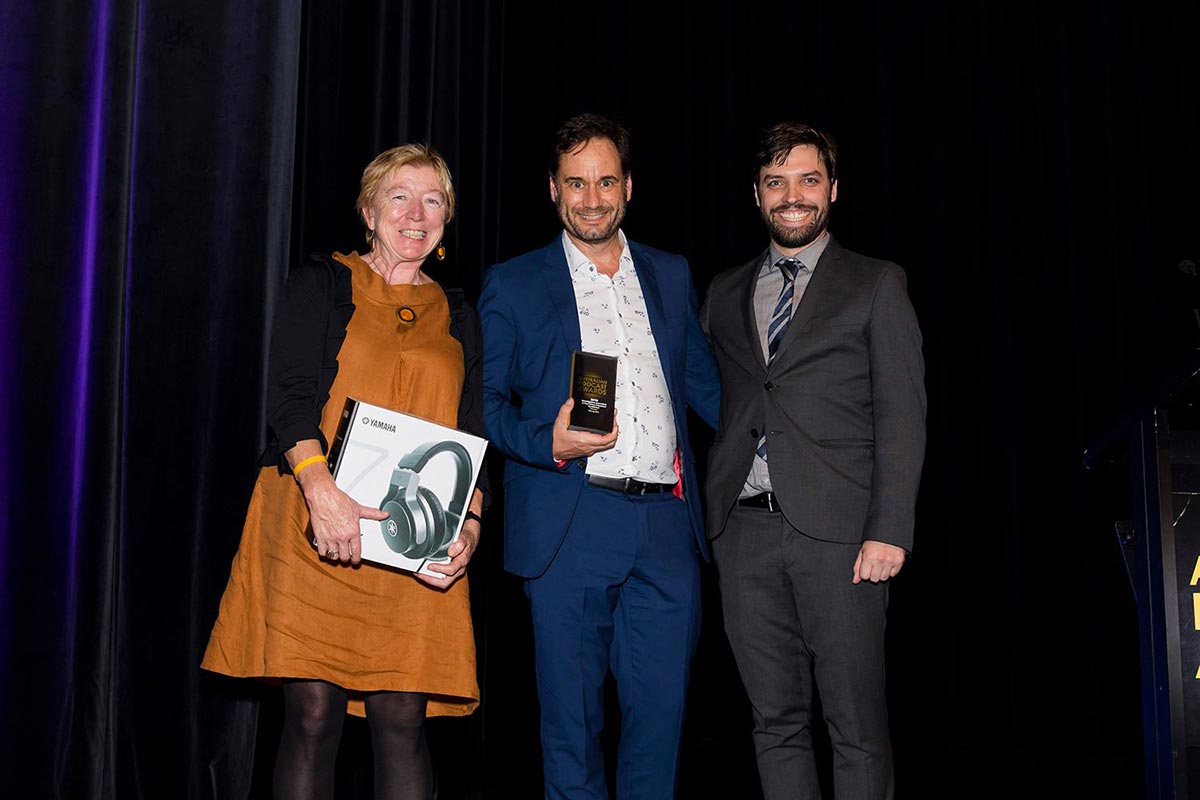 Associate Professor Siobhan McHugh (left) pictured at the 2019 Australian Podcast Awards.