March 25, 2019
UOW artist shares inspiration behind evocative drawings
Teo Treloar's work on display in prestigious exhibition, The National
For centuries it has been argued that 'madness' is twinned with creative genius; that the agonies we now understand as depression, and the ups and downs we now recognise as mania, are part of a bargain with inspiration.
For artist Teo Treloar, depression inspired him to create his new body of work, titled The Black Captain. The work is a series of intense drawings showing a central character searching for meaning but never quite finding it, surrounded by detailed and blackened shapes.
The award-winning artist and Visual Arts Lecturer at the University of Wollongong has grappled with mental health issues throughout his life. As he sits in his small drawing studio Teo points out a selection of his latest graphite pencil drawings. The tattooed artist explains that it's sometimes the pain of depression that helps him to create these amazing, detailed works of art.
"These drawings are not about catharsis, it's not about feeling better," Teo says. "For me making these works are about analysing and documenting my experiences with mental illness."
For some artists, depression is not exclusively terrible as it can also ignite motivation and insight into their craft. It's well known that some of world's most admired artists battled with depression, including Vincent Van Gogh, Jackson Pollock, Georgia O'Keeffe, and Paul Gauguin.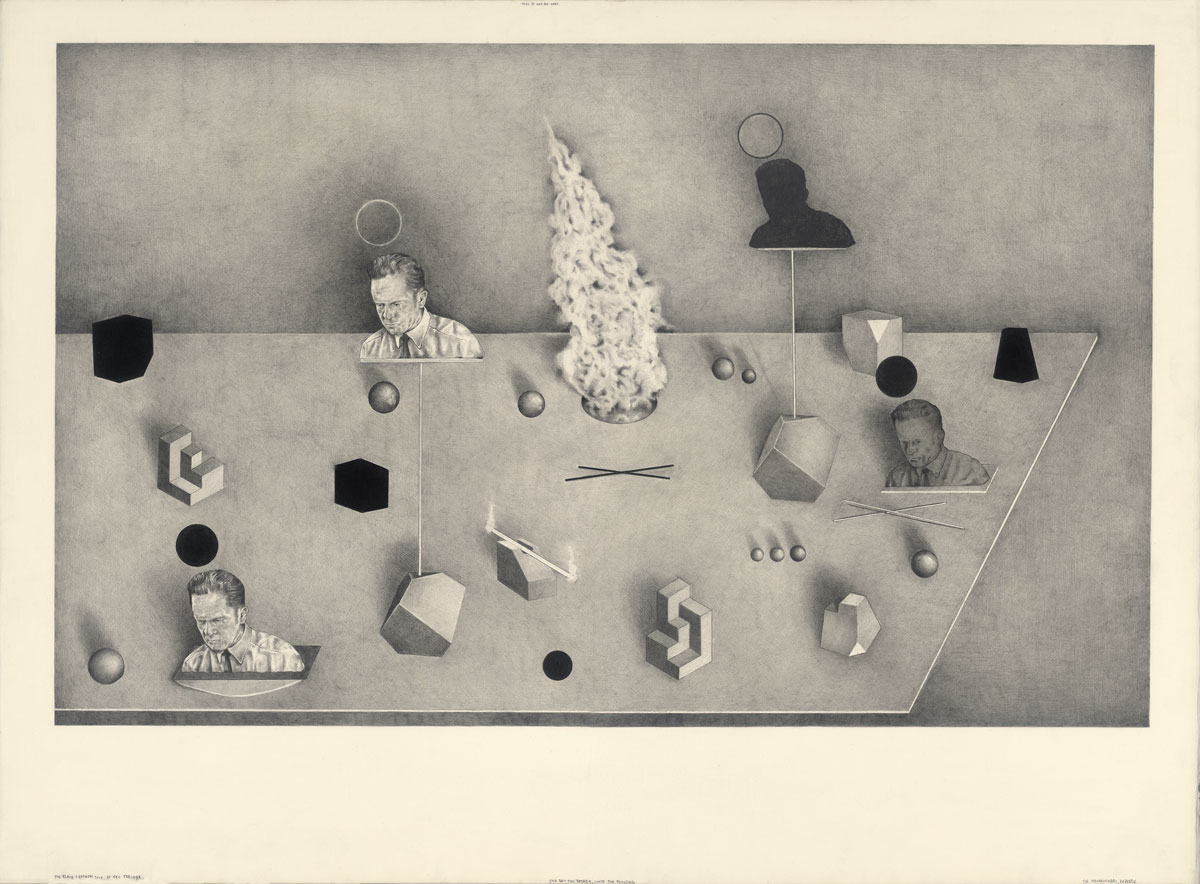 Teo explains that depression is a difficult illness to live with, and when it's compounded with the challenges of a creative process, it can seem like a somewhat loathed but necessary relationship.
"If you're an artist feeling depressed, you should know you are not alone," he says.
Teo's latest works are to be shown in a new exhibition called The National 2019: New Australian Art, showing at three art venues in and around Sydney.
"I'll be exhibiting 18 of my drawings from The Black Captain series at the Museum of Contemporary Art. It is a great honour to have been selected with such a diverse group of artists," Teo says.
A group of curators from The Art Gallery of New South Wales (AGNSW), Carriageworks and the Museum of Contemporary Art Australia (MCA), visited the studios of numerous emerging, mid-career and established Australian contemporary artists across the country and assembled a large list of artists of interest. From that list, a final 65 artists were invited to participate, with many of the works specifically commissioned for the show.
The exhibition showcases the latest ideas and forms in contemporary art and encompasses a diverse range of media including painting, video, photography, sculpture, installation, drawing, and performance. Shows will be held across three of Sydney's premier art institutions: AGNSW, Carriageworks and the MCA.
The National 2019: New Australian Art opens on 29 March 2019 at AGNSW, Carriageworks and the MCA. Entry to the exhibition is free at the three institutions.