April 11, 2019
Exhibition highlights human impact on Earth's last great wilderness
Antarctic Footprints looks at how we have changed Antarctica over the past 100 years
The last great wilderness on Earth, Antarctica is often thought of as pristine and untouched by human disturbance. However, this is no longer the case.
The exhibition Antarctic Footprints examines the human presence in Antarctica over the past 100 years, giving audiences a new understanding of the ice-bound continent, its ecosystems and the impact humans have had on its environment.
Hosted by the University of Wollongong's Global Challenges Program, iAccelerate and Science Space, Antarctic Footprints will exhibit photography, video, sculpture, tapestry and the research of Antarctic scientists and Homeward Bound participants. (Homeward Bound is an initiative to develop the leadership, strategic and communication skills of female scientists in order to shape policy and decision-making as it affects our planet.)
The official opening for Antarctic Footprints is on Thursday 11 April from 4 to 7pm in the iAccelerate Foyer (Building 239, UOW Innovation Campus, Squires Way, North Wollongong NSW). The exhibition will remain on show through the school holidays until 2 May.
The coldest, driest and windiest continent, Antarctica has one of the harshest environments on Earth. Yet its ice-free coastal regions are rich in biodiversity consisting of highly specialised Antarctic flora and fauna, which have evolved over long periods of isolation.
First discovered just 200 years ago, in the 19th century whaling and seal hunting caused major declines in Antarctic wildlife populations within only a few decades.
Now, more than 50 countries are signatories to the Antarctic Treaty, obligating these nations to protect the Antarctic environment as a "natural reserve, devoted to peace and science".
Many of these countries have active research stations, and increasing numbers of tourists are also visiting the region.
Human impacts are now present even in the most remote regions of the continent and recent human-induced changes in climate, including the ozone hole over Antarctica, are having profound effects.
Senior Professor Sharon Robinson, Challenge Leader for Sustaining Coastal and Marine Zones within the Global Challenges Program, is one of the researchers who has contributed to the exhibition. A climate change biologist, Professor Robinson has nearly 20 years' experience investigating the impacts of climate change and the ozone hole on the Antarctic ecosystems.
"Antarctica's unique coastal ecosystems now host the majority of research stations, increasing the susceptibility of Antarctic life to adverse environmental impacts. Tourist operators are also tapping into the huge demand to visit these regions of the last great wilderness on Earth," Professor Robinson said.
"Paradoxically, both scientists and tourists have the potential to damage the very qualities that draw them to Antarctica."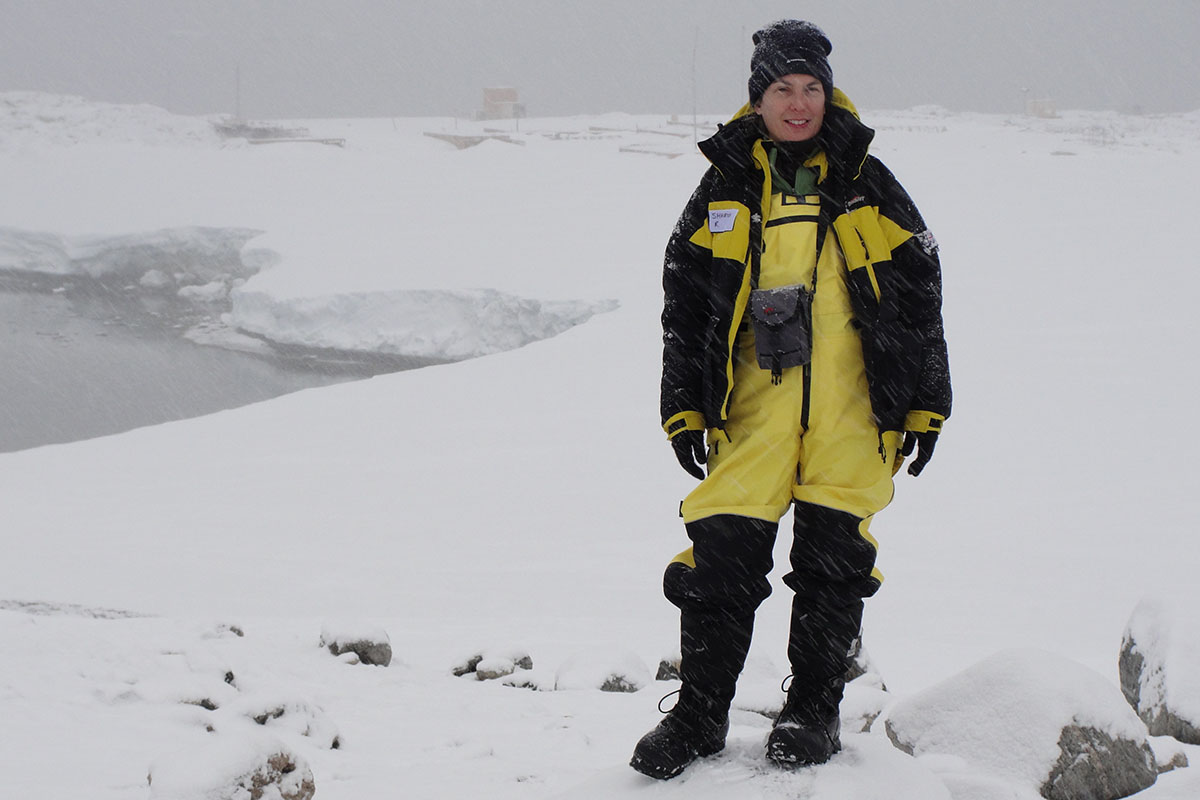 Climate change biologist Professor Sharon Robinson has been investigating the impacts of climate change and the ozone hole on Antarctic ecosystems for close to 20 years.