Dr Annabelle Bennett delivers 2018 Goldring Lecture
Law student Anna Tomlin wins memorial scholarship for commitment to social justice
---
The Honorable Dr Annabelle Bennett AO delivered the annual Goldring Lecture at the University of Wollongong's South Western Sydney Campus on Tuesday (9 October 2018).
Dr Bennett, a retired Judge on the Federal Court of Australia, explored the topic of "Sport, Science, and the Law – Level-Playing Fields?" in the lecture, which was held at the Liverpool-based campus for the first time.
Now an Arbitrator of the Court of Arbitration for Sport, Dr Bennett served at the Rio and Sochi Olympics. However, she also holds a PhD in Cell Biology and is a former Chair of the National Health and Medical Research Council.
She told the crowd at the lecture how her career has taken many turns, and how it has, over the years, traversed the fields of law, sport, and science.
But she originally pursued a career solely in science, despite her interest in the law, because her father thought it would be too difficult for a young female lawyer to succeed in the male-dominated industry.
"In those days, women had to be better than the best just to stand out," Dr Bennett said.
Despite her early days in science, Dr Bennett eventually pursued a career in law, and she said this flexibility, and dual qualifications, has opened up opportunities that she never would have dreamed of, including working for the Olympics and serving as President of the Anti-Discrimination Board.
Over the course of her career, she has inhabited three worlds.
"If you get the chance to do something that is outside your normal work, it's really exciting and interesting. You get to do amazing things and meet fascinating people."
In her lecture, she encouraged the crowd of law students to be flexible, open to trying new things, and to take every opportunity that comes their way. Dr Bennett also stressed the importance of giving back to the community, through unpaid volunteering or working with non-profit organisations. 
The annual Goldring Lecture honours Jack Goldring (1943-2009), the foundation Dean of UOW's School of Law from 1990 to 1995. Professor Goldring was subsequently appointed as Judge of the District Court of NSW and served as Commissioner of the Australian Law Reform Commission.
Dr Bennett follows in the footsteps of prominent figures from the field of law who have delivered the Goldring Lecture since it was launched in 2011, including Justice The Honorable Michael Kirby AC CMG, who was a friend of Professor Goldring; Her Excellency Professor The Honorable Kate Warner AM, Governor of Tasmania; and Professor John McMillan AO, former acting NSW Ombudsman.
As part of the annual Goldring Lecture, UOW's School of Law also awards the Jack Goldring Memorial Scholarship to a current law student who has demonstrated outstanding academic achievement and a strong commitment to social justice.
This year, the Scholarship was awarded to Anna Tomlin, who is in her fourth year of a Bachelor of Commerce/Bachelor of Laws.
Anna, from Wollongong, is a volunteer for the Australian Indigenous Mentoring Experience (AIME) at UOW, a role she said had a major impact on her decision to focus on social justice issues.
"I started with AIME in 2016, and I loved it. I found myself really looking forward to that every week," Anna said.
"I loved working with the students and helping them to aspire to study at university. It has made me reflect on where the law was taking me."
Anna has since gone on to become a Tutor Squad Leader with AIME and was recently named Mentor of the Year for AIME's program at the University of Wollongong.
On the back of her work with AIME, Anna applied for an internship with The Aurora Internship Project, a non-profit organisation that contributes to capacity building for Indigenous Australians and Indigenous projects.
Anna was placed with Tranby National Indigenous Education and Training, where she put her business acumen and legal knowledge to use, helping to create an Indigenous Business Hub, which would help indigenous entrepreneurs to get their business ideas off the ground.
The aim, Anna said, was to affect a cycle of change, in which indigenous entrepreneurs would then inspire and help others to succeed.

"Working with Tranby was incredible," Anna said. "I am really grateful for the opportunity. I was able to combine my love of the law and of business, and it made me realise that both can be used to create a positive change.
"I used to think that top law firms were only focused on corporate law, but I've realised that a lot of those big firms have a focus on pro bono work. I'm really interested in that now, because pro bono work would enable me to combine all my skills to make a difference."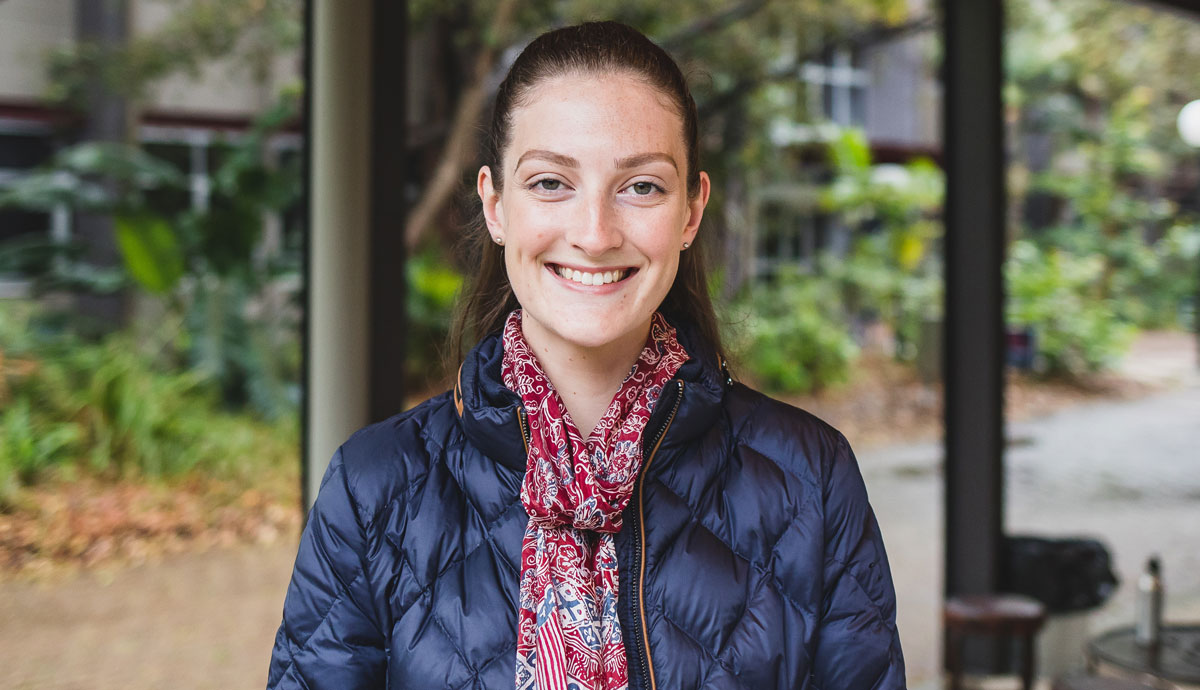 Anna was thrilled to receive the Jack Goldring Memorial Scholarship, which awards $10,000 to the winning student.
Professor Goldring established the School of Law at UOW and was committed to ensuring a world-class legal education was available to all students, from all backgrounds.
He was passionate about social justice and equal opportunity into the law for Indigenous students and students from disadvantaged backgrounds.
"It's an honour to receive the scholarship, and a real surprise," Anna said. "To be a law student at UOW is to be associated with Jack Goldring, and I really admire his commitment to social justice issues. He was a real champion for the law in action.
"My own commitment to social justice issues has grown organically since I began working for AIME. I want to use my skills to make a difference in the world."
Photos: Alex Pike