Finance student honoured to receive Bradman Foundation Scholarship
Passionate batsman recognised for sporting, academic achievements
---
A student from the University of Wollongong's Sydney Business School is "elated" to have been honoured with a scholarship bearing the name of one of his heroes: Sir Donald Bradman.
Abhishek Nandigam, who is studying a Masters of Applied Finance, received the 2018 UOW Bradman Foundation Scholarship during a ceremony at Sydney Cricket Ground in November.
The annual scholarship is presented to an undergraduate or postgraduate student from India – male or female – who demonstrates a strong performance both in the classroom and on the cricket field, the ultimate all-rounder.
Abhishek, a batsman and wicketkeeper, was honoured to receive the scholarship, which is granted for the duration of the recipient's study program and provides a 50 per cent waiver of tuition fees for duration of the degree.
He said the ability to pursue his love of cricket while undertaking a world-class education was instrumental in his decision to undertake a Masters at UOW.
"As I'm passionate about cricket and academics, I was searching for a university that would have a blend of both," Abhishek said. "I was fortunate to identify UOW as reputed for its quality education as well as giving me the opportunity to showcase my cricketing talents.
"Any sports teaches you a lot and cricket is no exception. For me, cricket is so natural that it never feels like a burden. Rather, it provides me with oxygen."
Hailing from Hyderabad in India's south, Abhishek completed a Bachelor of Business Administration at Amity University in India before pursuing his Masters at UOW's Sydney Business School.
In India, he was part of the Deccan Chargers Junior Team in the Indian Premier League, where renowned cricketers Adam Gilchrist AM, Darren Lehmann, and VVS Laxman were his mentors.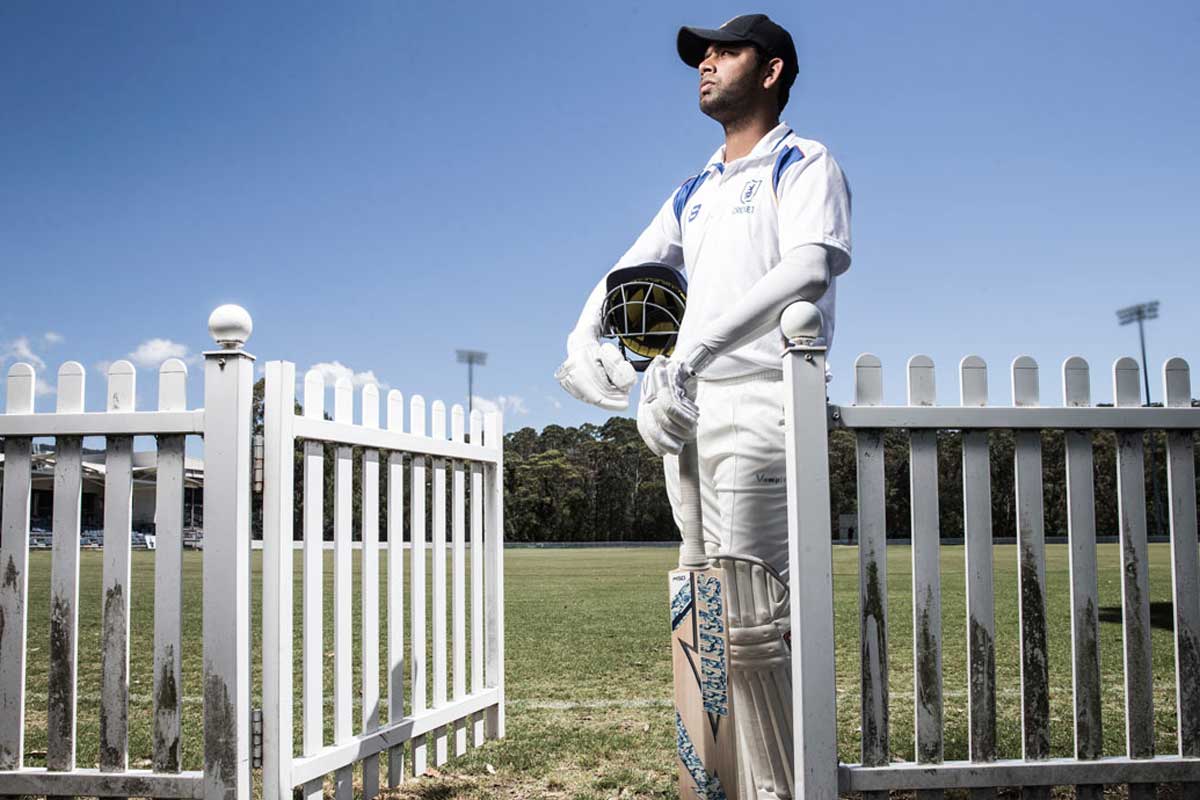 Retired Australian wicketkeeper Adam Gilchrist, who has been UOW's Brand Ambassador since 2008, said he was proud to be involved with a scholarship that helped further a student's educational and sporting aspirations.
"Sir Donald Bradman left an enduring legacy to the game of cricket with his incredible achievements, and Indian cricket fans understand that as well as anyone," he said.
"Sir Donald, through the establishment of the Foundation that bears his name, also had a vision that through education and the advancement of youth, cricket could be strengthened and advanced.
"The University of Wollongong Bradman Foundation Scholarship was established to provide that opportunity for educational advancement of a young Indian student, and I am extremely proud to be involved."
In his role as Brand Ambassador, Gilchrist is helping the University to develop its international connections and achieve its goal of ranking in the top one per cent of universities in the world.
UOW Vice-Chancellor Professor Paul Wellings CBE said Abhishek's passion for study and his talent on the cricket field made him the perfect recipient for the 2017 scholarship.
"We set out to find an all-rounder, someone who has a blend of academic, personal and social skills as well as a high level of cricket skills," Professor Wellings said.
"This is a wonderful opportunity for a young person from India who is passionate about cricket and passionate about learning.
"The selection panel felt that Abhishek captured the ideals of the great Sir Donald Bradman and would be a worthy recipient of the UOW Bradman Foundation Scholarship."
The international scholarship is part of a wider partnership agreement between UOW and the Bradman Foundation to educate, inspire and develop young people.
Bradman Foundation Executive Director Rina Hore said the Foundation was happy to welcome Abhishek as the 2018 recipient.
"The Bradman Foundation was established to promote cricket as a valuable cultural and social force in the community, and this scholarship fulfils that objective," Ms Hore said.
For his part, Abhishek was honoured to have been recognised for his academic and cricketing achievements.
"How many people in their lifetime would have the privilege of being adorned with the name of Sir Donald Bradman. To say I am elated is an understatement," he said.
"I feel truly blessed and at the same time, I am conscious about upholding the highest values of the world's greatest ever cricketer."
About the Bradman Foundation
The Bradman Foundation is based in Bowral, in New South Wales, Australia. It owns and operate the Bradman Museum and International Cricket Hall of Fame, and manages Bradman Oval, where the young Don Bradman first learned to play the game.
The Bradman Foundation, a non-profit charitable trust, was established in 1987 with the full support of Sir Donald Bradman AC to promote cricket as a valuable cultural and sporting force within the community. 
Pictured: Abhishek Nandigam, winner of the 2018 UOW Bradman Foundation Scholarship. Photo credit: Paul Jones