September 5, 2023
Engineering journeys of success
UOW STEM Careers Expo 2023: Forging futures in science, tech, engineering, maths and health
More than 40 major organisations operating in the Science, Technology, Engineering, Maths (STEM) and health sector were on campus on Thursday, August 10 for the 2023 University of Wollongong (UOW) STEM Careers Expo. From discussing potential career options, graduate programs, and internship opportunities to fielding specific questions on navigating career paths within their own organisations, no questions were off-limits for these employers.
Open to all students in the Faculties of Engineering and Information Sciences (EIS) and Science, Medicine and Health (SMAH), the UOW STEM Careers Expo is an annual event, highly anticipated by ambitious future graduates.
At this year's expo, we saw several companies returning who have already recruited a number of UOW Alumni. Clearly, they are satisfied with the quality of our graduates. The company representatives also encouraged students to pursue meaningful careers in STEM and health, and help address the current skill shortages in engineering and health across Australia. Many of the company representatives studied at UOW and were keen to return to their alma mater to guide soon-to-be graduating students with their future career aspirations.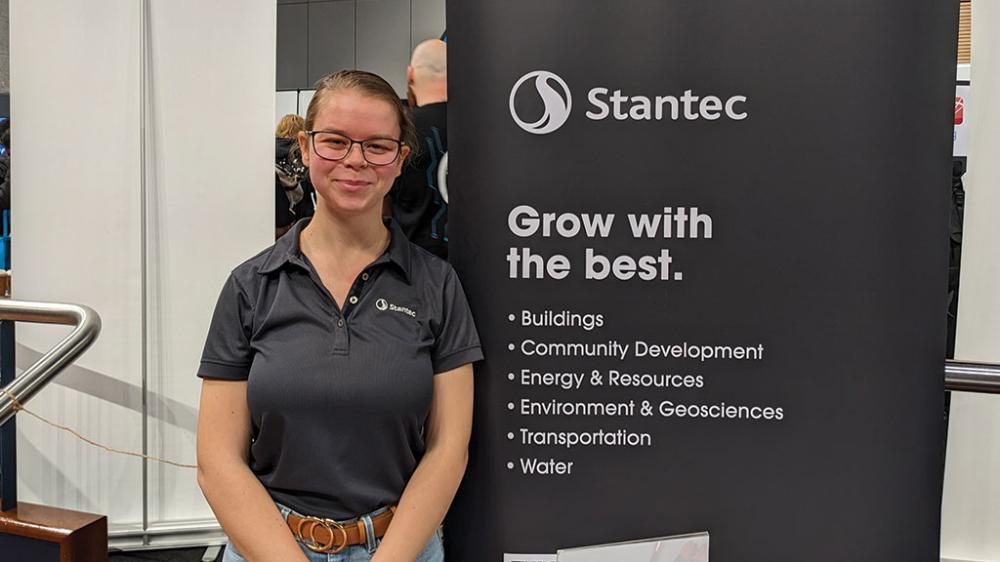 UOW engineering graduate, Jessica Don
UOW engineering graduate Jessica Don, from the regional city of Albury-Wodonga, attended the event to represent her company, Stantec, and her work in project management. Jessica began her career in the graduate program with Cardno (now Stantec) where she focused on construction projects, overseeing the entire process from design to construction. Her study experiences at UOW played a pivotal role in shaping her career and interests.
Even though Jessica had to study her last two years online due to Covid she said, "even during lockdowns I still felt a strong sense of belonging and support for my studies. I had ready access to lecturers and tutors, and I worked closely with other students in team projects."
"The real-world case studies, and the many guest lectures from industry, gave me great insights into some of the problems construction projects can face. This really reinforced the area I wanted to work in, and the opportunities to work on various projects always keeps it interesting."
Another UOW engineering graduate, Patrick Wilson, representing ANSTO (Australian Nuclear Science and Technology Organisation) spoke about how UOW helped his career journey, through several opportunities. Patrick began his career as an intern at JDG Civil in Silverwater, and reflected on his studies.
"the classroom knowledge and learning programs offered at UOW helped me to apply my studies to real-world contexts".
Patrick's own study journey was also a blend of on campus and online learning, "this approach offered diverse insights and a refreshing environment, as the friendships I made carried beyond the global pandemic."
"UOW was great at facilitating work integrated learning opportunities during my studies, through its wide range of electives and its strong industry partnership with ANSTO. UOW put me in contact with the right people that were willing to help me transition into the workforce with ANSTO".
Through these collaborative connections with lecturers and tutors, Patrick was offered a position at ANSTO as an undergraduate, working part-time while completing his final year thesis. He then gained a position in ANSTO's Graduate Program,
"The partnerships I formed at UOW significantly influenced my career."
If you are interested in partnering with UOW for internships and professional placements in your organisation, get in touch today.