September 4, 2023
Connecting Academia and Industry: The Westpac Young Technologists Scholarship's Role in Transitioning Students from Classroom to Boardroom
The Westpac Young Technologists Scholarship was established to support talented and curious high school graduates who are eager to enhance their technological skills and expertise, fostering innovation and creating fresh opportunities to make a positive impact in the realm of STEM.
Recipients of the Young Technologists Scholarship receive financial assistance for up to three years of study, access to networking events, mentorship initiatives, and paid internships alongside business leaders and industry experts. Additionally, participants have the opportunity to cultivate essential soft skills through the Disruptive Leaders Program. One of the current scholars, Harry Briese, highlights, "Engaging with fellow scholars and attending various events has provided me with a platform to practice networking in a low-pressure environment. This exposure has unveiled career paths and prospects that were previously unknown or seemed unattainable. Stepping out of my comfort zone through event leadership or participation has significantly bolstered my confidence, a skill applicable to any role or leadership position."
The Faculty of Engineering and Information Sciences recently invited the Young Technologists to partake in a professional development day at UOW's iAccelerate. iAccelerate is an incubator, and functions both as a program and a community of entrepreneurs within UOW. Described as a "distinctive pre-accelerator and accelerator program," iAccelerate facilitates the nurturing of innovative concepts and the expansion of existing businesses.
During the visit, the group embarked on a tour of the facility, followed by a panel discussion featuring representatives from Gridsight, Binary Tech, and Sicona Battery Technologies. The students were exposed to the inception stories of these enterprises, the professional journeys of the individuals involved, and the counsel they would offer to their younger selves.
Reflecting on the experience, Harry noted, "The world of startups was largely unfamiliar to me prior to the tour, so the entire ecosystem was demystified. An important takeaway was the profound enthusiasm each individual displayed for their role. This seemed closely tied to the originality and personal investment they had in their ideas, along with the autonomy they possessed in execution."
Another current Scholar, Eden Walters, shared her perspective, "I now know that the start-up world is where I want to be! It was inspiring to see the day-to-day lives of those people working at the forefront of innovation. No Monday or Tuesday is ever the same. Everyone is learning, teaching, and passing on skills to one another. An idea might pivot dozens of times before finding footing, but once it does, it has the capacity to change the world. While that might seem scary to some, it feels invigorating to me!"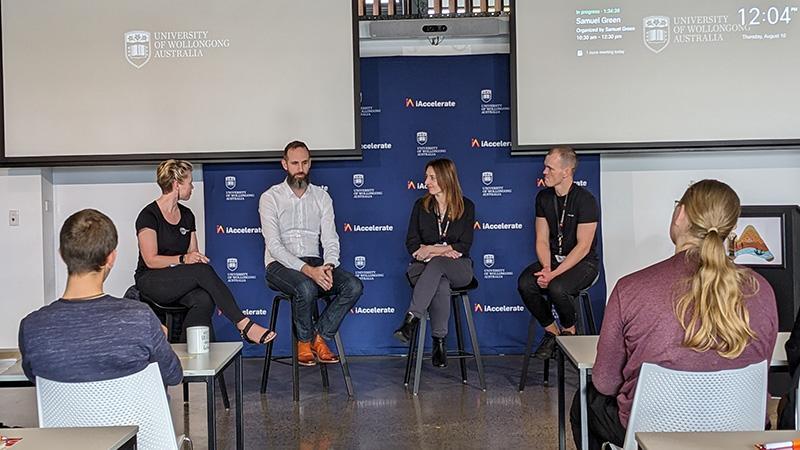 The Westpac Young Technologists Scholarship supports high school graduates in enhancing their technological skills, offering financial backing, networking opportunities, mentorship, and internships. The program aims to bridge the gap between academia and industry; exemplified through experiences like the professional development day at UOW's iAccelerate, where students engage with entrepreneurs and gain insights into the world of startups. Eden added, "the iAccelerate tour opened up an entirely new career pathway to pursue, one I feel incredibly passionate about!"
Further information