March 8, 2023
UOW goes global
International students get a taste of campus life at Welcome to Wollongong evening
Yesterday (Tuesday 7 March), the University of Wollongong (UOW) rolled out the red carpet for its international students with the highly anticipated Welcome to Wollongong event. After three years of being put on hold due to the COVID-19 pandemic, the campus was again buzzing with excitement as students finally had the chance to meet their peers in person.
The evening was a hub of excitement, energy and cultural diversity as more than 250 students and staff gathered in the beautiful foyer of the Jillian Broadbent Building. The University community came together to give the new students a warm welcome, with UOW Vice-Chancellor and President Professor Patricia M. Davidson and the Wollongong Lord Mayor Gordon Bradbery AM both sharing their excitement at having the students in Wollongong and back to studying in-person rather than online.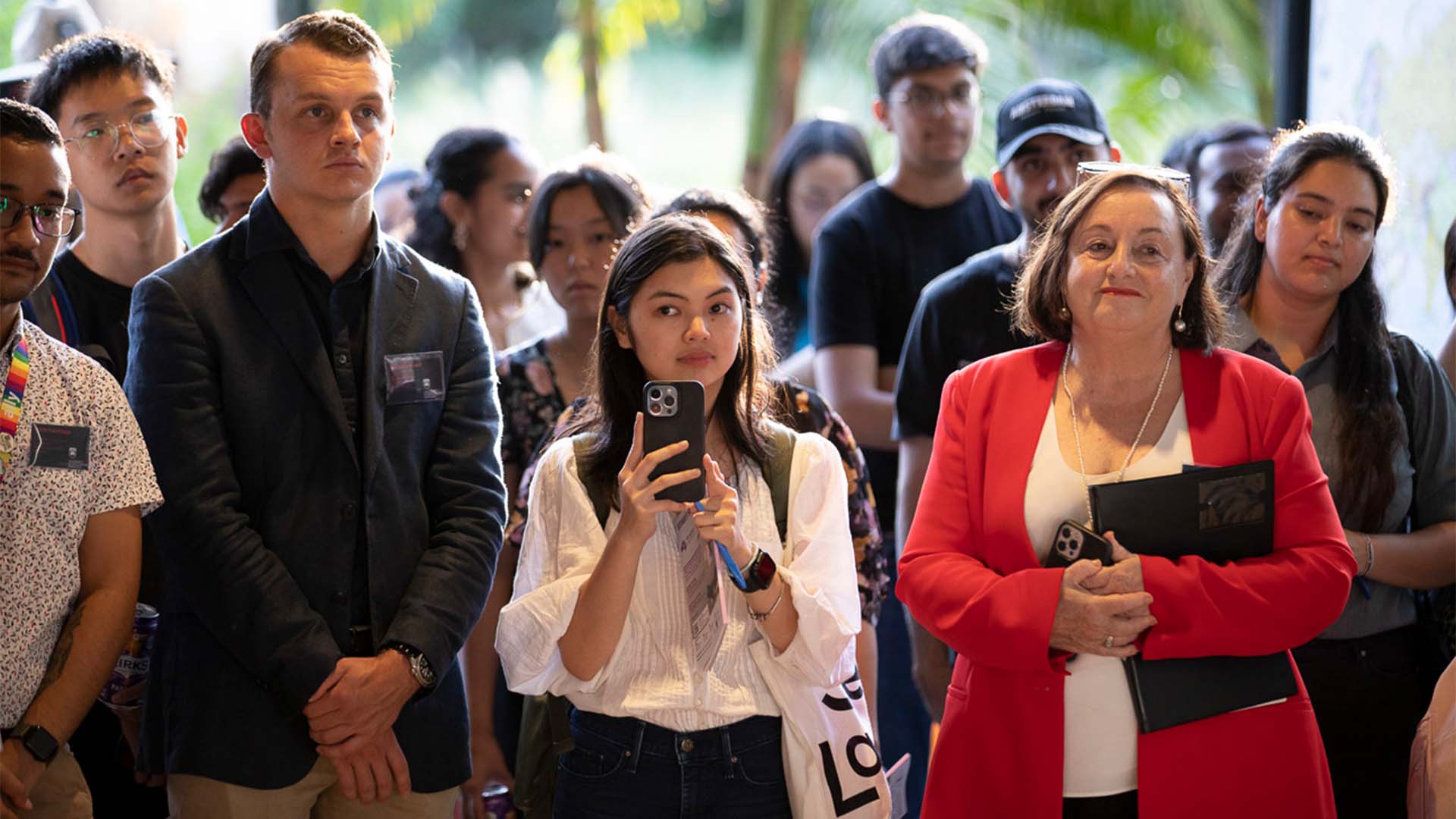 UOW Vice-Chancellor and President Professor Patricia M. Davidson met with the students.
"Thanks to you, UOW can be called a truly global University. You're joining a cohort of over 33,000 students across nine campuses throughout Australia and internationally – in the United Arab Emirates, Hong Kong, China, Malaysia and Singapore. I can't wait to witness the journey of exploration and transformation your academic experience will take you on," Professor Davidson said.
Before the event, all students were invited to pin their country of origin onto the large World Map. It served as a visual example of the diversity of the UOW community. Then, everyone had a chance to witness a traditional Indigenous smoking ceremony, before being invited to browse through many stalls and chat with friendly volunteers from many organisations: Illawarra Friends of International Students (IFIS), UOW Pulse, Student Accommodation Services, Office of Global Student Mobility, and more.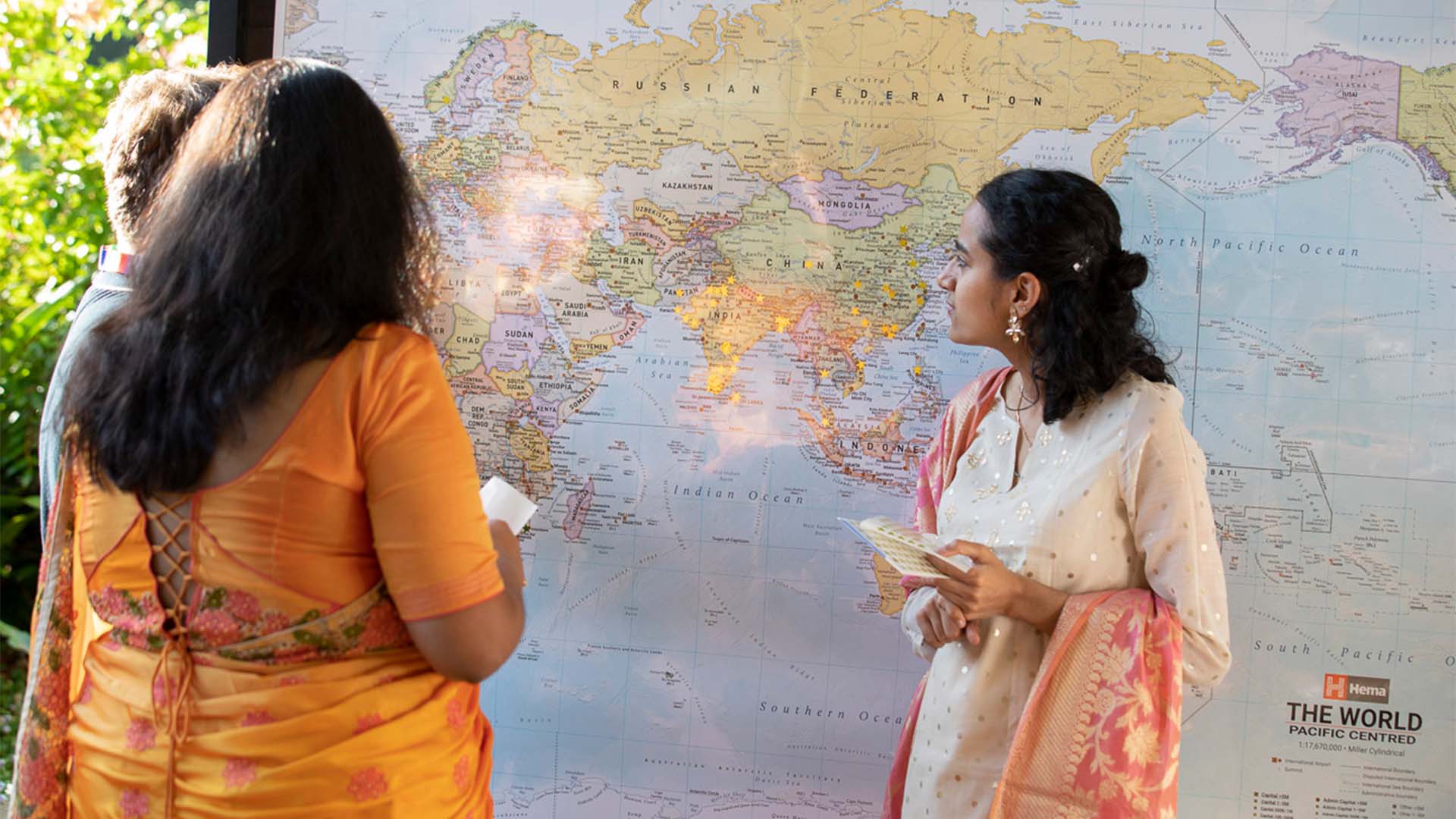 Keval Patel, one of the MCs during the evening, came to Australia from India in 2019 to study for the Diploma of Engineering at UOW College. He is now in his second year of a Bachelor of Engineering. His start at UOW could have been smoother, Keval admits, as he had to navigate a lot of paperwork to start his education. Still, he appreciated all the support he got during his start. That's why, in a bid to give back to the community, he joined UOW Pulse as a student leader, responsible for assisting other international students who may be struggling to find their feet.
"I want everyone to know that even though they're in a foreign country, away from their family and friends, they're not alone. My advice to all new students is to network a lot, never feel shy to ask for help and always treat others in a way they would like to be treated," Keval said.
One of the new international students was Rakshitha Manohar, who came to UOW from Sri Lanka to study for a Bachelor of Environmental Engineering.
"I love it here in Wollongong. It's warm, and everyone is smiling. The weather and people remind me of my home – Sri Lanka. So far, I've met some fellow international students on a bus trip, so I'm really optimistic about my uni experience," Rakshitha said.
Her newly-met friend, Chandan Saini from India, is doing a Master of Business Analytics. She had only praises about her first few days at the University.
"I've attended one or two classes already, and I'm enjoying it so much. The teachers are amazing," she said.
Welcome to Wollongong is a shared event between Wollongong City Council and the University of Wollongong and a staple experience for all the students coming to Australia from abroad.