April 21, 2023
UOW art treasures head to the Sutherland Shire
Two exhibitions, one showcasing the highlights from UOW Art Collection and the other the works of UOW visual arts graduates, open at Hazelhurst Arts Centre
For the next two months, the University of Wollongong's (UOW) art will take centre stage at Hazelhurst Arts Centre in the Sutherland Shire – and with not one but two exhibitions.
The first exhibition, open to the public from Saturday 22 April and hosted in the Main Gallery, will display 100 artworks, curated by Hazelhurst from UOW's collection of over 5000 individual works. Vision Splendid: Highlights from the University of Wollongong Art Collection is the first major exhibition of the collection outside the University campus, showcasing pieces by leading Australian artists including Emily Kame Kngwarreye, Lloyd Rees, James Gleeson, Elisabeth Cummings, Ben Quilty, Lindy Lee, Tracey Moffatt, Adam Cullen and more.
The second exhibition, organised as a partnership between Hazelhurst Arts Centre and UOW's Faculty of Arts, Social Sciences and Humanities is Vital Signs, an annual graduate show of UOW visual arts students, now in its eighth year. It will be hosted in the Broadhurst Gallery.
Both exhibitions highlight the University's long-standing commitment to the visual arts and present a large spectrum of artists – from the emerging identities of art graduates to well-known and established creators.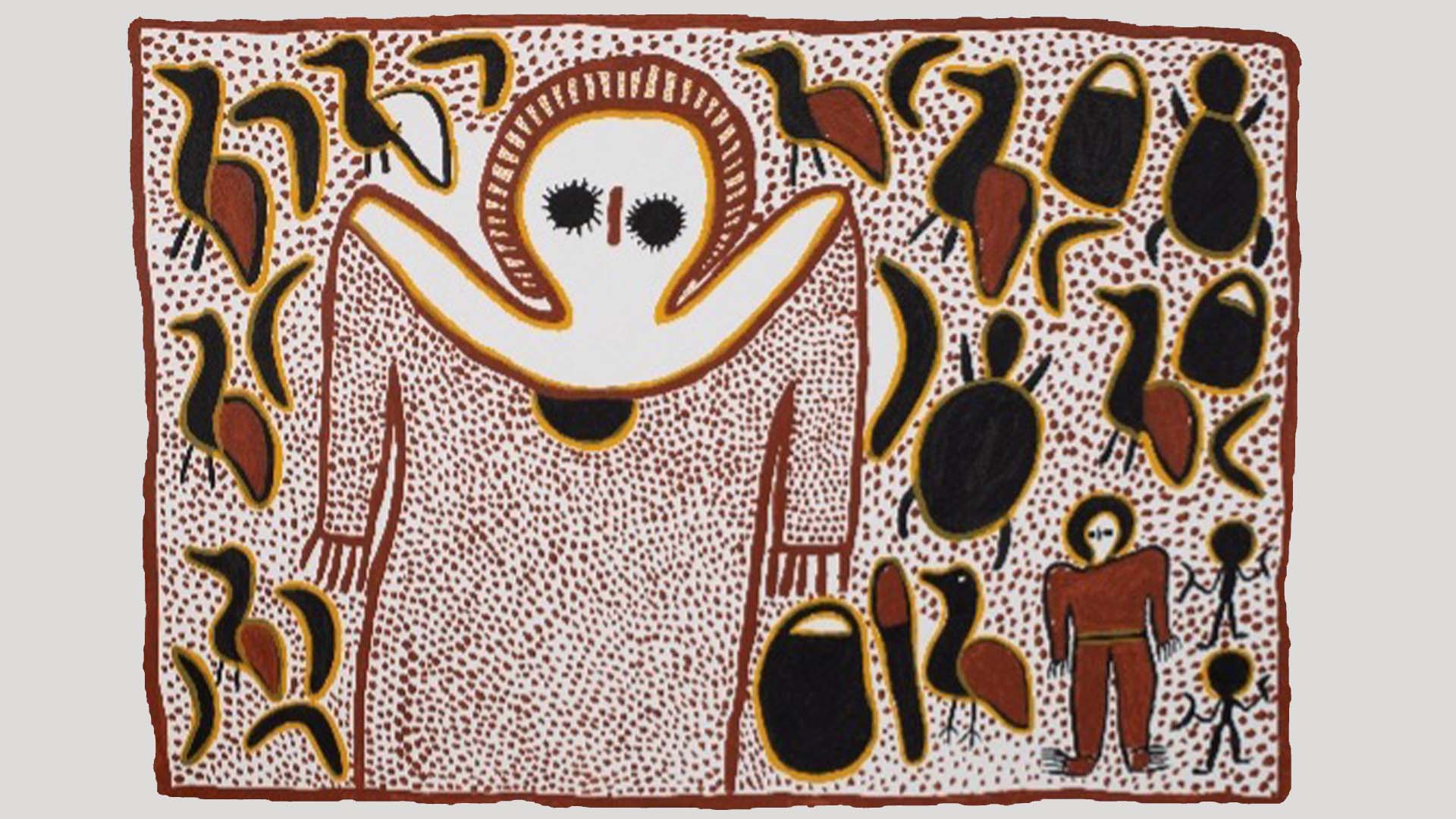 UOW Art Collection features a strong representation of First Nations artists, among them the artwork by Lily Karadada, Wandjina Rainmaker (1998), which is also part of Vision Splendid at Hazelhurst Arts Centre.
Vision Splendid will show a broad portfolio of works, from paintings by renowned Australian artists such as Elisabeth Cummings and Guy Warren to artworks by more experimental artists such as Dani Marti, Karla Dickens and Newell Harry. The exhibition also includes sculptures, weaving and textiles, ceramics, bark paintings, photo works, sketches, prints, watercolours, charcoals, posters and collages from artists including Robert Klippel, Yvonne Koolmatrie, Les Blakebrough, Lily Karadada, Salvatore Zofrea and Redback Graphix.
Part of the exhibition will focus on work by artists connected to UOW and the Illawarra, such as painter Guy Warren, sculptor Bert Flugelman, ceramicist Alan Peascod, photo media artist Jacky Redgate and painter Jelle van den Berg.
The oldest artwork in the exhibition is Lloyd Rees' painting Illawarra Pastoral from 1957. The newest artwork is a 2018 piece, Redman Avenue Reflections, by Christopher Zanko, a rising star in the contemporary art world and a UOW visual arts graduate.
Vice-Chancellor and President Professor Patricia M. Davidson said the University was delighted to partner with Hazelhurst Art Centre to bring artworks that students and staff of the University have enjoyed for many years to new audiences in the Sutherland Shire.
"It is an exciting time for the University of Wollongong as we showcase our art collection and creativity to the broader community while celebrating our rich and long-standing relationship with Hazelhurst. And what's most fabulous about this partnership with Hazelhurst is that for the next two months, we're making this entire centre into a UOW festival of art," Professor Davidson said.
The UOW Art Collection was established more than five decades ago and features predominantly Australian artworks created from the 1960s onwards. It is one of Australia's most diverse and extensive anthologies of art held by a university, with over 5000 artworks by eminent Australian artists and a strong representation of First Nations artists from around Australia.
Hazelhurst Arts Centre Director Belinda Hanrahan said that Vision Splendid exemplifies Hazelhurst's dedication to fostering opportunities that bring great art closer to the local community.
"We are delighted to share such a significant collection of Australian art with people from the Sutherland Shire and grow our relationship with the University of Wollongong even further," Ms Hanrahan said.
Established by Hazelhurst Curator Carrie Kibbler and UOW lecturer Dr Madeleine Kelly, who also features in Vision Splendid, the partnership between Hazelhurst and UOW first started to take form in 2015 and then blossomed with the first exhibition of the graduate show Vital Signs in 2016. Since its inception, Hazelhurst Arts Centre has been actively supporting and promoting emerging UOW artists, also through their annual Hazelhurst Arts Centre Residency Award for one UOW visual art graduate. The award, which provides the recipient with a 2-week residency, accommodation and a studio, was put on hold during the pandemic but will relaunch at the end of 2023.
For this year's Vital Signs exhibition, 13 artworks by outstanding UOW graduates were selected, presenting an array of contemporary painting, sculptural, ceramic, photographic, multimedia and textile forms.
Created during the first year out of heavy COVID restrictions, these artworks demonstrate the young artists' driving passion to persist, adapt and thrive in a new environment.
UOW visual arts graduate Breanna Taylor's work Enviro Mental is part of the Vital Signs exhibition at Hazelhurst Arts Centre.
Head of the School of The Arts, English and Media Associate Professor Jo Law said the ongoing partnership with Hazelhurst Arts Centre is of immense value to the students, graduates and the whole School.
"It has always been a great pleasure taking Carrie Kibbler through each year's graduate works and seeing our students exhibit their art in such a warm and welcoming public arena. As part of this partnership, one of our graduates is also selected to complete an internship program with Hazelhurst Arts Centre in the lead-up to the Vital Signs exhibition. I really look forward to evolving our collaboration into the future," Associate Professor Law said.
---
Main image credits (top left to bottom right): Guy Warren, Escarpment Illawarra, 1986, acrylic paint on linen; Joan Ross, BBQ This Sunday, BYO (still), 2011, digital animation; Christopher Zanko, Redman Ave Reflections, 2018, acrylic on wood relief carving; Noel McKenna, Homes, Mt Keira, 2002, ink, pencil and watercolour on paper.
All images courtesy University of Wollongong Art Collection © the artists.
ABOUT THE EXHIBTIONS
Vision Splendid: Highlights from the University of Wollongong Art Collection
22 April – 18 June 2023
Vital Signs: Recent Visual Arts Graduates from University of Wollongong
22 April – 2 May 2023
Hazelhurst Arts Centre, 782 Kingsway, Gymea, Open 10 am – 4 pm daily. Free admission.