June 30, 2023
How Deadloch flips the Nordic Noir crime genre on its arse and makes it funny
Deadloch is a take-no-prisoners assault on television's favourite genres
You know how it starts: a drone shot across an expanse of grey water under a leaden sky accompanied by eerie music and a sense of foreboding. Clearly someone is going to die, if they are not already dead, and a small community will be riven as its dark secrets are exposed to the pale light of a wintry Nordic day.
But we're in Tasmania, and the dead body is not the violated, naked body of a young white girl, but a bloke whose tongue is missing, possibly eaten by the town's resident seal, Kevin.
This is Deadloch, the fictional town that is the setting for a comedy crime drama that flips the Nordic Noir genre on its arse, so to speak.
Funny Broadchurch
The creators of this loving, yet savage, parody of Nordic Noir are Kate McLennan and Kate McCartney. In 2015, they launched The Katering Show on YouTube: a web series spoofing the homely genre of the cooking show that eventually found its way onto ABC iview.
They followed it with Get Krack!n, an attack on the genre of the cheerful but inane television breakfast show. It concluded with a memorable episode in which, left in charge of the couch, Indigenous actor Miranda Tapsell berated the Australian public for their treatment of First Nations people. While it might not have been comedy, it was magnificent in its ferocity.
Deadloch (2023) continues the Kates' take-no-prisoners assault on television's favourite genres with a series they described as "funny Broadchurch" in their pitches to the powers that be.
Apparently, the inspiration emerged from the "explosion of Nordic Noir" they were watching while breastfeeding at in the early mornings of 2015.
As a warning: there's so much "colourful vernacular" in this series that the creators had to write an essay drawing on Shakespeare's Bawdy to defend their extensive use of the word "cunt" to the Amazon Prime executives.
Indeed, linguistically, the Kates do for "cunt" what director Martin Scorsese did for "fuck" when it comes to turning a profanity into a rhetorical gesture.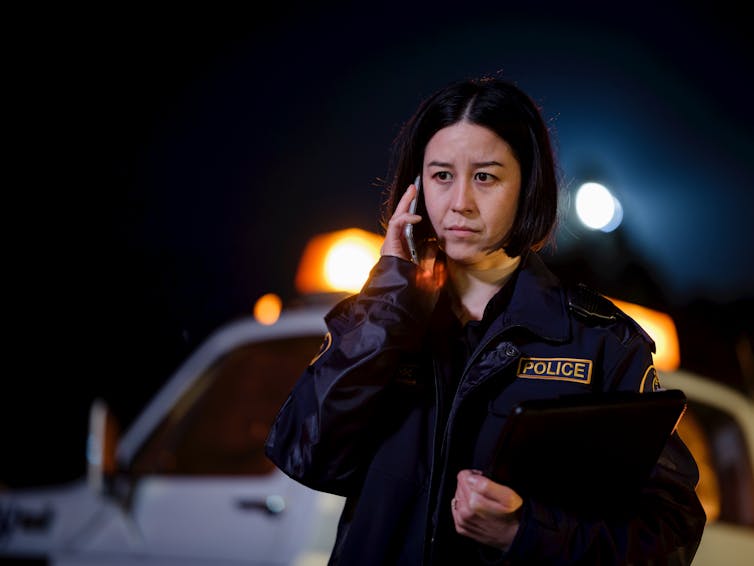 What is Nordic Noir anyway?
The impact of Nordic Noir on television production around the world has indeed been significant. British academics Richard McCulloch and William Proctor have described it as a "Scandinavian invasion".
While there are those who suggest Nordic Noir may have already passed its use by date, McCulloch and Proctor argue that the ripple effects are still being felt. Crime dramas everywhere continue to riff on the aesthetics and themes of the Scandinavian series that have captured the attention of a global niche audience.
Australia, it might be recalled, was one of the first countries to screen Danish crime shows including Rejeseholdet/Unit One (2000–04) and Ørnen/The Eagle (2004–06), even before Forbrydlesen/The Killing (2007-12) appeared on the SBS2 digital channel in 2010.
While the audiences for these shows may have been small, they included, as academics Pia Majbritt Jensen and Marion McCutcheon say in their analysis of the Australian audience for Nordic Noir, the "influential and trend-setting" creatives who would go on to produce new Australian crime dramas in which the traces of Nordic Noir are clearly visible.
Australian Noir
Australian crime dramas with clear Nordic Noir influences have become common. This would include the political thriller Secret City based on a series of books by journalists Steve Lewis and Chris Uhlmann.
Produced by Matchbox pictures for Foxtel Showcase in 2016, Secret City re-imagined Canberra as the sexy setting for a Nordic Noir drama that owed as much to the Danish series Borgen as it did to The Bridge in terms of its aesthetics and style. The politics, however, were resolutely Australian, featuring Australia's pig-in-the-middle predicament in the US-China power game.
And then there was The Kettering Incident, also produced for Foxtel Showcase by a Tasmanian-based team. While shades of David Lynch's genre-bending Twin Peaks loomed, Kettering bore more than a passing resemblance to the Swedish eco-thriller Jordskott.
This show encompassed a blonde female protagonist returning home, the mystery of a missing girl, small town politics, environmentalism and supernatural happenings in a mystical forest – not to mention the spectacular drone shots of a misty and mountainous hinterland overlaid in blue and black tones.
Flip the colour palette
Not all story boards for Australian Noir are coloured Antarctic grey. The ABC Indigenous crime drama Mystery Road flipped the colour palette to orange and red in what Bunya Productions producer David Jowsey described as "tropical outback gothic noir".
Mystery Road managed to retain the measured pace of Nordic Noir and exquisite attention to a monumental and threatened landscape, while focusing on Indigenous issues.
They even imported Sofia Helin, star of The Bridge, for series two as a Swedish archaeologist digging in the iron-red dirt of the Kimberley for Indigenous artefacts.
Potty-mouthed satire
Which brings us back to Deadloch and the apotheosis of the Australian assimilation of Nordic Noir as a potty-mouthed satire that is also a feisty feminist take on the more usual gender politics of the crime drama.
Instead of a mismatched male and female cop from different cultural backgrounds, we have a couple of mismatched female detectives whose initially testy relationship gradually ameliorates as they join forces in the quest for the truth.
Rather than a married male detective having problems at home, we have a female detective whose lesbian wife needs constant affirmation. Replacing the sexually violated female victims naked on the autopsy table, we have dead men with missing tongues and a self-important fool of a male forensic examiner who misses all the important stuff.
As in the best Nordic Noir, there appears to be a serial killer at work who is trying to send some kind of a message through the murders, but what is it? Is it personal or political – or both?
In the meantime, everyone in this female-centric community, from the mayorette to the members of the lesbian choir singing I Touch Myself at the Winter Feastival, is a suspect. It just couldn't get any better.

Sue Turnbull, Senior Professor of Communication and Media Studies, University of Wollongong
This article is republished from The Conversation under a Creative Commons license. Read the original article.
---
UOW academics exercise academic freedom by providing expert commentary, opinion and analysis on a range of ongoing social issues and current affairs. This expert commentary reflects the views of those individual academics and does not necessarily reflect the views or policy positions of the University of Wollongong.