April 12, 2023
Trailblazing engineer recognised for fierce commitment to gender equity in science
Former UOW Deputy Vice-Chancellor Professor Judy Raper receives Honorary Doctorate
Professor Judy Raper AM has always been a champion of gender diversity. It was at the forefront of her work during the 10 years she spent as Deputy Vice-Chancellor (Research and Innovation) at the University of Wollongong (UOW), where she spearheaded a number of initiatives aimed at improving diversity and opportunities in teaching, learning, and research.
But in the past few years, as she has helped to launch The Engineering and Design Institute London (TEDI-London) in the United Kingdom, her passion for creating and promoting gender diversity, particularly in the field of engineering, has taken on a greater urgency.
Now the Dean and CEO of TEDI-London, Professor Raper's mission is to open the world of engineering to those who might not have previously considered a future in this field.
The opportunity came at a time in her life when she could have considered retirement, but instead she threw herself into the chance to make a difference.
This week, Professor Raper has been recognised for her outstanding achievements and her commitment to leadership to motivate and mobilise the talent of women in engineering with a Doctor of Science (honoris causa) from UOW.
Professor Raper, who left UOW in 2018, said she was delighted to receive the honour, which was conferred during the Faculty of Engineering and Information Sciences graduation ceremony (Wednesday 12 April).
"I'm thrilled to be recognised with this honour. I have always seen an honorary degree as something for others, not me. It is really humbling to be associated with the many people in the past who have been recognised in this way".
Born in Budapest, Professor Raper arrived in Australia at the age of two after her parents fled the Communist Revolution that swept Eastern Europe in the wake of World War II.
"My parents were refugees. After surviving the Holocaust, they wanted to get as far away from Europe as possible and Australia fit the bill," Professor Raper said.
"I was only two I have lived with stories of being carried in a backpack in the dead of night through snow to cross the border. I imagine the experience has, in a subtle way, influenced my attitude to diversity and to being different."
Professor Judy Raper in her office at UOW in 2016. Photo: Paul Jones
As you would expect from the first Australian woman to graduate with a chemical engineering degree from the University of New South Wales (UNSW), Professor Raper is not one to shy away from a challenge. Indeed, it was a challenge that set her down the road towards becoming an engineer in the first place.
"I was good at maths and chemistry at school, and I went to a workshop at the University of NSW when I was in Year 10 or 11," she says. "It was with chemical engineers and was about industrial chemistry and chemical engineering and they made things and that was interesting.
"But the thing that really got me into it was one of my brother's friends, who said, 'Don't do engineering. It's very difficult'. Well, that just made me want to do it. I really had no idea what it was all about, I just lucked into something that I was good at and enjoyed."
It turns out she was very good at it. Acknowledged as a world expert in the area of fine particle technology, particularly as it relates to air and water pollution, she now sits at the top of her profession with a long list of accolades and awards to her name.
Professor Raper's achievements span many years. In 2018, she received the Ada Lovelace Award for the most prominent female engineer in Australia, and the following year, she was made a Member of the Order of Australia (AM).
In 2017, she became just the second woman to win the Chemeca Medal, the most prestigious award in chemical engineering in Australia and New Zealand.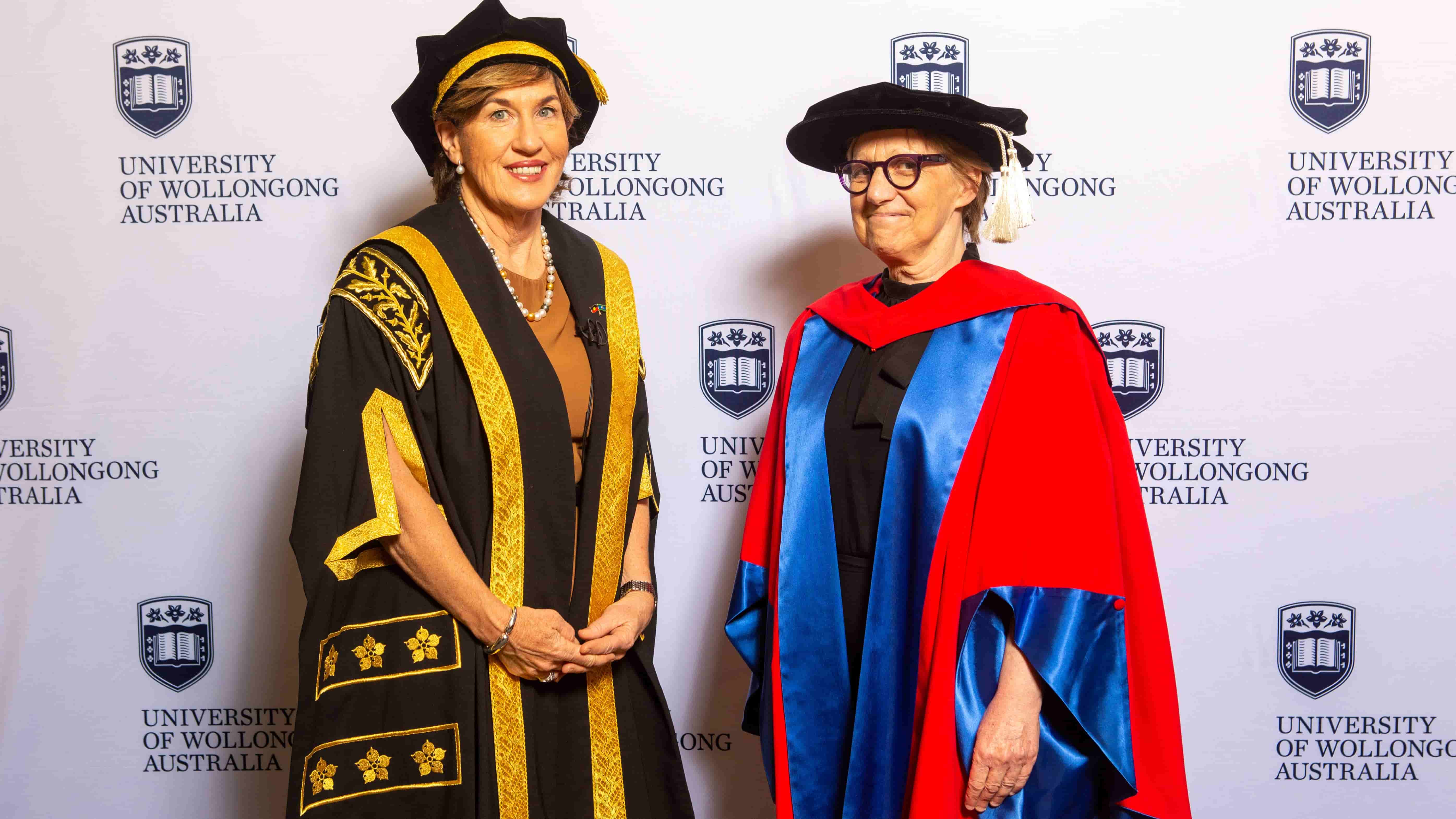 UOW Chancellor Christine McLoughlin and Professor Judy Raper. Photo: Andy Zakeli
The Australian Financial Review and Westpac named her one of Australia's "100 Women of Influence" in 2012, and Engineers Australia named her in its "Top 100 Influential Engineers" for three years in a row from 2013 to 2015.
Prior to joining UOW as a Deputy Vice-Chancellor, she served as the first female Dean of Engineering at the University of Sydney, as Division Director for Chemical, Bioengineering, Environmental and Transport Systems at the United States' National Science Foundation in Washington DC, and Department Chair of Chemical and Biological Engineering at Missouri University of Science and Technology.
Since taking on the roles of Dean and CEO of TEDI-London, Professor Raper has been on a mission to democratise engineering. The new higher education provider is aimed at young women and also those from minority groups and low socioeconomic backgrounds or who may not have studied the traditional feeder subjects for engineering, such as mathematics and physics.
"It is about teaching engineering in a different way. There is a shortage of engineers in the United Kingdom, but also worldwide, and we are addressing that shortage by opening up engineering to those who might not have considered it as a career path or would not have taken up an engineering degree," Professor Raper says.
"We are drawing people from different backgrounds, who have different experiences, and are able to offer different perspectives on, and solutions to the complex global challenges we are grappling with."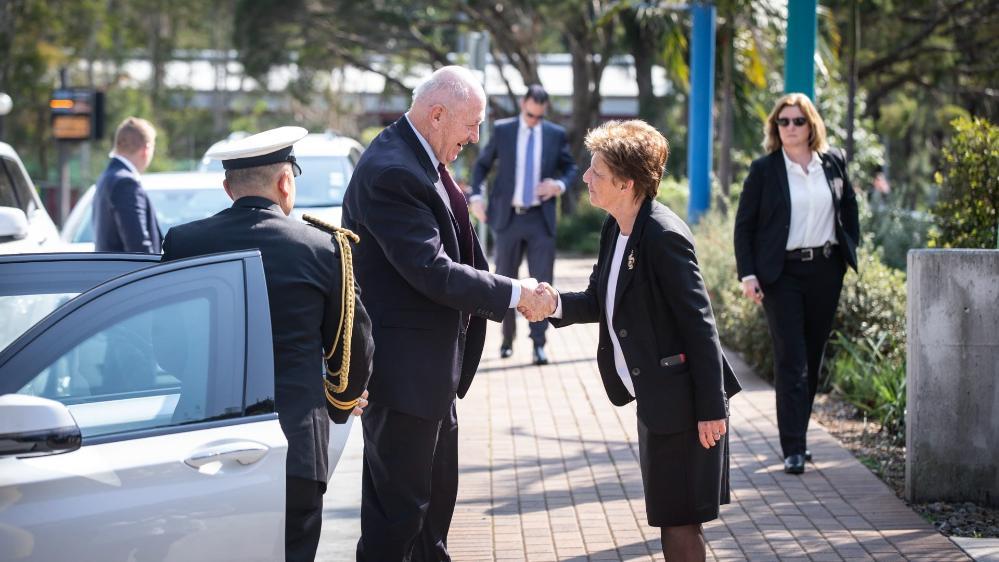 Former Governor-General Peter Cosgrove meets Professor Judy Raper during a visit to UOW's Early Start in 2018. Photo: Paul Jones
During her time at UOW, Professor Raper was a champion of collaborative research that made a tangible impact, of tapping into the creativity and innovation that is inherent in academia to forge strong links with business and industry.
In her role as Deputy Vice-Chancellor (Research and Innovation), Professor Raper spearheaded many of the groundbreaking research groups and initiatives underway at UOW, including Global Challenges, the SMART Research Infrastructure Facility, the Sustainable Buildings Research Institute, the ARC Centre of Excellence for Biodiversity and Heritage, iAccelerate, Advantage SME, and Early Start.
Professor Raper is bringing the same innovative approach to her work at TEDI-London, where she is passionate about harnessing the skills and experiences of her students and staff to achieve their goals. She is using her love of solving problems and overcoming challenges to nurture the next generation of engineers, many of whom are bringing a new and diverse perspective to the industry.
From being the first female chemical engineering graduate from UNSW, to heading a start-up aimed at transforming engineering education, Professor Raper began her career as a trailblazer and that shows no sign of abating. Once a pioneer, always a pioneer.
"Charles Darwin said 'it's not the fittest that survive but the most willing to change'. Luckily I have always been keen to embrace change because the recent pandemic has certainly meant we have to be adaptable."