April 12, 2023
The love of reason and helping people
How BA in Western Civilisation helped Seamus rediscover his passion for medicine
For Seamus King, pondering reason and using deductive logic is a daily exercise he's become so adept at that he resorts to it even when arguing with his girlfriend (she's studying law, so she appreciates the practice).
Yesterday, on Tuesday 11 April, as he was graduating from UOW with a Bachelor of Arts in Western Civilisation degree at the University of Wollongong's (UOW) School of Liberal Arts, Seamus knew that one of the skills he was most proud of developing was his intellectual humility.
"You'd think that after studying a degree centred on the great works of various Western thinkers, I would have come out with a set of fixed opinions on things. But it hasn't been like that at all. I'm so much more balanced in my views. Actually, often I can't make up my mind because I can see both sides of the argument," Seamus said.
As a child, Seamus loved maths and science, a passion passed down to him from his father. Then, in Year 12, his English teacher became a huge influence, sparking a fascination with literature and humanities, leaving Seamus torn between pursuing medicine and arts.
"Still conflicted, I applied for an early entry to the University of Wollongong to both pre-med and a Bachelor of Social Sciences and got accepted to both. But they didn't make me excited the way I knew university studies could," Seamus said.
Then, he heard an announcement of the new degree, the Bachelor of Arts in Western Civilisation. Instantly, he knew this was what he was looking for.
"I couldn't wait to begin my studies."
Seamus is part of the first cohort of the Bachelor of Arts in Western Civilisation students to have just finished their UOW degree. Open-minded and curious, he spent his university days exploring classical texts and seeing them fit into modern-day scenarios, which, as he says, has really flexed his empathy muscle.
Initially, he confessed to having had doubts about whether the degree wouldn't be tainted by some form of elitism.To his surprise, it was far from it.
"Being able to break down ideas from amazing thinkers, to point out problems with them and then see how we can learn and improve upon them makes you very open-minded. I think it made us care more about the world. There's no way to uphold any rigid ideas if you realise no idea is sacred," Seamus said.
As his studies progressed, Seamus' appetite for intellectual exploration became satiated, and he reconnected with his dream of becoming a doctor. Freshly accepted into a medical degree, he hopes to specialise in Indigenous health and work in a rural setting or emergency medicine while using his collaboration skills to form better relationships with his patients.
"I have further developed an interest in Indigenous and rural health since beginning my medical degree. I am a part of the Indigenous Health Stream, which will allow me to take part in placements in the Northern Territory," Seamus said.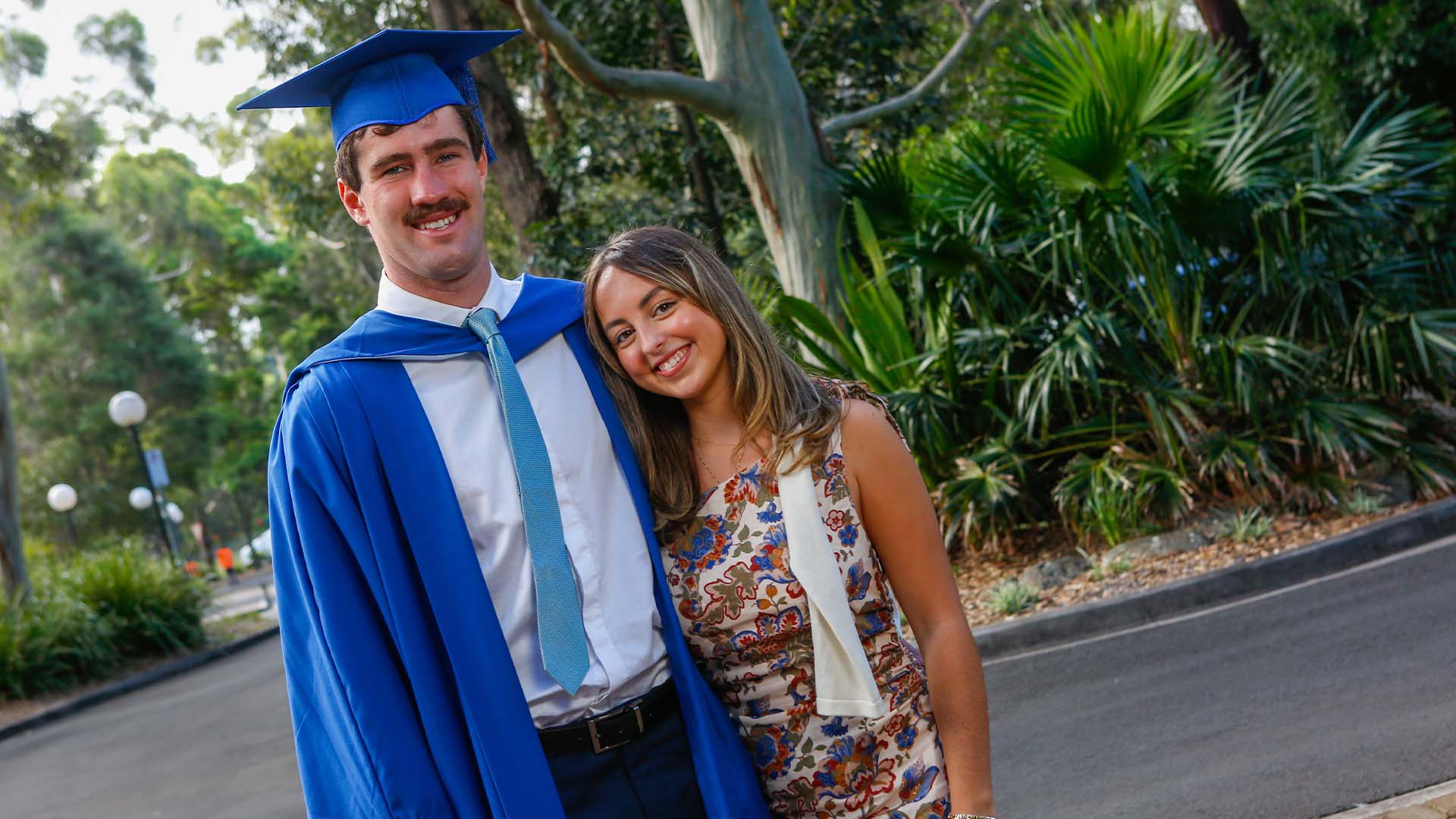 Fresh graduate Seamus King with his girlfriend Beth Bujaroski at Wollongong campus.
Being back on the Wollongong campus at the beginning of autumn, Seamus feels nostalgic for his student times, spent thinking about societal ups and down and debating big ideas with his colleagues.
"My best memories of UOW are those special times when you and your classmates come to this rare moment of clarity and agreement on a question you've been discussing for a significant amount of time.
"I'll always carry all my uni experiences forward. It opened me up to the relational aspect of studying and made me more community-oriented. You can't study a liberal arts degree and not enjoy talking to people from all walks of life," Seamus said.