November 10, 2023
Inaugural neurodivergence conference hailed a resounding success
Event focused on the lived experience of autistic and neurodivergent individuals and their families
It was a weekend of connection, learning and laughter when several high-profile autistic and neurodivergent speakers joined an audience of neurodivergent community members, families, professionals and researchers at a conference hosted by the University of Wollongong (UOW) (Saturday 4 November and Sunday 5 November 2023).
The conference, Neurodivergence, Identity and Self-determination: Enhancing understanding and connections, was organised by My Life My Decisions in conjunction with the UOW Autism and Neurodivergent Alliance.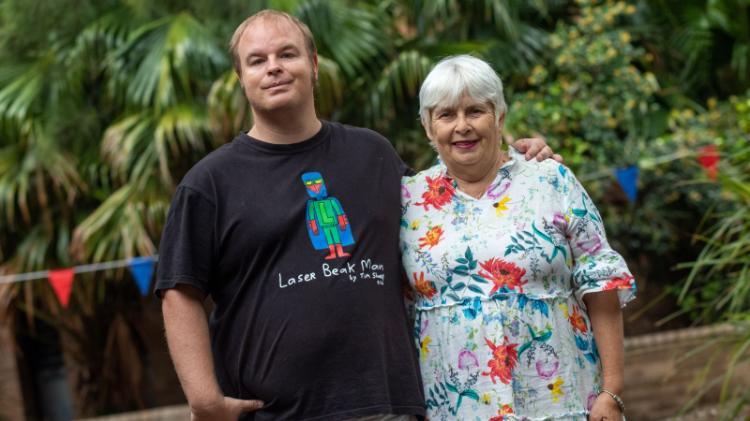 Tim and Judy Sharp's opening keynote address was a highlight of the conference
Conference organiser, Associate Professor Amanda Webster from the School of Education, said the event was a resounding success.
"It was a wonderful weekend that provided an opportunity for people to come together, develop shared understandings and build connections," Associate Professor Webster said.
"The feedback has been very positive, with people valuing the time to meet, talk and focus on neurodivergent identity and self-determination."
Conference attendees heard from a range of autistic and neurodivergent individuals, family members and researchers including former Australian of the Year Grace Tame, Yenn Perkins, Dr Melanie Heyworth, Randa and Richard Habelrih, Tim and Judy Sharp, Associate Professor David Trembath, as well as UOW's own Drs Simon Moss, Alan Jurgens and Associate Professor Webster.
Loving the conference. Grace Tame gave a wonderful presentation and I introduced myself which was lovely. The rainbow wig also had its first outing in a while! pic.twitter.com/BSJDxO474z

— Yenn Purkis (@yennpurkis) November 4, 2023
"There were many highlights, but particular standouts included the opening keynote from Tim and Judy Sharp in which they discussed their journey over the years; the fireside chat with Grace Tame, and Dr David Trembath's presentation of the implications of the National Guidelines for supporting the learning, participation, and wellbeing of autistic children and their families in Australia," Associate Professor Webster said.
"We really wanted to provide a space and opportunity for respectful dialogue in order to identify our shared purpose and to outline current issues, barriers and priorities in creating neuro-affirming environments and systems that support neurodivergent identity and self-determination.
Grateful to be at the My Life My Decisions UOW Neurodivergence Conference this weekend, learning more about how to support neurodiverse (and all!) students.
Grace Tame- great keynote:
"If you have the desire to connect with another human being you're already half way there"

— helenpratt (@hpratt4) November 4, 2023
"Drawing on lived experience of autistic and neurodivergent individuals and their families formed a centrepoint for presentations and discussions across the two days. We hope to bring this to the attention of researchers and professionals and to bring the conference back in 2025."
Conference organiser Associate Professor Amanda Webster
Associate Professor Webster is the Academic Program Director for the Autism postgraduate programs. Her research and teaching are focused on creating inclusive learning communities to support the achievement and self-determination of autistic and neurodivergent individuals.