March 3, 2023
Fisheries workshop brings Pacific experts together
Community-based management vital for conserving fish habitats and maintaining healthy fish stocks
"Fishing is a central part of day-to-day life for many Pacific nations," Tarateiti Uriam, a fisheries officer from Kiribati, said. "Fish are our major source of protein in Kiribati. We need fish to survive, and its part of our identity."
Fisheries experts and managers from Kiribati, Vanuatu and the Solomon Islands, recently spent two weeks in Wollongong attending workshops on coastal communities and fish, under a University of Wollongong (UOW) led project on Pacific community-based fisheries management.
Associate Professor Dirk Steenbergen from UOW's Australian National Centre for Ocean Resources and Security (ANCORS) said increasing demands for coastal fish in the Pacific Islands has resulted in an emerging need for widespread, localised management capacity.
"We have had a lot to talk about over a couple of weeks," Associate Professor Steenbergen said.
"These workshops are essential to improving effectivity of fisheries support by engaging with fishing communities, government and key industry partners to demonstrate successful policy and sustainable fisheries practices.
"Key topics like climate change, which is compounding the problem of access to fish stocks, and changing the distribution of fish, were all up for discussion. What makes this workshop special is that the heavy majority of experts in the room are from the places we are talking about and so bring with them lived experiences as they drive the discussions; this is reflective of the strong capacity in the region."
The workshops are run under the Australian Government funded Pathways project, led by ANCORS.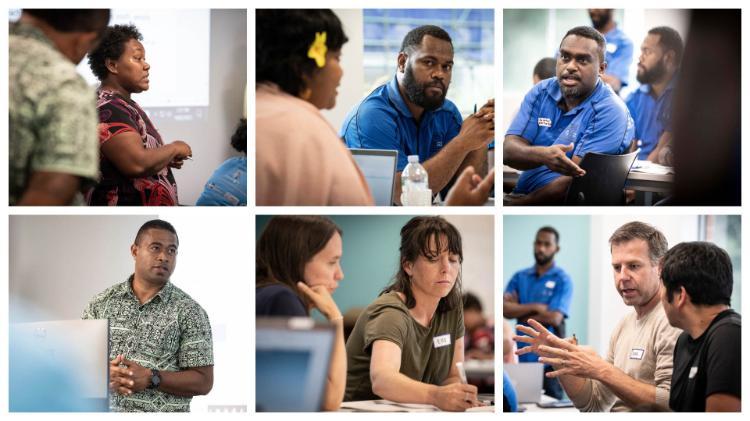 "The Pathways project is a collaboration between researchers and national fisheries agencies. Our research focuses on understanding and testing cost-effective ways to implement and sustain national programs of community-based fisheries management in Kiribati, Solomon Islands and Vanuatu," Associate Professor Steenbergen said.
Watisoni Lalavanua agreed that the workshops are beneficial to all who attend. The Fiji national works alongside 23 Pacific countries and territories with the Pacific Community's (SPC) Coastal Fisheries Program, providing vital information and support to Pacific Island governments on managing and developing their aquatic resources.
"These get-togethers are very important for Pacific nations. When it comes to fisheries, it is not a one-size fits all approach. Different countries have their own ways of managing their coastal resources. What these workshops do is offer advice and guidance for those countries. It is then that country's national sovereignty responsibility," Mr Lalavanua said.
Pita Neihapi, a fisheries officer and country team leader from Vanuatu said that coastal fisheries in the Pacific islands, and the communities that rely on them, face many difficult challenges.
"We are looking at the driving forces behind increased fishing pressures, which in turn threaten local food security, livelihoods and ecosystems. There are no easy-fix solutions. But over time and through education and strengthening community-based management, we can conserve fish habitats and maintain healthy fish stocks", Mr Neihapi said.
"We are dealing with increases in bad weather patterns, we are dealing with land erosion, we are dealing with depletion of fish stocks, we are dealing with pollution from agricultural runoff, we are dealing with countries that are growing in population and size.
"We can only do what we can do now. We cannot go back to the past … but as teams, we can support our already stressed community and ecosystem we are living in."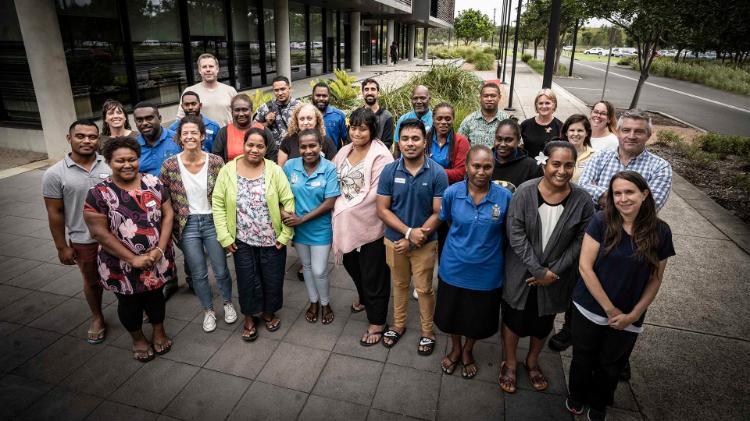 Fisheries experts and managers from Kiribati, Vanuatu and the Solomon Islands at the ANCORS-led workshops on Pacific community-based fisheries management.