November 3, 2023
Annual Goldring Lecture addresses miscarriages of justice
Reflecting on this challenge, Former Supreme Court Judge Terry Buddin says prevention is better than cure
The Honourable Terry Buddin SC presented the 2023 Goldring Lecture at the University of Wollongong (UOW) last week, speaking on the topic, "Miscarriages of Justice: A Time to Reflect".
Professor Buddin, a former judge of the Supreme Court of New South Wales, has been actively involved in the criminal justice system for over 40 years.
In his Goldring Lecture, Professor Buddin reflected on the subject of miscarriages of justice based on a knowledge of the criminal justice system acquired over many years.
Professor Buddin observed that the recent determination that there is a reasonable doubt as to Kathleen Folbigg's guilt demonstrates that miscarriages of justice present a perennial challenge for our society.
Ms Folbigg was convicted of killing her four infant children in 2003. In June this year she was unconditionally pardoned and released from prison.
Professor Buddin also reflected on other examples of miscarriages of justice, pointing to the difficulties and costs associated with overturning convictions while stressing the importance of attracting favourable publicity in being able to do so.
"Even if a person's wrongful conviction has been publicly acknowledged, they can never be fully restored to the position they were in before the criminal justice system intruded into their life. Indeed, any redress which they may receive can only ever be a partial amelioration of the detriment which they have suffered," he said.
Professor Buddin also referred to other kinds of miscarriages of justice which "rarely receive much attention including instances in which perpetrators have not been brought to justice". He stressed that this was of particular concern "where crimes are committed upon particularly vulnerable victims".
Nevertheless, he felt that the system had improved and could continue to improve. While it is impossible to quantify their impact, he believed that various reforms to the criminal justice system had contributed to a reduction in the number of miscarriages of justice that would otherwise have occurred.
"Much remains to be done to address not only individual instances of miscarriages of justice, but any broader systemic issues that may arise," Professor Buddin said.
"Although there is no magic reset button that can be pushed to eliminate every instance of a miscarriage of justice, some tweaks to our current thinking could further reduce the number of such occurrences … we should start that process by immediately embracing the mantra that 'prevention is better than cure'… it is far preferable to prevent a miscarriage of justice than to have to later remedy it."
To give practical effect to that mantra, he proposed that the Government should redirect resources to avert miscarriages of justice in the first place rather than devoting those resources solely to addressing them after they have occurred.
He concluded by referring to the viability of a proposal which is currently being explored. This would entail UOW students, under supervision in a clinical setting, providing some limited form of assistance to selected individuals who still claim that they have been the victim of a miscarriage of justice even though they have exhausted all avenues of appeal under our judicial system.
Professor Buddin's association with the UOW School of Law commenced in 2012 following his retirement from the NSW Supreme Court. Professor Buddin co-teaches and co-designed an undergraduate elective at UOW, 'Miscarriages of Justice'.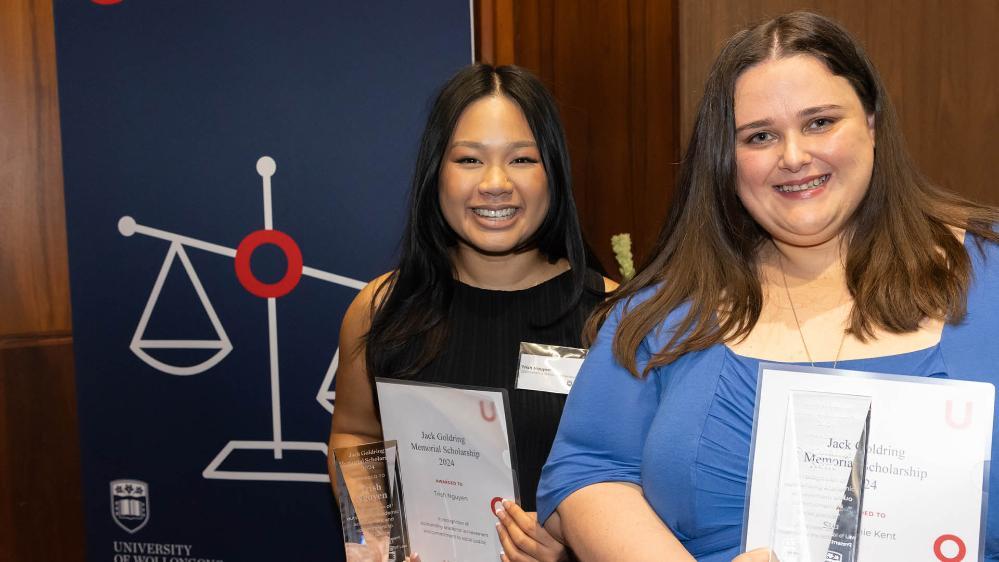 Joint 2024 Jack Goldring Memorial Scholarship recipients Trish Nguyen and Stephanie Kent.
Jack Goldring Memorial Scholarship
As part of the annual Goldring Lecture, the School of Law also awards the Jack Goldring Memorial Scholarship, valued at $10,000, to a current law student who has demonstrated outstanding academic achievement and a strong commitment to social justice.
The 2024 Jack Goldring Memorial Scholarship was awarded to two recipients, Trish Nguyen and Stephanie Kent.
Trish is studying for a Bachelor of Law and Bachelor of International Studies. She is extremely passionate about social justice, in particular accessible education for Indigenous and multicultural students and youths, and has dedicated her time to fulfilling her passion for addressing social inequities through paid and volunteer positions.
Stephanie is an outstanding student looking to pursue a career in legal practice in the public sector with a focus on social justice, with particular interest in access to justice and children's interaction with the legal system.
She has held positions in the committee of the UOW Law Students' Society, included being the CBD Coordinator in 2022 and Vice President of Sydney Campuses, where she was able to advocate for the needs of both mature age and Sydney Campus students.
About the Goldring Lecture:
The 2023 Annual Goldring Lecture is in honour of the late Jack Goldring, the foundation Dean of UOW's School of Law from 1990 to 1995. Motivated by social justice, Jack Goldring was an educator and leader in the university sector, a distinguished law reformer, and a highly regarded judge of the District Court of NSW. He placed social justice at the heart of students' learning.
UOW offers law degrees at its Wollongong, Liverpool and Sydney CBD campuses.