April 12, 2023
Ruby reflects on a passion for justice and a love of international studies
Outstanding graduate receives University Medal for Faculty of Business and Law
From an early age, Ruby Evans seemed destined for a career in which she would be able to make a difference.
While growing up, first in Melbourne and then on the South Coast of NSW, Ruby was encouraged by her parents to question the world around her.
"I was always exposed to adult conversations, about politics and justice. My parents didn't shy away from discussing those topics in front of me. It made me comfortable questioning things and imagining the possibilities for change," she said.
When she enrolled in a Bachelor of Laws (Honours) and International Studies at the University of Wollongong (UOW), Ruby discovered the legal language and the technical definitions that would help her to give voice to the conversations that she been taking part in for many years.
"I was already comfortable questioning things, and I loved that the lecturers encouraged us to always question what we were hearing in the classroom. I gained that technical understanding that helped me to critique the law, to understand what is written but also what is not written and the impact that has on our justice system.
"I chose to study law because I knew it would be a degree where I could explore abstract concepts relating to justice and morality whilst also practically applying what I was learning to everyday scenarios. In this sense, I liked that the study of law had outlets for me to express both my creativity and desire to create change but also the part of me that was drawn to objective, logical reasoning."
Ruby's double degree straddles the law and international relations, with a minor in Indonesian.
Ahead of her graduation ceremony (Wednesday 12 April), Ruby was in Yogyakarta completing an advanced Indonesian language course, following an earlier internship at Asia Justice and Rights. She was awarded the role, as well as a position as the Indonesia Fellow, by the Department of Foreign Affairs and Trade, as part of the New Colombo Plan Scholarship.
Although she was part of the 2020 New Colombo Plan cohort, COVID meant that she could not take up the opportunities until now.
The chance to spend an extended period working and studying in Indonesia is the cherry on top of an incredible university experience. Ruby's hard work culminated in her being named the recipient of the University Medal at her graduation ceremony, for the Faculty of Business and Law. The University Medal is awarded to the students who displayed the most outstanding academic performance during the year.
"It feels pretty crazy to receive the University Medal," said Ruby, who was the recipient of the UOW Alumni Bookshop Scholarship. "When you're studying, you're just so caught up in getting it done. But looking back, and seeing how far I've come, it's amazing. I feel so proud."
It is evident that Ruby has an avid interest in the world beyond Australia's shores.
"I studied Indonesian on and off through primary and high school, and I wanted to continue that at university. I think the relationship between Australia and Indonesia is very important and has at times been overlooked.
"I want to play a role in this relationship in the future. I love spending time in Indonesia, travelling there and understanding the culture and people."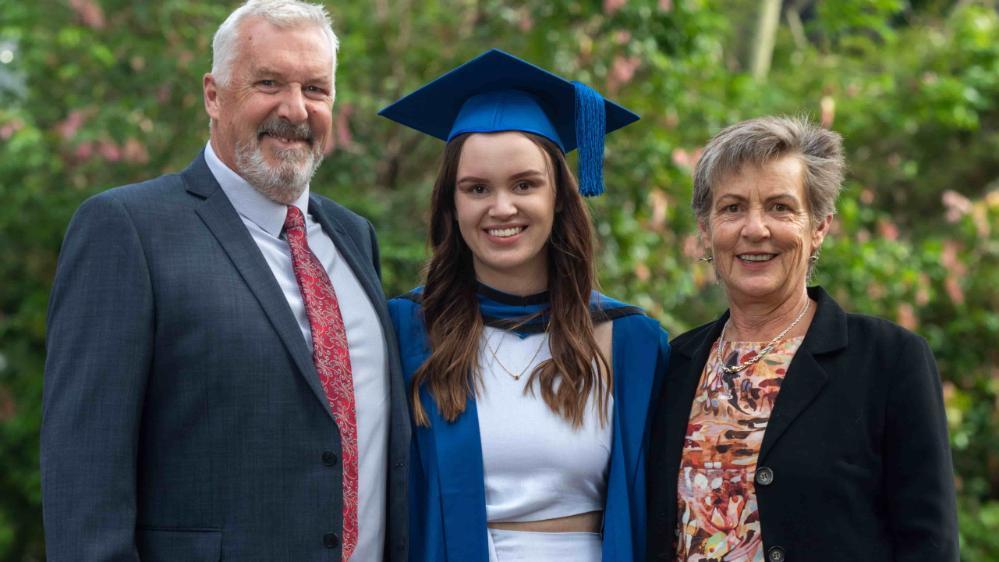 Ruby Evans, pictured with her parents.
As one of the first in her family to attend university, Ruby is taking advantage of every opportunity that has come her way. During her degree, she undertook an exchange to Malta, also condensed due to COVID, was a Peer Assisted Study Sessions leader, and has served as a mentor for first-year law students.
Ruby initially felt overwhelmed when she came to UOW, from the small coastal town of Bawley Point near Ulladulla, but she found a sense of community in the School of Law.
"The University of Wollongong was the only university I felt that actively engaged with my high school and encouraged us to apply. I received early entry into UOW and was offered the Vice Chancellor's Academic Excellence Scholarship. All of these efforts made me feel as though I would be welcomed and valued at UOW, and this is why I was drawn to study here," she said.
"I remember in Year 12, talking to my Year 12 Legal Studies teacher, Yousif Aziz, and I was worried about studying law because I thought it would be difficult to get a job. He told me that I could do anything, and I should never let my doubts stop me. That was such a helpful thing to hear.
"I was still full of doubts when I started at UOW. On my first day of orientation, I went back to my room and cried because it felt too big. It was a new environment, far away from home. But as time went on, I found a lot of support in the School of Law.
"There is a real focus on 'pods', so a group of students stay together for all their subjects in their first year. It was so helpful for making friends with the same interests and goals, and for finding support when I needed it."
In her honours year, Ruby's thesis critiqued how the Australian Corporations Act regulates corporate social responsibility and recommended an alternative model based on comparable South African legislation.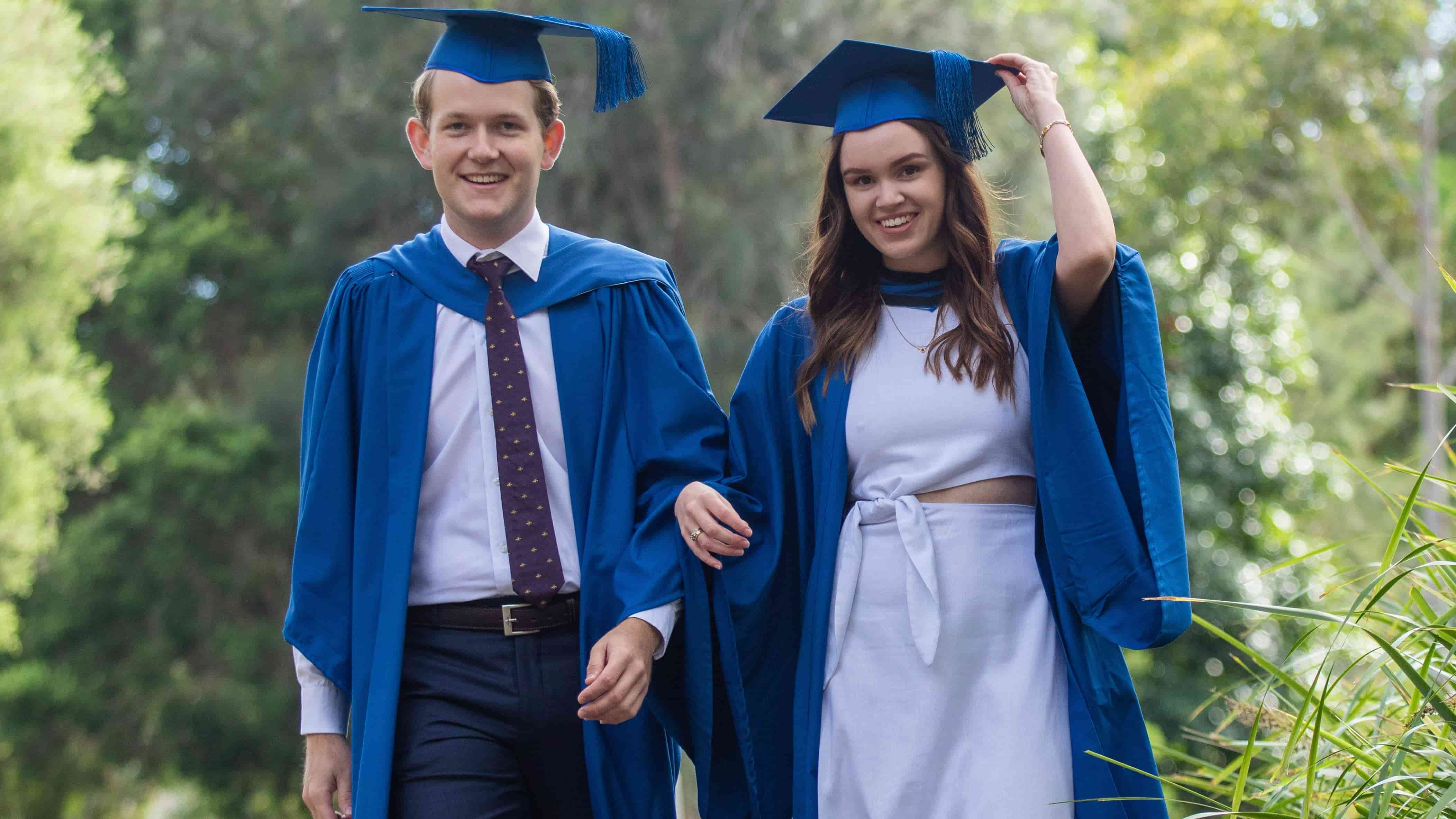 Ruby Evans with her partner Bodhi Morgan.
Ruby said the focus on social justice and equality in UOW's School of Law spoke to her approach to her studies, and to the values she aims to bring to her work beyond university.
"One of the great things about UOW is that you're studying with people who come from a variety of different backgrounds. You enter the legal workforce, and you realise so many other people's parents attended university or are lawyers themselves. It's often not like that at UOW. It was a great experience to be surrounded by people from such different backgrounds and who are also likely the first in their family to study law or attend university.
"It is important to me to be able to look any area of law and ask, "what narratives are being prioritised here and which are being excluded?". I am interested in the way that the law treats our First Nations peoples, different racial groups, women, low-socio economic groups, culturally and linguistically diverse people and the LGBTIQ+ community. In every area of study from property law to constitutional law to contract law you will find these issues if you just look. UOW taught me that you don't just have to accept what you are told or what's in front of you. You can question everything."
After a busy few years of study and work, Ruby is looking forward to a break before jumping in to her new career. With her partner, Bodhi Morgan, a fellow law student who she met at UOW, Ruby will spend the next six months travelling through Europe. When they return, Ruby is hoping to gain a role that brings together her interest in international studies and law.
"Having the degree in international studies, my language skills, and my experience working in Indonesia, means that I am able to work overseas, ideally in Indonesia or the Asia-Pacific region more generally. When I get back to Australia, we will go from there and see what comes."