April 29, 2022
UOW's new-look graduations connect with Country
Ceremonies bring together traditional graduation proceedings with rich Indigenous history
When the University of Wollongong (UOW) community comes together this week (Monday, 2 May) to celebrate the achievements of thousands of students, the graduation ceremonies will look and feel different than in years past.
A strong connection to Country will provide the foundation of the graduation proceedings, reflecting the University's strengthening relationship and ties with its landscape, culture and community.
In acknowledgement of UOW's campuses being located across several Aboriginal nations the new graduation ceremonies will encompass Aboriginal practices and ceremony.
They will form part of the fabric of the proceedings, woven through every detail and element of graduation. At the same time, UOW will retain elements of the traditional graduation ceremonies, forged in medieval times, such as the caps and gowns and the carrying of the ceremonial mace. The delicate balance will create an event that is dynamic, vibrant, and reflects the University's focus on a future that brings together the whole community.
The changes have been led by UOW's Indigenous Strategy Unit in consultation with the local Aboriginal community.
UOW Executive Director (Indigenous Strategy) and Woolyungah Indigenous Centre Director Jaymee Beveridge said she was thrilled to have spearheaded the changes to the graduation ceremonies, and can't wait to share elements of Indigenous Australian culture and Country with the thousands of students, families, and friends in attendance.
"Contributing to change that weaves together UOW traditions and Aboriginal ceremonial practices has been a privilege and filled me with optimism as we create new UOW traditions. Discussing these changes with community members has seen a resurgence of engagement with UOW from local Elders. It's another nod to advancing and embracing inclusive practices," Ms Beveridge said.
At the heart of the changes is a new artwork by Aboriginal artists Aunty Lorraine Brown and Aunty Narelle Thomas of Coomaditchie United Aboriginal Corporation in Warrawong.
A close-up of Cultural Healing. Photo: Submitted
Lorraine is the premier artist of the Coomaditchie. A Yuin/Gunai Kurnai woman, Lorraine was born in Bega, one of seven children. She views her ability to paint as a gift and uses bold colours that reflect her coastal upbringing.
Lorraine's sister Narelle paints with her. The sisters work like professional dancers: one leads and the other follows, and no-one steps on any toes.
Titled Cultural Healing, the artwork was commissioned by UOW, with the aim of showcasing the traditional tucker that underpins the community's health and connection to Country.
The expansive, one-of-a-kind artwork is striking and intricate; the vibrant colours representing the beauty and strength of the Australian landscape. There is a strong focus on health, with images of bush tucker, ocean tucker, medicinal plants, and flowers of the Dreaming Stories.
Nestled among the intricate details of Cultural Healing are references to midgen berries, small berries that are high in vitamin C, iron, calcium, and fibre; cobra (pronounced cah-bro), small worms that are high in iron; sarsaparilla, a plant that was part of the general diet and also used medicinally; and lemon-scented tea tree, a plant that has been used as a flavour in food and as a medicinal plant for thousands of years.
Cultural Healing also includes traditional meeting places and footprints, to represent the journey, history, and ongoing process of walking together.
Jaymee Beveridge with the artists behind Cultural Healing at Coomaditchie United Aboriginal Corporation. Photo: Submitted
Lorraine and Narelle, in explaining the inspiration behind the artwork, said: "All these things were a part of our health, even our stories that told us of the way things were, how they came to be and why we exist. All of these gave us knowledge, strength and a reason why."
Elements of the artwork have been incorporated in the tickets for graduation and graduation booklet, as well as the banners and flags to be used during the ceremonies.
Ms Beveridge said Cultural Healing provided the inspiration for the look and feel of the overall graduation ceremonies.
"The Aunties' artwork is relevant and transferrable on so many levels. For Aboriginal peoples Country and culture gives us knowledge, strength and a purpose. UOW aims to provide a similar direction with and for our students," Ms Beveridge said.
The graduation ceremonies will commence with an academic procession, which will be led by members of the Aboriginal community undertaking a smoking ceremony, engaging in song and sharing vibrations of the Yidaki, a musical instrument from Arnhem Land. This will be followed by a Welcome to Country. The Academic Procession will all wear the Aboriginal flag on their gowns.
A new UOW graduation video has also been developed, which will be played at every graduation ceremony at UOW campuses around the world. This video will incorporate footage from Woolyungah's recent reconciliation event and will feature sound design by Indigenous artist and UOW alumni Connor MacNamara.
UOW Vice-Chancellor Professor Patricia M. Davidson said the new style of graduation ceremony will truly reflect the inclusivity of UOW's student and staff, and will capture the importance of Indigenous perspectives and knowledge to the institution as a whole.
"The blending of ancient practices and medieval traditions brings to life UOW's vision for an inclusive, reconciled and united Australia where Aboriginal and Torres Strait Islander people are positioned as the knowledge holders of Country. I am so grateful for the collaboration of our First Nations colleagues and the UOW community is committed to a journey of truth telling and reconciliation."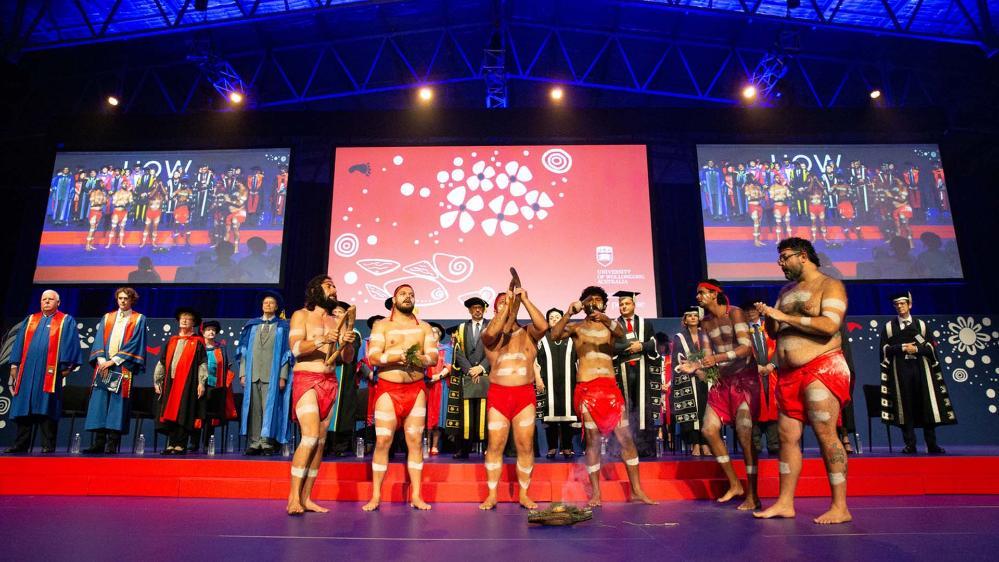 Professor Theo Farrell, UOW's Deputy Vice-Chancellor (Academic and Student Life) commented: "Our new graduation ceremony seeks to promote inclusivity, collaboration and connectedness in places and spaces where Aboriginal and Torres Strait Islander people's voices have in the past been limited. Building on the strong foundations of Woolyungah and the award-winning Jindaola program, this also signals an increased focus on Indigenous methods in our teaching, learning, research and student engagement."
The reimagining of UOW's graduation ceremonies is occurring against a University-wide backdrop that places a greater focus on connection to Country and the importance of First Nations perspectives and knowledge systems. Last month, the University pledged its support for the Uluru Statement from the Heart, and earlier this year, launched its Reconciliation Action Plan 2022-2024.