September 15, 2022
UOW event celebrates SWS community and student success
Community-focused event brings together local businesses, government, and launch of a new fund
The University of Wollongong (UOW) hosted a community-focused event at its South Western Sydney campus on Thursday 15 September to celebrate the local community and a shared vision for the success of the region.
The in-person event was attended by Liverpool Mayor, Councillor Ned Mannoun, UOW Vice-Chancellor and President Professor Patricia M. Davidson, UOW PVC Health - Sydney campuses Professor Louise Hickman, local business leaders, current UOW students and alumni.
Since its opening in 2017, the University's South Western Sydney campus has been committed to providing a globally recognised, world-class education that is focused on delivering specialist, job-ready qualifications in the health, social assistance, and professional services sectors that support the region's growing demands for skilled graduates.
At the event, three current UOW South Western Sydney students, Maria Granopoulos, Aleksandar Veselinovic, and Jessica Di Bartolo, were awarded the Liverpool City Council Opportunity Scholarship, designed to support UOW students to achieve their education aspirations.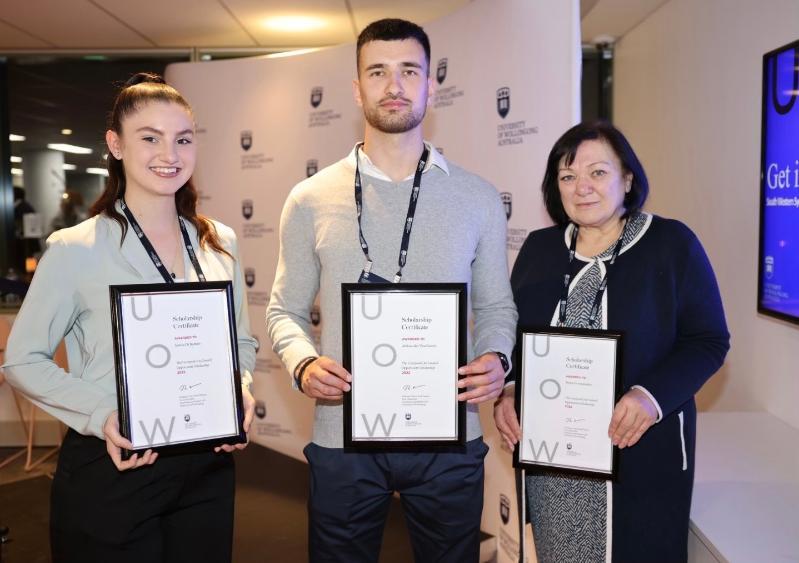 Scholarship winners: Jessica Di Bartolo, Aleksandar Veselinovic and Maria Granopoulos
UOW engaged with the local businesses, government and alumni communities to share its vision for the region and announced the launch of the UOW South Western Sydney Fund to support its philanthropic efforts and supporting local students from diverse backgrounds.
Professor Davidson said the University was committed to building and growing partnerships for creating a positive social and economic impact.
"I am delighted to see the exciting developments undertaking in the South Western Sydney region," Professor Davidson said.
"Congratulations to our three outstanding students for receiving the scholarship this year. Our students are the future leaders and supporting their career growth will always remain our priority.
"The programs offered at our SWS campus provide a unique and immersive experience for our students and we want to offer the best learning and teaching experience for our students.
"The establishment of the new Fund will also ensure the contributions of our donors are well recognised through scholarships grants and prizes to support our students and provide opportunities that lead to their success.
Jessica Di Bartolo, a third year Bachelor of Nursing student said the scholarship will support her to work and thrive within the community.
"When I got to know that I am one of the recipients of the Liverpool City Council Opportunity Scholarship, I felt a sense of accomplishment in knowing that my community would support me in my career pathway," she said.
"The Scholarship will allow me the opportunity to work with the University and to develop my skills to eventually giveback to the community.
ABOUT THE UOW SOUTH WESTERN SYDNEY COMMUNITY FUND
The UOW South Western Sydney Community Fund has been established to allow local community members and businesses to support students from diverse backgrounds. It will provide opportunities for UOW South Western Sydney students to excel through the provision of grants, prizes and scholarships.

More details can be found on UOW's Giving website https://www.uow.edu.au/giving/donate-now/uow-south-western-sydney-community-fund/