UOW Bega seeks your help to support students
New initiative to help community fund scholarships for students in need
---
A scholarship can make all the difference in the life of a student. It can, in some cases, be the difference between helping a student to push forward and create a new path, or give up on their dreams altogether.
The University of Wollongong's Bega Campus is calling for the community's help in supporting local students to access higher education, with the creation of the UOW Bega Community Fund.
The new initiative, established this year, will enable members of the community to donate to help students from all walks of life in their higher education journey.
Students will then be able to access the funds through scholarships, grants, and prizes. Organisations and individuals are able to make a donation, from as little as $2, to the UOW Bega Community Fund, and have an impact on the lives of students in the region.
Samantha Avitaia, Campus Manager at UOW Bega, said the campus was proud of its reputation for helping students from all backgrounds to access higher education. In many cases, students had only been able to continue their studies due to the generosity of locally funded scholarships.
"We have a proud history at the Bega campus of having a large range of locally sponsored scholarships and our students so appreciate the support from their local area. Not only the financial support, but also to know that they have the community backing them and that what they are doing is seen as important and worthwhile. It means a lot to them," Ms Avitaia said.
"Now more than ever in our region after the bushfires and COVID-related job losses, our local students need support. They are often juggling study with insecure work as well as family and extended industry placements where they are not earning an income. Even a small donation for books or petrol could mean the difference between a student continuing with their degree or giving up."
Ms Avitaia said the Bega region had a strong track record of giving, with many generous donors having a significant impact on the lives of students for many years. However, the establishment of the UOW Bega Community Fund would recognise that legacy and commitment, while ensuring that all members of the community were able to contribute, and make a difference.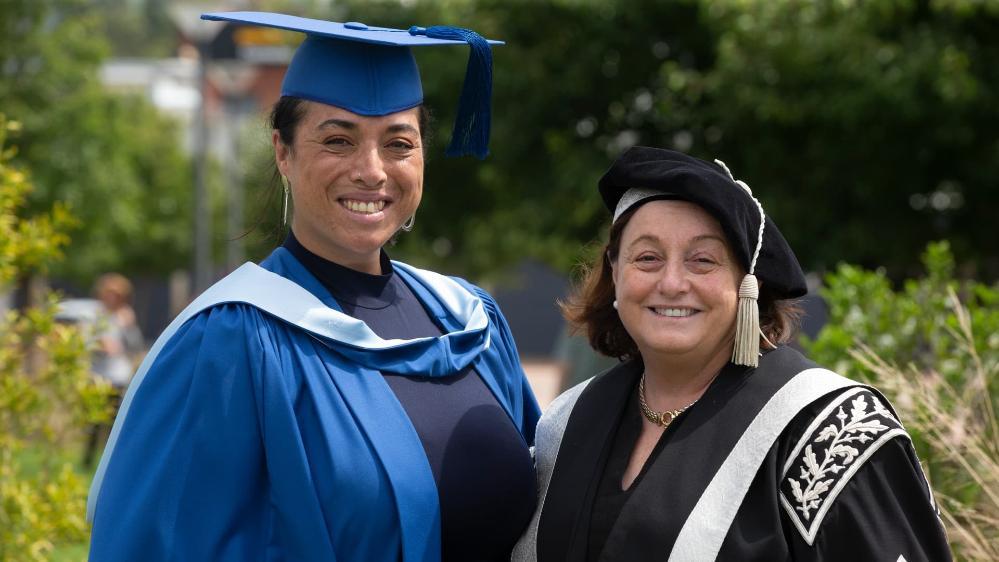 UOW graduate Loureene Kelly, pictured at the Bega Campus graduation with UOW Vice-Chancellor Professor Patricia M Davidson earlier this year. Photo: Paul Jones
Student Ebony Beetson, who is undertaking a Bachelor of Arts, received a scholarship from UOW Bega and said it had made a tangible and significant difference in her higher education experience.
"This scholarship has provided me with the opportunity to focus on my studies without financial stress. Being a recipient of this scholarship has allowed me to afford my textbooks and laptop as well as ensuring that I am financially able to support myself in day-to-day life, as these past few years have been a difficult time to earn an income," Ms Beetson said.
"I am hoping that with the completion of my degree, I may be able to work in the healthcare sector and support those who are not able to experience the same opportunities as me."
Loureene Kelly, who recently graduated from UOW with a Bachelor of Nursing, also demonstrates how a scholarship can make university more accessible while helping to support the next generation of leaders in the Bega community. Ms Kelly is now working as a nurse in the Bega region.
"University was never something I had imagined," Ms Kelly said. "I'm the first in my family to attend university. I am a young woman of colour. I was very much the minority in the community when I was growing up. University wasn't something I saw, it wasn't normalised for me.
"I feel strongly that everyone deserves to have options and that regional campuses, in particular, are vital for small communities. Where isolation and lower socio-economic demographics provide barriers to education, UOW regional campuses remove these barriers and give people like me a chance."
For more information about the UOW Bega Community Fund visit https://giving.uow.edu.au/case-studies/uow-bega-community-fund/ or contact Sam Avitaia on 02 6494 7035.