July 26, 2022
Honest and open conversations at the heart of inaugural UOW Respect Week
The student and staff-focused event will run from 29 August to 2 September and feature a talk by Grace Tame, 2021 Australian of the Year
Throughout Australia, as revealed the recent National Student Safety Survey, one in six students have experienced some form of sexual harassment or abuse. According to other statistics, one in three has been bullied based on race, cultural affiliation or gender.
That's why the University of Wollongong's (UOW) Safe and Respectful Communities (SARC) team, alongside UOW leadership, have decided to create a powerful event, exploring how we can eliminate sexual and gender-based violence, and shape the next generation of respectful communities.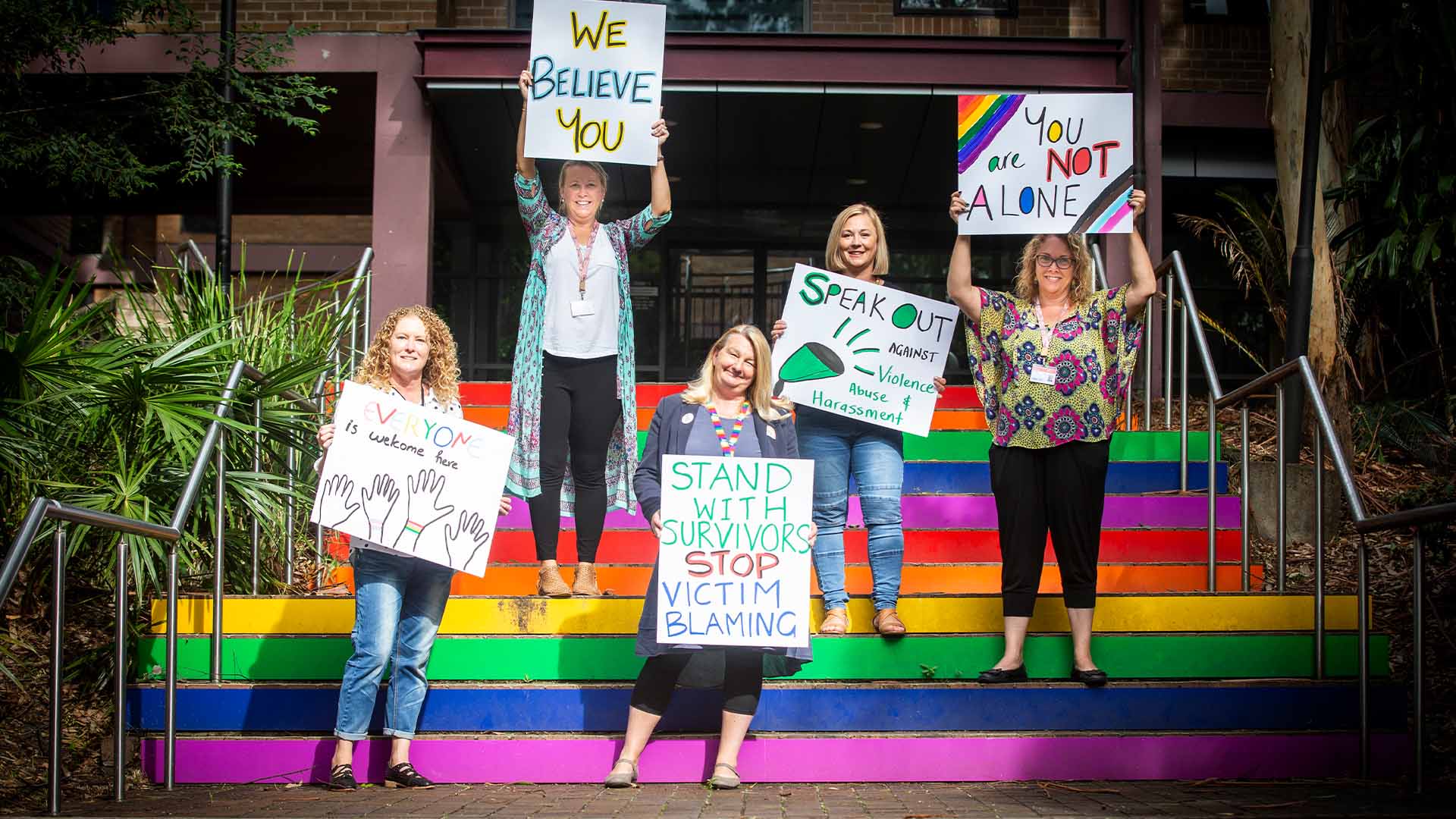 UOW's Safe and Respectful Communities team (SARC) launching their 'You are not alone' campaign earlier in 2022
UOW Respect Week will kick off on 29 August and encompass five days of panel discussions, training opportunities for staff and students, and activities based around the themes of cultural respect, sexual harassment and assault, equity, diversity and inclusion.
UOW Vice-Chancellor Professor Patricia M. Davidson said the University was proud to be partnering with Grace Tame and drawing on the expertise of the SARC team to deliver a powerful program of activities.
"Respect Week will provide the opportunity to remind our University community that any forms of violence, abuse and harassment are never okay. UOW will always strive to be a safe space for all," Professor Davidson said.
UOW Deputy Vice-Chancellor (Academic and Student Life) Professor Theo Farrell added: "Too many people are harmed every year by sexual assault and relationship violence, including students and staff in our University community. Respect Week gives us a chance to revisit how we understand respect, consent and inclusion, and will remind us how to talk to each other with courtesy and consideration. Ultimately, this is the moment to envision how we want our future generations to treat each other."
UOW students and staff will be invited to participate in events promoting safe and culturally relevant conversations and practices. UOW Respect Week is organised around five major themes: Cultural Courage, Beyond the Binary, Breaking the Cycle, Consent Conversations and Accessibility Awareness, with local activists and the University academics and students leading discussions, workshops and activities.
One of the week's highlights will be the keynote address delivered by Grace Tame, 2021 Australian of the Year. Ms Tame will talk to UOW students and staff on 1 September (Thursday) as part of an 'Afternoon with Grace Tame and Lucy Smith' event.
2021 Australian of the Year, Grace Tame will share her experience during a keynote address, followed by a panel discussion on preventing sexual violence in communities
Other activities include a workshop on bystander intervention, Empower Hour lunchtime panel discussions, resource hubs for students and staff, and drop-in sessions with UOW support services.
UOW social science student Amy Livermore, a fierce women's rights advocate with an experience of domestic abuse, will participate in Respect Week as a panellist in an Empower Hour lunchtime discussion. She'll chat with other community and UOW activists about how we can shape a future generation of respect.
Amy says that the University has helped her immensely to find her footing in life and enabled her to discover a passion for helping others.
"As a single mum, I've always found plenty of support systems here at UOW. I have taken my 20-month-old baby to study at the Woolyungah Indigenous Centre, and she received so much love and attention while I did my coursework. The SARC team are working hard at ensuring UOW is a safe space for all students and employees, and the SafeZone app allows everyone to study on campus day or night," Amy said.
Amy is a prolific TikTok creator, with her account Bogan Barbie reaching almost 70k people daily. She's been posting videos to raise awareness around consent, domestic violence, racism, women's rights, sexuality, gender, mental health, self-love and conscious parenting.
"When I started sharing my stories on TikTok, I was unapologetically myself, which many people found relatable and safe," she said.
"I speak openly about difficult issues like domestic abuse and mental health struggles. I found that this makes people feel seen and less alone.
"I will never stop fighting for women like Mackenzie Anderson, who lost their lives at the hands of violence. There are many things in the society and our justice system that need to change; that's why I'm using my voice to get these changes happen faster."
More information about UOW Respect Week and the registration details are available under this link.