April 27, 2022
Forum addresses challenges facing aged care workforce of the future
Innovative, quality healthcare models needed as sector undergoes rapid transformation
The COVID-19 pandemic has drawn attention to the many challenges facing the aged care sector and healthcare more broadly, among them the need to attract, train and retain a skilled and motivated workforce.
Prior to the pandemic, between a quarter and a third of both residential and home care workers had reported their intention to leave the sector within the next five years, with many of them citing the lack of educational and professional development opportunities and career pathways as a significant reason for doing so.
Now, as we prepare to enter a post-pandemic world where demand for aged and disability care is increasing, how do we find the workforce to meet that demand and how do we equip them with the skills they will need to meet future challenges?
The University of Wollongong (UOW) and TAFE NSW hosted a forum on Wednesday 27 April focused on the role of education providers in overcoming challenges and advancing careers in the healthcare sector, particularly in aged care.
The Advancing Careers in Healthcare Forum looked at ways our communities can meet the increasing need to develop innovative and quality healthcare models and create the future health workforce we need.
In particular, it examined the role education providers can play in advancing careers in the healthcare sector, particularly in aged care.
UOW Vice-Chancellor Professor Patricia M. Davidson moderated the forum, which included an expert panel of former NSW Premier and Health Minister the Hon Morris Iemma, Human Services Skills Organisation CEO Ms Jodi Schmidt and TAFE NSW Chief Strategy and Commercial Officer Dr Naidoo.
The panellists discussed questions including:
What are the major challenges facing the healthcare sector?
What changes are needed in the aged care sector, now and in the long-term?
How will the workforce change and what are the main traits and skills we need in the future aged care workforce?
What training can be provided to retain workers?
How do we cater to many older Australians' desire to remain in their own homes as they age?
The discussion was followed by a Q&A session when guests, primarily from the health industry along with key political stakeholders, put their questions to the panel.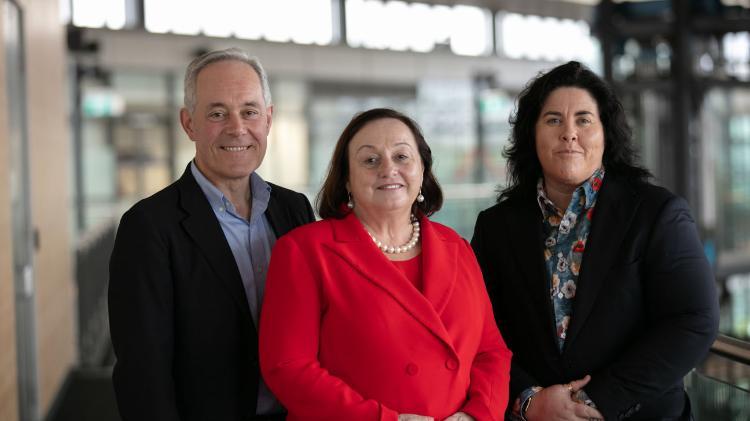 Former NSW Premier The Hon Morris Iemma, UOW Vice-Chancellor Professor Patricia Davidson and Human Services Skills Organisation CEO Ms Jodi Schmidt.
"We are at a critical juncture where education providers need to work together to update our offerings to match student, community and industry demands to produce graduates with the skills required for the jobs of the future," Professor Davidson said.
"We are planning how we can best address rapid industry transformation, skills shortages in growth sectors, the growing need for workforce up-skilling, and access to skills for those who are disadvantaged.
"This is where UOW and TAFE NSW are actively working together to shape the ideas of tomorrow."
In October 2021, UOW and TAFE NSW signed a Memorandum of Understanding to work together with local health providers to develop projects, including education and training opportunities in health and wellbeing.