December 1, 2022
Disability and Inclusion Network breaking down barriers for staff and students
Newly formed network improves access to services, promotes disability awareness
What does access and inclusion truly look like for people with a disability? How do we create community-based support for people with a disability that has a tangible and lasting impact?
These questions underpinned the University of Wollongong's (UOW) Disability and Inclusion Network, which was formed earlier this year and reaches across the University's campuses.
Ahead of International Day of People with Disability (Saturday, 3 December), the Disability and Inclusion Network (DIN) is raising awareness of the work that they do and how to better support staff and students with a disability.
International Day of People with Disability is a United Nations-observed day aimed at increasing public awareness, understanding and acceptance of people with disability.
Angela Cowan, Safe and Respectful Communities Project Coordinator at UOW, said DIN was based on the highly successful Ally Network, a visible network of empathetic people with are allies of gender, sex and sexuality diverse student and staff.
"The Disability and Inclusion Network emerged from a conversation between staff and students looking for opportunities to promote disability awareness, visibility and pride across our campuses," Ms Cowan said.
"We wanted staff with a disability to know that they had the support of their community and colleagues, and for those who weren't sure how to show their support to have a way to get involved.
"It has been such a rewarding and meaningful experience for everyone so far. We are proud to have been able to provide a space for staff to share their experiences, resources, research and allyship, and to foster connections and collaboration."
The network, known as DIN, is open to people with or without a disability. Its goal is to provide a platform for meaningful conversations about access and inclusion at UOW, aid access to information about resources and services, and for informal and community-based support for people with disabilities and allies.
DIN received a grant from the Vice-Chancellor's Equity, Diversity and Inclusion Transformation Fund at the beginning of 2022, which enabled the network to get off the ground. As a part of the grant, the network established a staff chat group (now with close to 100 members) and have been developing resources to promote disability awareness. In the future, the aim is to also establish a student focused chat group, and continue to develop resources that both celebrate and support the UOW Disability community.
Sarah Keech, Student Accessibility and Inclusion Advisor at UOW's Metro Campuses, has found a sense of community in the newly formed Disability and Inclusion Network. As one of the founding members of the network, Sarah said it has provided her with a safe space to share her own experiences with disability – she has a chronic illness and anxiety disorder – and to be an ally to others.
"For me, DIN represents a deliberate space to promote disability visibility. It's a space that hopefully contributes to making UOW a more welcoming place for people to be themselves, which includes the experience of living with disability.
"Sometimes the word disability is seen as a bad word, and people start using euphemisms to avoid it, but that can send the message that disability is something to feel uncomfortable about or hide. For many people, disability is part of identity. DIN aims to place a spotlight on Disability as a part of the diversity of lived experience and identity
"One of the many reasons I was so happy to be a part of the project to develop DIN, and want to share my experience, is the idea that DIN can provide a place for people to forge connections and learn from each other. Every time I hear or see someone talk about their experience or growing understanding of disability inclusion at UOW, it helps me to feel more safe to be myself at work. If DIN can contribute in any way to other people feeling safe and supported at work, then I think that's a great thing."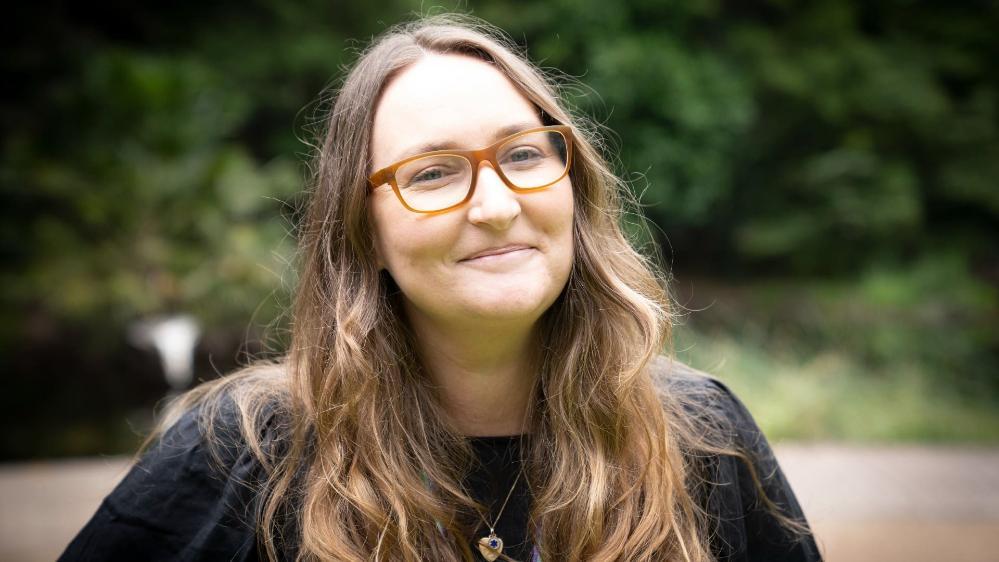 Sarah Keech, from UOW's Disability and Inclusion Network.
Professor Patricia M. Davidson, UOW Vice-Chancellor and President, said she was proud of the work underway in establishing the Diversity and Inclusion Network.
"Equality, diversity and inclusion is at the heart of UOW. These values should underpin everything we do, how we communicate and collaborate with each other, and the environment we create on our campuses. But we recognise that there is always more work to be done to ensure that all staff and students feel valued, heard and seen," Professor Davidson said.
"The Disability and Inclusion Network is a tremendous initiative that provides a safe space for people with disability and their allies. It is about meaningful and tangible inclusion and access at UOW. I am proud of the work that has already been done and can't wait to see what else is in store."
DIN is led by a small working group that includes professional and academic staff, as well as students. The team represents a diversity of lived experience and professional expertise relevant to access and inclusion practice at UOW.
The team is currently working on building an Advisory Committee to guide the future of the network, ensure its represents the University community and can contribute to meaningful action on accessibility and inclusion.
For more information about UOW's Disability and Inclusion Network, visit: https://www.uow.edu.au/about/our-people/diversity-inclusion/uow-disability-inclusion-network/
Main photo: Members of UOW's Disability and Inclusion Network, from left, Rebekah Murray-Smith, Sue Leppan, Sarah Keech, Angela Cowan, and Joanne Vercoe.