October 15, 2021
UOW graduate seized every opportunity during double degree
Jamie Coleman reflects on well-rounded university experience
When Jamie Coleman looks back on the past four and half years that she spent studying at the University of Wollongong (UOW), she is confident that she made the most of every opportunity.
From short-course exchange to cheerleading, from the student law society to internships, Jamie seized the moment to try new things and expand her horizons.
"I like having a lot on my plate," Jamie said. "But I also like being involved in lots of different things."
Jamie is celebrating her graduation from UOW with a Bachelor of Arts and Bachelor of Laws, majoring in Indigenous Studies and a minor in Italian
While the COVID-19 pandemic was responsible for a lot of upheaval last year, for Jamie, the shift to online learning opened a new chapter in her studies.
Previously, Jamie had planned to complete a Bachelor of International Studies with a major in Global Media and Communications, but she took on a unit of Indigenous Studies in 2020 and was so fascinated with the subject, and found it easy to study that subject online, that she changed her degree.
"When COVID kicked off, I was studying a Bachelor of International Studies alongside my law degree. I had to take an elective and chose Indigenous Studies. I thought it would be an interesting elective to do, but I was fascinated by the subject, the teaching team were supportive, and they were really good at adapting to the online platform," she said.
"I was learning about Indigenous Studies in a higher-level way than we were ever taught at school. I ended up changing my degree in my fourth-year so I could major in Indigenous Studies.
"I still managed to graduate six months early."
Jamie, who is originally from Nowra, has a strong family connection to UOW, as a third-generation graduate. Her grandfather studied science while her mother, Kimberley McMahon-Coleman, is a graduate and also now Academic Director of the University's regional campuses.
In her final years of high school, Jamie travelled to Wollongong every day to attend Wollongong High School of the Performing Arts. During this time, she became familiar with UOW's Wollongong Campus, which she said made the transition to university much easier.
"Most afternoons, while I was waiting for Mum, I would come on to Wollongong campus and have coffee and explore. So, when the time came for me to go to university, it didn't seem like such a scary leap.
"I was accepted into UOW on Early Entry too, which really took the pressure off."
Throughout her time at UOW, Jamie has struggled her studies with her many other passions, including dance, cheer, and giving back to charity. She was secretary of the UOW Cheer and Dance Club in 2020, which managed to increase its members even in the face of COVID. She continues as Vice-President and Lyrical Coach of UOW Cheer and Dance in 2021. Jamie was also involved in the UOW Law Students Society for two years, during which time she placed an emphasis on equity and fairness as well as greater access to mental health services for law students.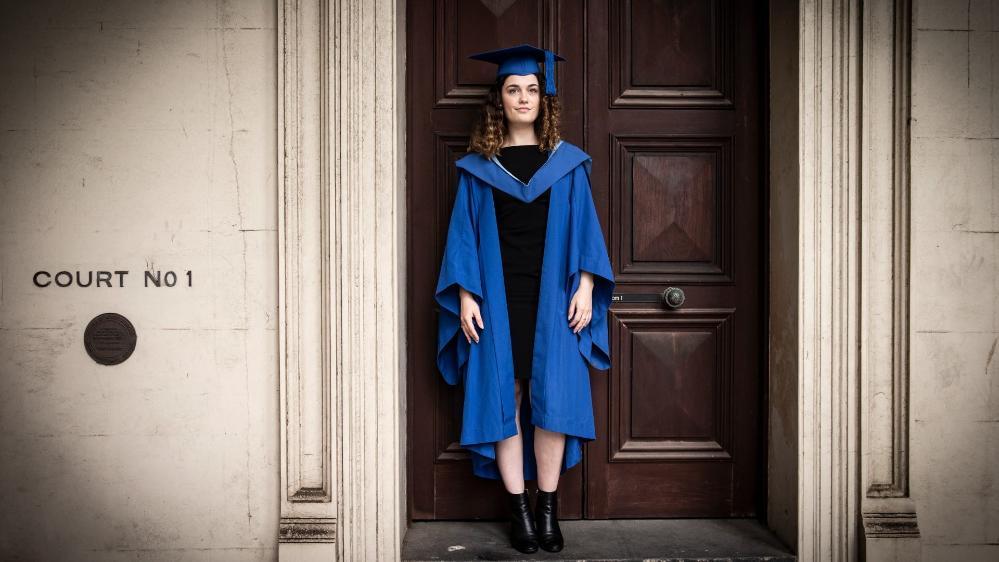 She has also continued to volunteer for NSW Cancer Council, and has played an active role in the Nowra Relay for Life team as the social media coordinator.
"Some people come to uni and just want to get their degree over and get out of there, but I feel like I really made the most of my time at uni," Jamie said. "I love being involved in university life."
In addition, she spent nine weeks in Argentina on a short-course over one of her winter breaks, which she describes as an "incredible experience".
Jamie's interests have always led towards the law. It is a field, she said, in which you can see the impact that you are having on people's lives. That interest strengthened when she began to intern, as part of her degree.
"I'm currently working in personal injury law, but I'm moving towards criminal law," said Jamie, who is currently working for Foye Legal in Wollongong. "I did my internship at a boutique law firm in Sydney in my third year and I loved it. It showed me that that I really do love working on the practical side of the law. I was lucky enough to land a job at Foye Legal at the beginning of my fourth year.
"Diana Foye, the partner of my firm, has been a real mentor for me and has helped me every step of the way."
One of Jamie's other mentors and champions is her best friend, Toni Mudditt.
"Toni and I were born in the same hospital, we've been best friends since we were little," Jamie said. "We went to different schools but have always been best friends. We went to the same Early Entry interviews, were in the same Pods at uni, and now she's in criminal law so she's been so helpful. She is a mentor to me."