Social justice advocate Bronte Johnson awarded Jack Goldring Memorial Scholarship
The Honourable Margaret Beazley reflects on career in the law during online Goldring Lecture
---
Bronte Johnson's passion for helping others was inspired, in large part, by her grandfather. A lawyer of more than 50 years, he helped many members of his community and in the process, was an example of how a knowledge of the law can make a difference in the lives of others to his granddaughter.
"He is a big part of his community, and has helped provide solutions to any problems that people have," Bronte said. "I feel that same passion for helping others, and I want to provide access to legal services in places where people don't often have access."
Bronte is in her penultimate year of a double degree at the University of Wollongong (UOW), a Bachelor of Arts, majoring in Indigenous Studies, and a Bachelor of Laws. On Thursday (October 21) she was awarded the Jack Goldring Memorial Scholarship, recognising her commitment to social justice and outstanding academic performance.
The scholarship recipient was announced during the annual Goldring Lecture, delivered by Her Excellency The Honourable Margaret Beazley, AC QC, the Governor of New South Wales.
It is named in honour of Jack Goldring, the founder of UOW's School of Law, a lawyer, educator and leader who was motivated by social justice and his desire to make legal education accessible for all.
In her Goldring Lecture, Her Excellency reflected on the concept and practice of social justice, exploring a range of social justice challenges within our society and the approaches taken to address those challenges.
Bronte said she was thrilled and surprised to have been named the scholarship recipient.
"Professor Goldring, and his focus on advocating for equality in the legal system, was an inspiration to me before I started my law degree," she said. "He has had a huge influence on the law school and on my understanding of how the law can be used to help others.
"The School of Law offers a practical hands-on approach that has given an understanding of the law in action," said Bronte, who grew up in the Sutherland Shire.
"I am honoured and overwhelmed to have received the scholarship. I'm very grateful to the School of Law, and to Professor Goldring, who has left an immense legacy for law students."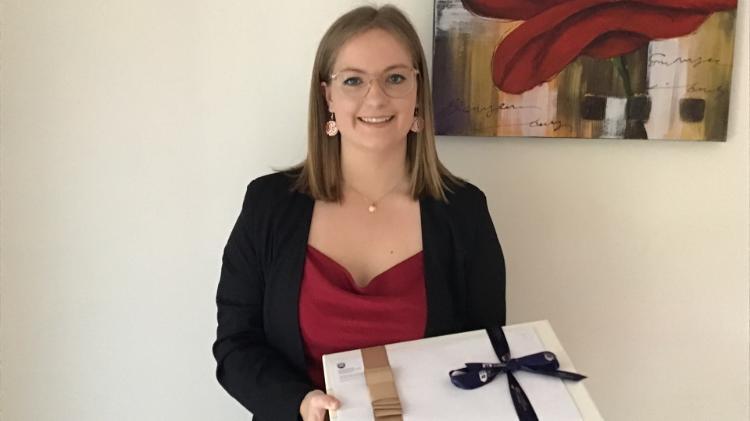 Scholarship recipient Bronte Johnson. Photo: Submitted
During her degree, Bronte has volunteered for the Aboriginal Legal Service, as a netball coach and youth group leader and also worked in her community as a paid paralegal and law tutor.
Her desire to give back through the law has only increased throughout her studies, and she aims to work in social justice after graduating. In particular, Bronte is focused on providing legal services to Indigenous people or those in remote and regional areas where access can be limited or non-existent.
"There is a lot of disadvantage and inequality in the legal system, and my plan, when I finish university, is to help those who might have been unable to otherwise access legal services. I would love to work for Legal Aid or the Aboriginal Legal Service. They both provide a really important service to the community.
"I began my degree interested in social justice, and that has only strengthened throughout my studies. I would love to work rurally or in a remote location, in places where people don't often have as much ability to access legal services. I would also love to work in environmental law.
"I consider Professor Goldring to be a real role model. He spent time in Papua New Guinea, and came back with a passion for Indigenous Peoples and providing them with access to the legal system and to legal education. These are both things that have improved substantially but still have a long way to go."
The School of Law established the Jack Golding Memorial Scholarship to pay tribute to his contribution to law and justice, to legal education and reform. The scholarship awards $10,000 to a final year student who demonstrates their same passion for social justice.
Professor Goldring established the School of Law at UOW and was committed to ensuring a world-class legal education was available to all students, from all backgrounds.
The Jack Goldring Memorial Fund was created to uphold Professor Goldring's commitment to social justice, legal education and law reform, through an annual scholarship awarded to students who combine academic excellence with a demonstrated passion and commitment to social justice.
Australia's largest regional law firm, RMB lawyers, helped launch the Jack Goldring Memorial Fund eight years ago along with more than 100 other UOW donors. RMB Lawyers have recently confirmed their ongoing support through their recommitment for another five years, an additional $25,000, marking their third substantial donation to the fund.
The fund has also received a generous bequest from the late Elisabeth Hilton, who spent close to three decades working for the University. Ms Hilton became a Fellow of the University of Wollongong in 2004, in recognition of her immense contribution to the University and the community.
Main photo: University of Wollongong Chancellor Christine McLaughlin, Her Excellency The Honourable Margaret Beazley, AC QC, the Governor of New South Wales, and UOW Vice-Chancellor Professor Patricia M Davidson on the evening of the Goldring Lecture. Photo credit: David Butts, Government House.
Full Lecture Video: