Screen premiere for cultural burning documentary
'There's good fire – and there's bad fire'
---
Students from the South Coast star with Aboriginal elders in a new documentary screening this week exploring the issue of cultural burning.
Cultural Burning for Resilience documents the experiences of First Nations students from four South Coast high schools who took part in a culturally immersive works on Murramurang country of the Yuin nation, south of Ulladulla, earlier this year.
Uncle Nook Webster, a Yuin cultural burner, said it was important to teach the next generation about the difference between good fire and the bad fires that ravaged the east coast during the Black Summer of 2019/2020.
"I live on burned country … I've seen the impact of bad fire and how emotionally scarred you get from that. You can never get over it," he said.
"This is sick country here, today, it shouldn't be like this. We have hazardous fuel everywhere. We can manage that by nurturing and caring for country."
Encouraging Aboriginal youth to care for Country is a theme present in the doctoral research of Bundjalung and Wonnarua woman Vanessa Cavanagh.
"I was surprised by the wealth of knowledge and generosity of Aboriginal elders," she said.
"But I was also really surprised at the number of students who felt disconnected from Aboriginal culture. That was a bit of a warning, because these are our future leaders for tomorrow."
A scene from the film Cultural Burning for Resilience.
Paul Carriage, co-ordinator of the Aboriginal Learning Centre at Batemans Bay High School, said the experience had taught students to respect fire, but not to fear it.
"Some had lost homes in last year's fires, others had friends who lost homes, some had had to go down to the beach to shelter when the fires came," he said.
"There was a lot of trauma from that time.
"Students learned that fire needs to be respected, but also how it doesn't have to be this dangerous and frightening thing if it's used in the right way."
Cultural Burning for Resilience is an Aboriginal-led community project, supported by the Ulladulla Local Aboriginal Land Council, University of Wollongong's Global Challenges Program and Treading Lightly Inc.
The community project brings together Aboriginal high school students with Yuin Elders and Cultural Land Management Practitioners from the South Coast to learn about good fire, bad fire, and Connection to Country.
Cultural Burning for Resilience research project was supported by the University of Wollongong's Global Challenges Program as part of the Disaster and Crisis Special Research initiative.
The film will screen for an invited audience on Wednesday, December 8 and will be available on the UOW YouTube channel from Monday, December 13.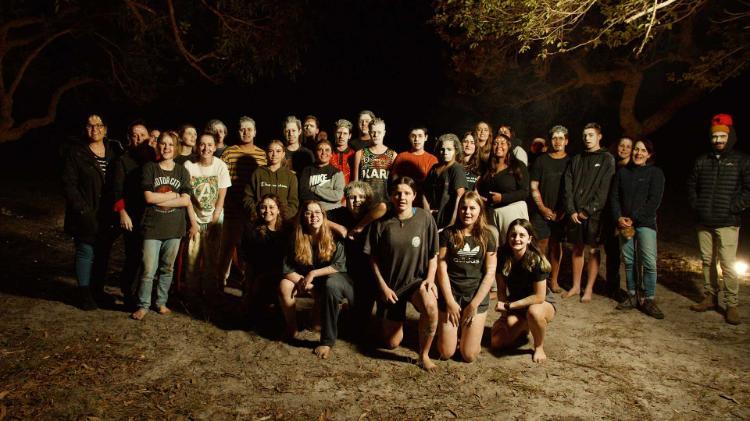 A scene from the film Cultural Burning for Resilience.