December 9, 2020
UOW's Food+ With Care Project wins Study NSW Award
Awards recognised UOW's staff and community's commitment to helping students through pandemic
The University of Wollongong's Food+ With Care Project, which has raised more than $150,000 and has provided thousands of free meals, essential items and all with a smile to students since the COVID-19 pandemic began earlier this year, has been named as the winner in the 2020 Study NSW International Student Awards, in the International Community Engagement Award – Business and Community.
PhD student Juliana Cavaleri Goncalves Peloche, who has been instrumental in helping the Food+ With Care Project to support students and the wider community, has also been recognised in the awards as a finalist in the International Student of the Year category.
The Study NSW International Student Awards is an annual event that recognises the outstanding contributions international students make to communities in NSW. It also celebrates excellent engagement with the international student community.
The winners were announced on Tuesday 8 December in a ceremony at Government House in Sydney and broadcast virtually.
The Food+ With Care Project began in May with the aim of providing food assistance to students who had been financially impacted by the pandemic, after many lost their jobs.
UOW staff began volunteering their time and money to put together pantry packs for both domestic and international students.
It has since become a fortnightly opportunity to provide students with groceries, including fresh fruit and vegetables, ready-made meals, and pantry and toiletry items.
UOW has been working alongside a number of community partners, who have been instrumental in helping to deliver the initiative. Food+ With Care is now a collaboration between UOW staff, UOW Pulse, students, IGA on Campus, Turbans 4 Australia, Shining Stars Outreach Service, International Christian Church, Shellharbour Community Church, and the Indian Australian Cultural Association Illawarra branch.
Sarah Lisle, Lead Student Programs (International) at UOW, said that while the team was delighted to have been recognised in the award, the focus remains on our students who have been impacted by the pandemic.
"It is wonderful to know that the team's hard work and dedication over the past six months has been acknowledged," Ms Lisle said. "We are very grateful to be a winner in the awards, and to have the importance of the initiative recognised on a state level.
"Food+ With Care is such a great example of people power in action. No one organisation has the resources to do this, but by pulling together and collaborating with community partners, we have been able to support our students through this incredibly tough time.
"The health and wellbeing of our students is the highest priority for all staff so it is rewarding to know that we can help our vulnerable students and make a difference."
Professor Julia Coyle, Pro Vice-Chancellor (Students) at UOW, said the project was one of the many ways UOW was supporting its students through the challenges of 2020.
"The Food+ With Care Project was one of several tangible assistance strategies UOW adopted to address the severe financial distress our students have been experiencing as a result of the pandemic," Professor Coyle said.
"We are immensely grateful to our community partners who also recognised this need, acting so promptly to partner with us to address what has been a very difficult situation. The community's response is, in part, in recognition of the significant contribution UOW international students make to our University and to our community."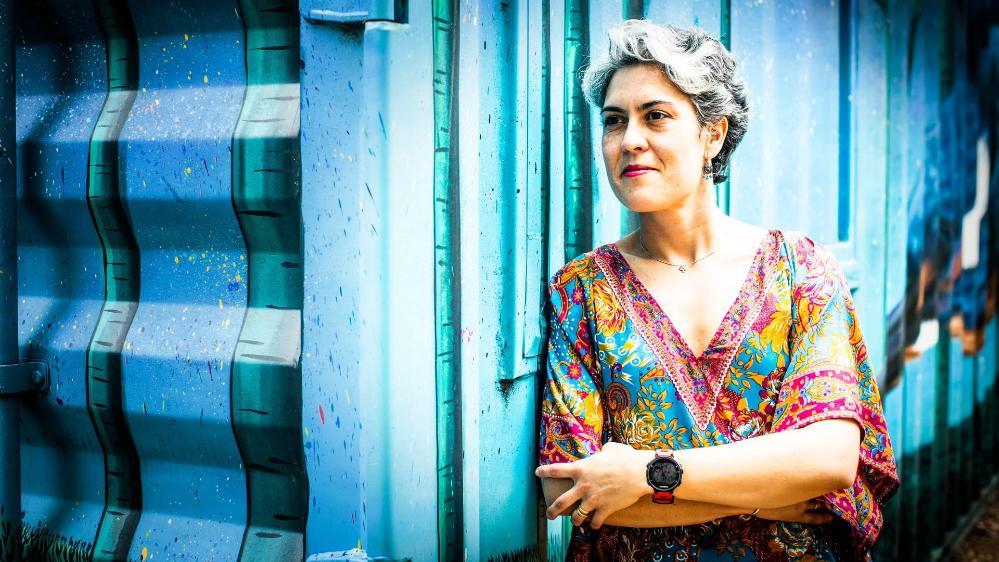 Juliana Cavalieri Goncalves Peloche. Photo: Paul Jones
Juliana Cavalieri Goncalves Peloche, who is studying a PhD in the School of Education, was shocked to find out she was a finalist in the category of International Student of the Year.
Juliana was recognised for the integral role she has played in reaching out to students as part of the Food+ With Care Project, along with her work in the community, while also being a working mum. But she was shocked to find out she had been nominated at all.
"I just couldn't believe that someone would nominate me," Juliana said. "I was so surprised, I had no idea my name had been put forward."
Juliana came to Australia from Sao Paolo in Brazil, and when the pandemic hit, she was staying with her family at UOW's Bangalay campus accommodation.
Every weekend, Juliana and her son would ride their bikes in the empty campus carparks, and one Saturday she saw volunteers from Shining Stars Outreach Service handing out meals to students.
As a student leader at Bangalay, Juliana became involved with Shining Stars, helping to hand out meals but also providing a bridge between the organisation and UOW.
With a car borrowed from Bangalay, Juliana, who had previously been catching the bus around Wollongong to pick up donated items, became an integral part of the initiative.
"The word just spread about what we were doing. Suddenly, we had people from everywhere donating items," Juliana said. "Here in Wollongong, we started holding a big market every Saturday, where students could come and grab whatever they needed. It happens on Saturdays at 9.30am now.
"As it started to get more organised, we wanted to help Sydney students, so we asked them what we needed and started doing deliveries in the city."
Almost every Saturday since May, Juliana has volunteered to put together grocery packs and work at the market at UOW.
However, she is humble about her contribution to the initiative, and said anyone else in her position would do the same.
"For me, why wouldn't you help others when they need it? My mother is a social worker. We have always helped the disadvantaged. I come from a country where, if you walk two steps, there's someone you can help," Juliana said.
"It is such a pleasure to help these students and their families. I have to gotten to know lots of them and it is wonderful to be able to be there for them during this year."
Assistance is available to all UOW students via the Food+ with Care Project. For more information, to find out how to volunteer, or to contribute to a pantry pack, click here: https://www.uow.edu.au/student/support-services/food-assistance/
Main photo: Food+ With Care Project leads Juliana Cavaleri Goncalves Peloche, Sarah Lisle and Erin Snape, members of the project working group and just some of the staff and student volunteers from across faculties, portfolios, campuses and UOW Pulse.