October 22, 2020
UOW announces 2020 Community Engagement Grant Scheme recipients
Grants to support projects with local community partners
The University of Wollongong (UOW) announced the recipients of the Community Engagement Grants Scheme (CEGS) on Thursday (22 October 2020).
CEGS is uniquely focused on addressing the challenges faced by communities and taking action to create real and measurable outcomes.
Since 2005, UOW has awarded more than $700,000 to 80 community projects, aimed at building capacity through educational, research or outreach activities with community partners.
This year, the University awarded grants to three innovative community partners and UOW academics to support their research and outreach projects:
The Illawarra Aboriginal Corporation and senior Aboriginal researcher and anthropologist, Professor Kathleen Clapham;
The Illawarra Shoalhaven Local Health District (ISLHD) and Dr Katarzyna Olcon from the School of Health and Society and;
The Advance Diversity Services (ADS) and Senior Lecturer in Sociology, Dr Quah Ee Ling Sharon from the School of Humanities and Social enquiry.
The CEGS projects are dedicated to serving communities on a range of issues that matter in the real world. Some areas of focus are health and wellbeing, disability and social services, culture and multiculturalism, Indigenous and local history and communities.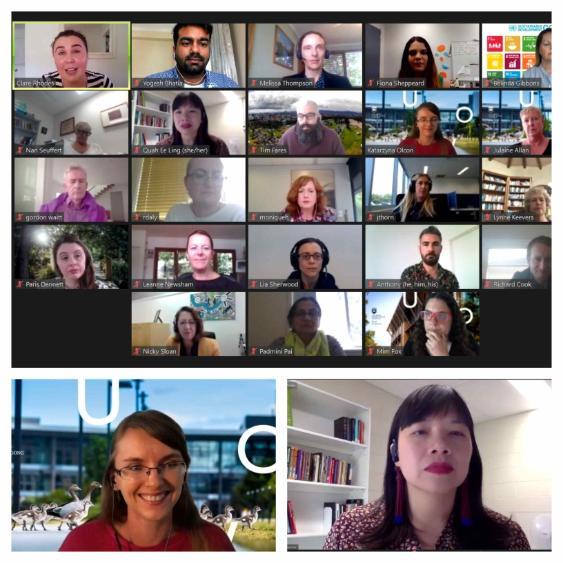 Pic: Dr Katarzyna Olcon (bottom left) and Dr Quah Ee Ling Sharon (bottom right) at the announcement
of the 2020 CEGS recipients via videoconferenceing.
The Illawarra Aboriginal Corporation (IAC)
The first grant recipient was IAC and Professor Clapham who leads Ngarruwan Ngadju, an Indigenous-led health and wellbeing research centre located within the Australian Health Services Research Institute at UOW.
The project titled 'Amplifying the voices of Aboriginal women through culture and networking in an age of COVID19' aims to address women's isolation, restore networks, and nurture the exchange of Aboriginal knowledge and traditional practices.
Professor Clapham said that the project is crucial because it addresses a real need that is to strengthen and support local Aboriginal women during the difficult times we are currently experiencing.
"With social interaction being minimal due to COVID19, women need additional support. Aboriginal women are often the backbone of the community," Professor Clapham said.
"They have key responsibilities within their own extended families and across the broader community. It is vital that they are supported at this time as Aboriginal women need the opportunity to reach out to trusted supports and to expand their networks.
"The knowledge of culture and history are essential components of this project so it will helps build better research evidence around increasing our understanding of cultural determinants of Indigenous health.
"I strongly support the University's Statement of Reconciliation that provides a leadership opportunity for one of our emerging PhD researchers."
The Illawarra Shoalhaven Local Health District (ISLHD)
The second grant recipient was ISLHD, which focuses on digital storytelling to explore how communities can 'bounce back' after multiple adversities. The partnership between Dr Katarzyna Olcon and ISLHD facilitates community participation in collaborative workshops, facilitating participants to share their lived experience and co-create a short film and podcast content.
Dr Olcon reflected upon the tough times that local communities have faced in the last few months.
"With bushfires, floods and COVID19, Illawarra and Shoalhaven communities have faced immense challenges over the past 12 months and many are in need of mental health support," Dr Olcon said.
"I am looking forward to be working with ISLHD SEED Wellness Program, as it has a very dedicated and enthusiastic leadership and staff who continue to offer a variety of wellbeing initiatives to enhance ongoing community healing.
"This project will extend knowledge and the capacity for ISLHD and UOW to work in partnership and become a site for ongoing collaborative practice-based research focused on later stages of recovery from cumulative disaster."
Advance Diversity Services (ADS)
The third grant was awarded to ADS which is a non-profit community organisation that provides support services to the Culturally and Linguistically Diverse (CALD) communities across the Sutherland Shire.
It is a partnership project with Dr Quah to work on 'Understanding diversity service workers' knowledge and skills gap in servicing culturally diverse LGBTQI+ communities in the context of COVID19'.
The project aims to better understand and equip community service workers to provide more appropriate, effective and timely services to CALD LGBTIQ+ communities.
Dr Quah said she was very pleased to receive a community grant given the urgent need for this work.
"In the present COVID context, it has been reported that LGBTIQ+ individuals face greater difficulty in terms of reduction of income, loss of employment, shortage of food and other essentials and mental health issues compared to the rest of Australian population," Dr Quah said.
"Culturally and linguistically diverse LGBTIQ+ individuals, particularly migrants who are impacted by multiple, intersecting oppressive systems such as xenophobia, racism, sexism and queer-phobia are even more vulnerable during this time."
Due to COVID-19 related restrictions, the University announced the grant recipients via a videoconferencing call.
To find out more about the Community Engagement Grants Scheme, please visit: https://www.uow.edu.au/engage/grants-funding/cegs/