November 28, 2019
UOW hosts 2019 Fellowship and Alumni Awards
Annual awards to acknowledge service to University and broader community
Outstanding University of Wollongong (UOW) alumni and distinguished members of the community were recognised at the 2019 Fellowship and Alumni Awards Dinner on Wednesday, 27 November.
The University community met at the University Hall for the presentation of five Alumni Awards, an honorary doctorate and admission of four University Fellows.
In his opening address, UOW Vice-Chancellor, Professor Paul Wellings CBE, acknowledged the contribution of the University's Alumni Award recipients, honorary doctorate conferee and newest fellows.
"This is a special occasion to celebrate the contributions of our community of University Fellows, and the excellence of our alumni," Professor Wellings said.
"Our esteemed honorary alumni and graduates are part of a global alumni population of more than 156,000 leaders and innovators from 179 countries.
"We are forever grateful to our alumni as they act as advocates, philanthropic donors, and supporters for the University. We are proud to offer our support to them wherever they may go.
"Congratulations to all our award finalists and recipients, our Honorary Doctorate conferee and new University Fellows."
Honorary Doctorate to Len Ainsworth AM
Len Ainsworth AM was presented with an Honorary Doctorate of Science for his contribution to entrepreneurship and manufacturing in Australia, and his service to the community as a philanthropist.
When Len inherited a small business from his father in his early 20s, few could have anticipated the international entrepreneurial empire that he would create.
Len began making gaming machines to boost revenues for his dental supplies and equipment manufacturing venture. He founded Aristocrat Leisure in 1953 and today it is the world's second-largest manufacturer of gaming machines.
At the time, expansion into international markets was relatively unchartered territory for Australian businesses, but with vision and tenacity, Len prevailed where many others failed.
Len's impact extends far beyond industry; he is a generous and passionate philanthropist. In more than five decades he has given millions to hospitals, universities and medical research. In 2017 Len joined the Living Pledge, committing to donate at least half of his substantial wealth to charitable causes.
University Fellowship recipients
University Fellowships confer the highest recognition for exceptional service to the University and its communities.
Pastor Ossie Cruse AM MBE
Pastor Ossie Cruse has dedicated his life to the advancement of Aboriginal people and the survival and sharing of Aboriginal culture and knowledge, uniting generations in intercultural understanding and respect.
He dedicated significant energy to active roles within the NSW Aboriginal Advisory Council, NSW Aboriginal Land Trust, NSW Police Aboriginal Council, National Aboriginal Conference, NSW Aboriginal Lands Council, Eden Local Aboriginal Land Council and Twofold Aboriginal Corporation.
He embarked on a landmark tour of post-colonial African countries together with former Prime Minister Gough Whitlam and fellow activist Michael Anderson in 1982, garnering support for a treaty for Aboriginal people. He took his message to the United Nations, advocating on the global stage through his work with the World Council of Indigenous Peoples and the Pacific Asia Council of Indigenous Peoples.
His service to Aboriginal peoples, and social justice, spiritual welfare, health and land rights in particular, has been acknowledged with numerous awards including an MBE and the Order of Australia.
Noel Cornish AM
Since joining the University Council in 2006, Noel has brought unwavering dedication and exceptional wisdom, expertise and leadership to advancing UOW. His considerable influence can be seen in a diversity of areas, from business improvement, accountability, management efficiency and strategic review to a renewed focus on producing high-calibre graduates. He was UOW's Deputy Chancellor from 2016 to 2017.
Noel's exceptional contribution extends far beyond our walls, particularly in the arena of economic development in the manufacturing and mining sectors. His distinguished 42-year career with BlueScope Steel started with a cadetship in 1969 and culminated in his role as Chief Executive of its Australian and New Zealand steel manufacturing businesses.
His steadfast commitment to employee safety has been a defining feature. He led the creation of a continuous improvement culture in workplace health and safety that saw Port Kembla Steelworks achieve an international best-practice safety record of 14.9 million working hours without time lost to injury.
Debra Murphy
Debra Murphy is CEO of Regional Development Australia Illawarra, where she has led economic development projects that have provided a catalyst for change in the region and united education, industry and all levels of government in a shared vision of sustainable growth and prosperity.
Debra served as CEO of the Illawarra Business Chamber where she negotiated a merger with the NSW Business Chamber, developed the Illawarra First initiative and established a million-dollar research fund.
Debra gives much time and energy to actively inspiring, supporting and mentoring others. She actively promotes the value of university education and Sydney Business School in particular, leading numerous high-impact collaborations including the Leadership Illawarra Program and providing insight to key program and structural reviews. She is a committed partner for the University in several current initiatives, from the Blue Economy to the Shellharbour to the Illawarra-Shoalhaven Smart City Strategy, and is a tenant and supporter of SmartSpace, a long-standing member of the UOW Community Reference Group, and a former UniCentre board director.
Tim Berry
Tim Berry is co-founder of Tibra Capital, a global securities firm specialising in high-frequency equities trading, arbitrage, market making and algorithmic trading. Established in 2007 with Tim as Global Managing Director, he navigated a steep learning curve to lead rapid and phenomenal growth, peaking at more than 250 employees across the globe. The company trades more than $1 billion in equity volume monthly and manages up to 20,000 transactions each day.
He has served on the UOW School of Mathematics and Applied Statistic's advisory committee and significantly influenced the design and development of teaching and learning programs.
Tim has been profoundly active in creating opportunities for UOW students, employing countless graduates and providing highly sought-after internships and almost $1 million in scholarships. Tim has also been a strong supporter of and investor in UOW's iAccelerate initiative from its inception.
Alumni Awards
Alumni Awards recognise the very best, those leading their industry and those who have set their sights on something bigger than themselves.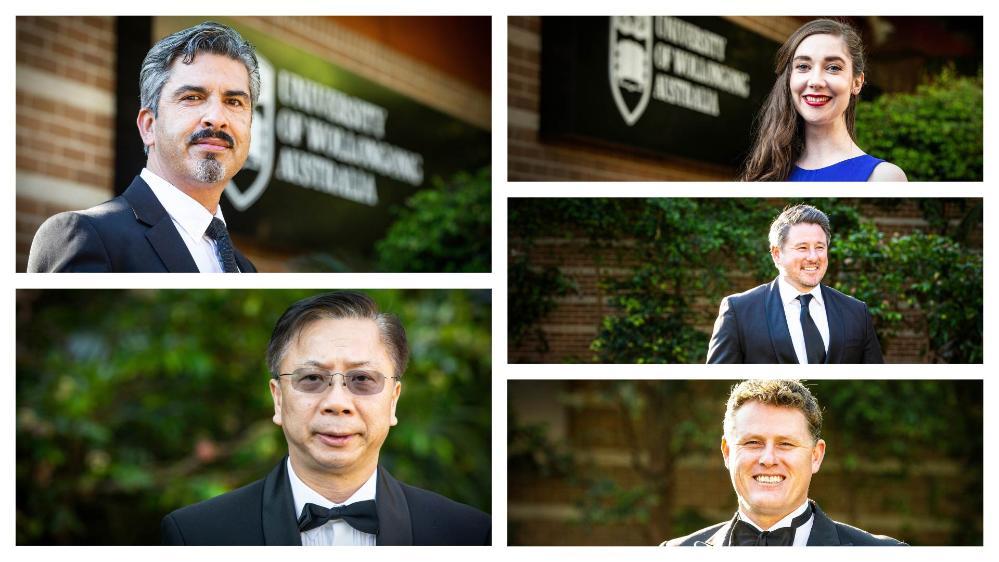 Young Alumni Award – Julia Green
Julia Green is a dynamic and inspiring young clinical leader and researcher delivering high-quality cancer care to the people of the Northern Territory.
At just 32 years of age, Julia is Chief Medical Physicist at the Alan Walker Cancer Care Centre in Darwin. Julia has designed novel treatment programs to overcome the absence of key medical equipment, allowing more patients to be treated faster, and closer to their homes and families. She has encouraged her team to learn the basics of the traditional language of the local Yolngu people.
Julia is committed to inspiring more young people, and girls in particular, to follow their passion and explore the possibilities of STEM careers and subjects. She regularly speaks to UOW students on the importance of communication, human interaction and business management in working as a physicist, and welcomes students into her department for experiential learning.
Alumni Award for Professional Excellence – Paul Harris
Paul Harris is driving positive change in the education sector.
Paul is Chief Executive Officer of VIBE, a teaching agency that places teachers, teaching assistants, early years assistants and cover supervisors in schools across the United Kingdom.
VIBE's positive culture is pivotal to the company's success. There is a genuine commitment to the health, wellbeing and happiness of its people and the active fostering of community and enjoyment every day. Staff are provided with nourishing breakfasts and lunches, gym memberships and in-house fitness sessions, plus a wide range of social events that also extend to candidates and clients. VIBE was named the UK's Number 1 Best Workplace for 2019, while Paul has been listed numerous times among the Who's Who of Britain's business elite.
Alumni Award for Social Impact – Dr Sameer Dixit
Dr Sameer Dixit is working to transform public health in Nepal and beyond, leading pioneering biomedical research to shape more effective responses to infectious diseases and combat complex global health challenges.
Sameer has inspired the creation of a thriving health and environmental research sector in Nepal, and actively nurtures the next generation of research talent. Over the past 12 years, he has worked with the Nepalese Government to identify and respond to major epidemics including a deadly bacterial cholera outbreak. He is a widely published and recognised expert in human health, immunology and molecular biology.
Sameer is a celebrated actor, and as co-host of the Good Morning Nepal breakfast show, he uses this very public platform to bring important scientific, political and social issues into the national discourse.
Alumni Award for Innovation and Entrepreneurship – Mike Sneesby
Through prodigious entrepreneurial skill and innovation, Mike Sneesby has transformed an idea into a multi-million-dollar business.
Mike is Founder and Chief Executive Officer of Stan Entertainment, Australia's leading local subscription video on demand service. Today the service has more than 1.7 million subscriber households representing over five million active users.
Mike took the calculated risk of signing multi-million-dollar content deals, including exclusive rights to Breaking Bad, before having a single subscriber on the platform, and was commissioning original productions within a few months of launch. This courageous approach set Stan apart from its competitors from day one.
Through passion, hard work and a gift for innovation and entrepreneurship, Mike has built a thriving business, reshaped the entertainment landscape and shone an international spotlight on the Australian film and television industry.
Alumni Award for Research and Scholarship – Professor Aibing Yu
Professor Aibing Yu has profoundly advanced research and development in the complex field of particle science and forged strong, mutually beneficial academic bonds between Australia and China.
Aibing is a world-leading scientist in the fields of particle science and technology and among the globe's most influential experts in chemical and process engineering. He has attracted in excess of $75 million in competitive research funding, won multiple prestigious awards, and is one of the world's most highly cited experts in mineral, metallurgical and chemical engineering science.
Aibing's efforts have created the foundation for subsequent wide-scale research and development programs in sectors as diverse as minerals and metallurgy, materials, chemical, pharmaceutical, nanotechnology, energy and environment. He collaborates extensively with industry so that his research contributes directly to society.