May 17, 2019
Project to trace, track and tackle antimicrobial resistance wins $1 million grant
Interdisciplinary team aims to develop a national database of antibiotic resistance
A multi-institutional project to understand how antimicrobial resistant bacteria spreads, and to develop new ways to combat it, has won a $1 million grant from the federal Medical Research Future Fund (MRFF) Frontiers initiative.
The study, led by the University of Technology Sydney and including researchers from the University of Wollongong (UOW), will work towards establishing a national database of antibiotic resistance, to allow resistant strains to be traced, isolated and treated.
Antimicrobial resistance is one of the greatest health challenges facing humanity. Without a solution, it is forecast to cause 10 million deaths a year worldwide by 2050.
The project team proposes using sensor technologies, data, knowledge, and artificial intelligence to develop a nationwide system, called OUTBREAK (One-health Understanding Through Bacterial REsistance to Antibiotics Knowledge) to help in the fight against antibiotic resistant bacteria.
OUTBREAK will allow researchers to study how resistant bacteria spread and how to treat them, with the goal of protecting Australians from antimicrobial resistant infections, and reducing hospital admissions and health care costs.
Distinguished Professor Antoine van Oijen, Director of Molecular Horizons, and Professor Mitch Byrne, Associate Dean Education (intoHealth), will lead the UOW contribution to the study, which Professor van Oijen says grew out of a Global Challenges project looking at the spread of antimicrobial resistance in the Illawarra Shoalhaven region.
"For us at the UOW, this started through funding from Global Challenges to bring researchers from different disciplines together to understand how antimicrobial resistance travels through the community," Professor van Oijen said.
"This included, for example, understanding how people use antibiotics, how GPs prescribe them, and then how that affects the development of antimicrobial resistance.
"We can now roll that study into this much larger project."
Professor van Oijen said OUTBREAK complements research underway at Molecular Horizons looking at bacteria DNA to understand how antimicrobial resistance evolves.
"Antimicrobial resistance is an urgent challenge that we need to address in a holistic, integrated fashion," he said.
OUTBREAK was one of 10 projects funded under Stage One of the MRFF Frontiers initiative. Each successful project receives funding of up to $1 million to develop detailed planning for their project.
Those projects are then eligible to apply for Frontiers Stage Two with the opportunity to secure up to $100 million over five years to realise their research plan.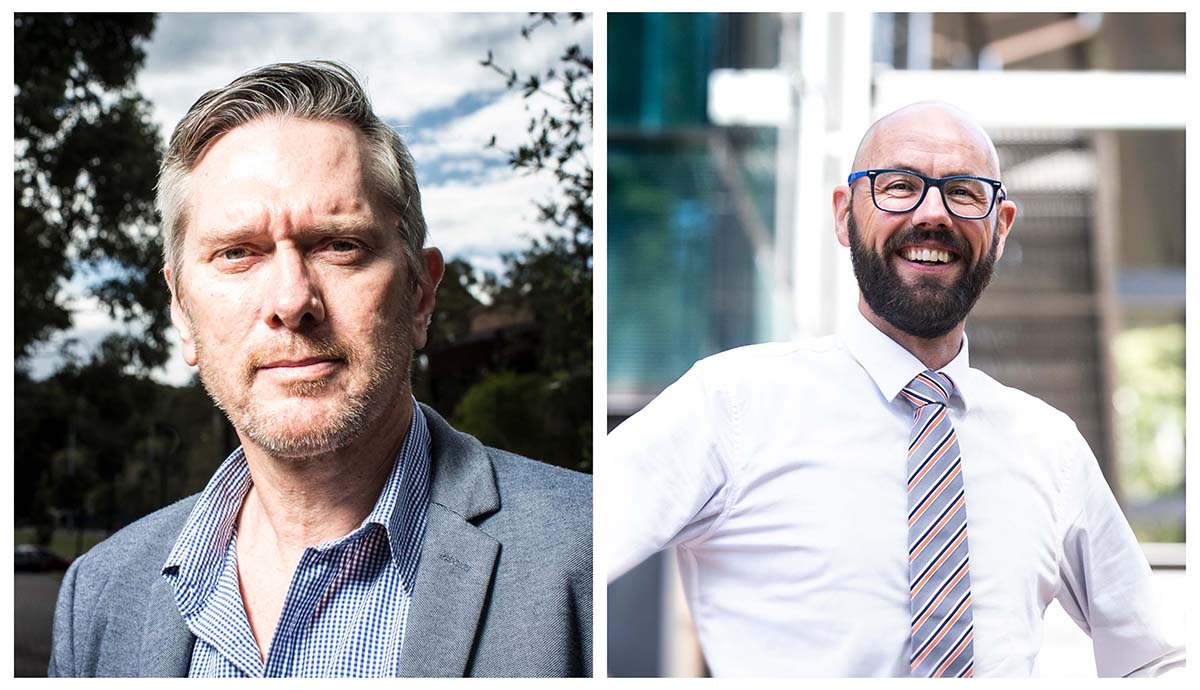 Professor Mitch Byrne and Professor Antoine van Oijen will lead UOW's contribution to the study. Pictures: Paul Jones