Duke of York opens refurbished Circular Quay campus
UOW Sydney Business School ready to welcome today's students who will be tomorrow's business leaders
---
His Royal Highness Prince Andrew The Duke of York has officially opened the new-look University of Wollongong Sydney Business School (UOW SBS) Circular Quay Campus.
UOW SBS, overlooking the iconic Circular Quay, Sydney Harbour Bridge and Opera House, recently completed a short move with big impact.
The campus now occupies Levels 8 to 10 of 1 Macquarie Place, consolidating its presence as well as using the opportunity to update teaching and function facilities and technology.
Level 10 was refurbished to include areas that can be easily converted for teaching or to host events, providing a high-quality experience for students, lecturers and guests.
The University of Wollongong has maintained a CBD presence for close to two decades, and UOW SBS is now ranked in the top 200 business schools in the world, offering high-quality postgraduate teaching and learning programs across a range of degrees and graduate certificates in accounting, business, finance, human resources, logistics and supply chain and management.
The QS World University Global Rankings 2019 placed UOW's Master of Business Administration (MBA) in the top ten in Australia, while the Master of Business was ranked number two in Australia and in the top 100 worldwide.
The Master of Business is suitable for managers seeking to further their career in a specialised field of business while the MBA is designed for experienced professionals with ambition and drive who wish to develop their responsible and sustainable leadership skills.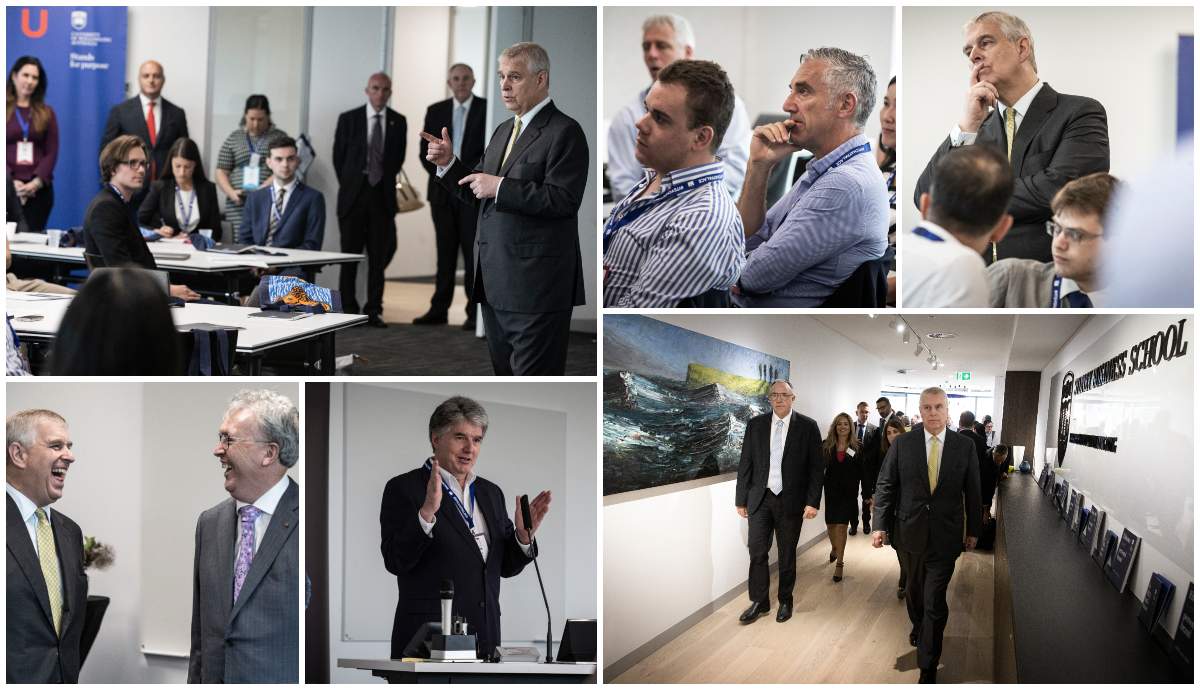 The Duke of York officially opened the new-look UOW Sydney Business School Circular Quay Campus, and took time to meet participants in his Pitch@Palace global entrepreneurial competition for start-up organisations.
The Duke praised UOW's approach to its MBA program, which has a strong focus on encouraging innovation and entrepreneurship.
He said business investors needed to be more accepting and supportive of start-up entrepreneurs, rather than fearful of the risks of investing, and this process could start at business schools.
"We need to bring the world of business schools and start-ups closer together. That connection (of start-ups) with business will add a risk-reduction element, which makes a big difference in whether those start-ups get business investment," he said.
He said he was impressed by the Sydney Business School's location in the heart of the Sydney business district.
"Bringing the business school into the city is a very interesting idea - close to the people actually doing the work."
This week the school played a role in the Pitch@Palace Australia 2.0 program, where selected entrepreneurs have gathered to refine their pitches before participating in Pitch@Palace On Tour Sydney at the Opera House last night.
Winners from the Sydney and other Pitch@Palace On Tour events progress to the national Boot Camp in Brisbane on 28 November. Selected entrepreneurs will go on to pitch their winning business ideas at Pitch@Palace Australia 2.0 on 30 November.
UOW's Circular Quay Campus has undergone a refurbishment, providing a high-quality experience for students, lecturers and guests.
Prince Andrew took time to meet the entrepreneurs and officially open the new facilities, which have been reconfigured to take advantage of the views and create accessible and comfortable student learning spaces.
The refit also considers the nature and needs of learning in the 21st century, with a layout that incorporates areas for quiet study, informal learning, group work and break-out spaces, as well as conveniently charging points, wireless charging and laptop charging points.
The refit includes hot desks and offices that can easily be shared by academics and professional staff working across the UOW network, which includes three campuses in metropolitan Sydney and two in nearby Wollongong.
All artwork in the common areas and the boardrooms was chosen to represent the Illawarra, through the themes, locations or artists that have some connection to the region.

UOW Vice-Chancellor Professor Paul Wellings CBE said the refurbished campus in the heart of the Sydney CBD would enhance its ability to deliver programs that reflect the needs of the fast-moving global business environment.
"The refreshed campus in the CBD is part of a broader mission at UOW to deliver personalised experiences and outstanding learning environments at all our locations in Australia and abroad," Professor Wellings said.
"The design and features ensure the learning environment responds to the changing needs of students and academics, as well as providing a vital connection with leaders of Australian industry at a convenient location.
"UOW Sydney Business School is at the forefront of learning, teaching and research that contribute to a stronger economy and a more just society.
"It is fitting the campus provides the environment to produce graduates with a global mindset through programs designed to expand students' business expertise and build their leadership capabilities."